When Luck Meets Preparation, You Have a RUNAWAY Success Story
"Luck is what happens when preparation meets opportunity" — so said the Roman philosopher Seneca, but you might as well attribute that quote to co-founders Kristine and Ted Theodore and VP of Operations and Culture Kai Karlstrom, the trio behind RUNAWAY, as they prepare to push the boundaries of what you'd expect from a boutique fitness studio.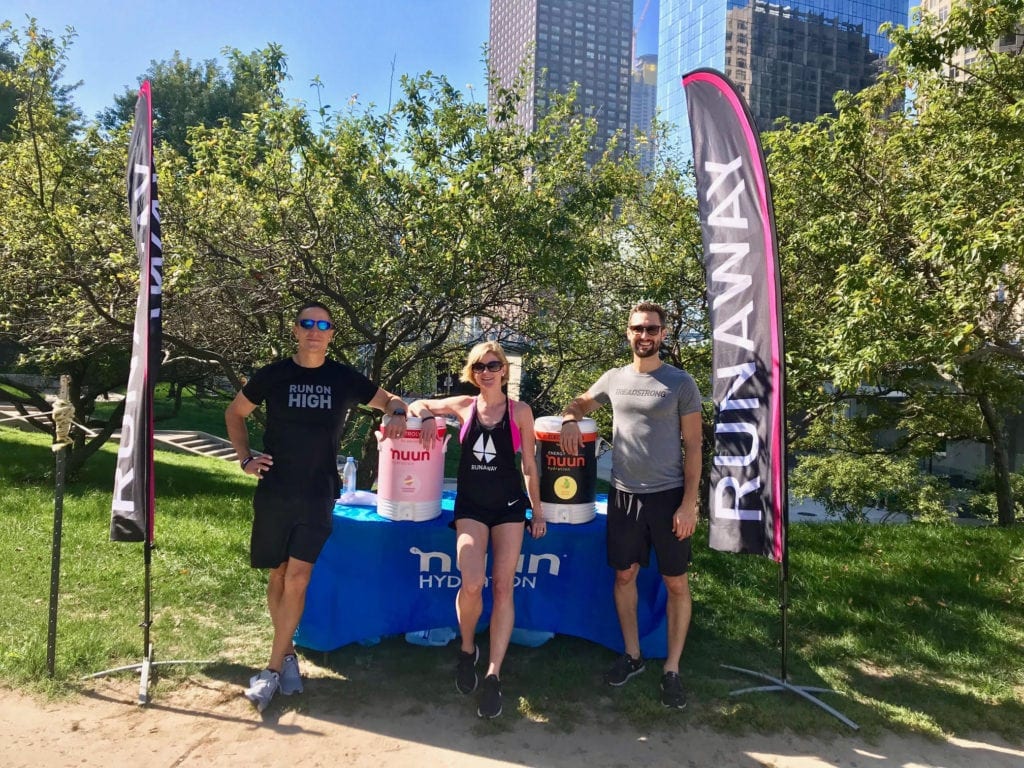 Unique backgrounds and experiences blend together seamlessly for RUNAWAY's core team. For Kristine, an avid runner who has spent 17 impressive years teaching fitness, RUNAWAY is the pinnacle of her fitness journey after owning numerous personal training and Pilates studios in California, North Carolina, and Chicago.
Ted, meanwhile, is a former architect who decided to redirect his talents to help Kristine build RUNAWAY. "I wanted to mold my career around my lifestyle, not my lifestyle around my career. RUNAWAY, from business to brand, is a natural expression of my lifelong passion for fitness."
When Kristine and Ted met (and eventually married), they knew they wanted to combine their talents and go into the fitness business together. "We love boutique fitness and it isn't going anywhere," pointed out Kristine. "And it's only getting bigger and better — so how could we unite our love of fitness with our unique skill sets together to create something special?"
The two landed on opening a true run-conditioning studio after going on a fitness inspiration-seeking tour outside of Chicago; they plan to bring the best aspects of HIIT training to run conditioning. But even after traveling and experiencing first-hand what was working and what was missing in boutique fitness, they knew opening a fitness studio in Chicago, with so many good studios already in business, wasn't going to be easy. "You naturally have those moments of wondering, 'is this right?' — but meeting the right people at the right time has helped us stay on track and believe in our vision," Kristine said.
For example, Kristine and Ted met Kai through a mutual friend who was being personally trained by Kai. "After getting to know Kai better, we quickly realized he had so much more to offer outside of personal training," shares Kristine. "His keen sense of business, hunger to always learn, and understanding of how to manage and motivate others make him a perfect fit for the RUNAWAY family."
Personally, Kai is an accomplished athlete — he competed with Team USA in the 2013 London World Triathlon Championships and won the 2014 Chicago Triathlon Sprint. Professionally, he led the Equinox Fitness National Tier X metabolic physiology curriculum and has recently consulted with several corporations on employee optimization.
Another example of right people at the right time is boutique fitness owner and now mentor Kari Saitowitz of New York's Fhitting Room. Mentors like Kari have helped inspire the one-of-a-kind, experiential fitness studio that future clients can look forward to at RUNAWAY.
"Kari not only has built one of the most impressive boutique fitness studios anywhere, she is honestly one the most approachable and inspirational studio owners we have ever encountered," Ted said.
What's going to make RUNAWAY stand out, you ask? After taking a tour through the still-in-progress space, we can confidently speak to the insanely curated playlists, intentional programming, specific lighting, and impressive motivational artwork that will be on display throughout the entire space.
But on a deeper level, RUNAWAY's M.O. can be summed up with one of Ted's guiding beliefs: "Question everything and always be looking for better ways to do things."
That inquisitive mindset applies to everything at RUNAWAY from top to bottom — that is, from the layout of the studio, showers, and entryway all the way down to fun surprises inside all of the lockers (and I'd be remiss if I didn't tease you with this little nugget: customized Woodway treadmills that accelerate and decelerate two times faster than any other treadmill on the market. Add an integrated custom Pace Card created for athletes of all levels, and you're going to LOVE these things).
But, more excitingly to runners and lovers of boutique fitness, Kristine and Kai have put that same level of thought and engineering into their programming at RUNAWAY. Most notably: AMP (Adaptive Musculoskeletal Periodization), their proprietary training method created to help you reach running goals while still being able to mix and match your classes.
"Think of each class as a different personal trainer — all working together and progressing you towards your goals, just in different ways," explains Kai. "Each month will have a specific focus — a three-week build-up followed by a one-week reset. You can come in at any point or level of fitness, but if you stay on the path, you'll feel the ways of the program developing."
"The treadmill shouldn't be the only thing that moves you," summarizes the RUNAWAY team. "We're advancing the way Chicago runs with classes powered by exclusive programming built by runners, for runners."
Can't wait to get into the studio? RUNAWAY is targeting a late October opening. In the meanwhile, sign up for updates online and follow them on Instagram.
Let us know!
Did this post help you get closer to achieving one of your goals?