Building a Healthy Pantry on a Budget
[Disclosure: This post is a part of a partnership with Thrive Market. As always, we only write about the products, places and experiences that we love.]
We've heard it before with health goals – if we set ourselves up for success through a plan, we are more likely to stick to it. Having a stocked pantry ready to go with nutrient-rich foods could make all the difference in those "I'm too tired to cook, let's order takeout" weeknights and "I want to meal prep but don't want to grocery shop" Sundays.
But stocking your kitchen up with healthy foods can sometimes be pretty costly. Those jars of coconut oil don't just grow on trees. How can you do to build a healthy pantry without breaking the bank?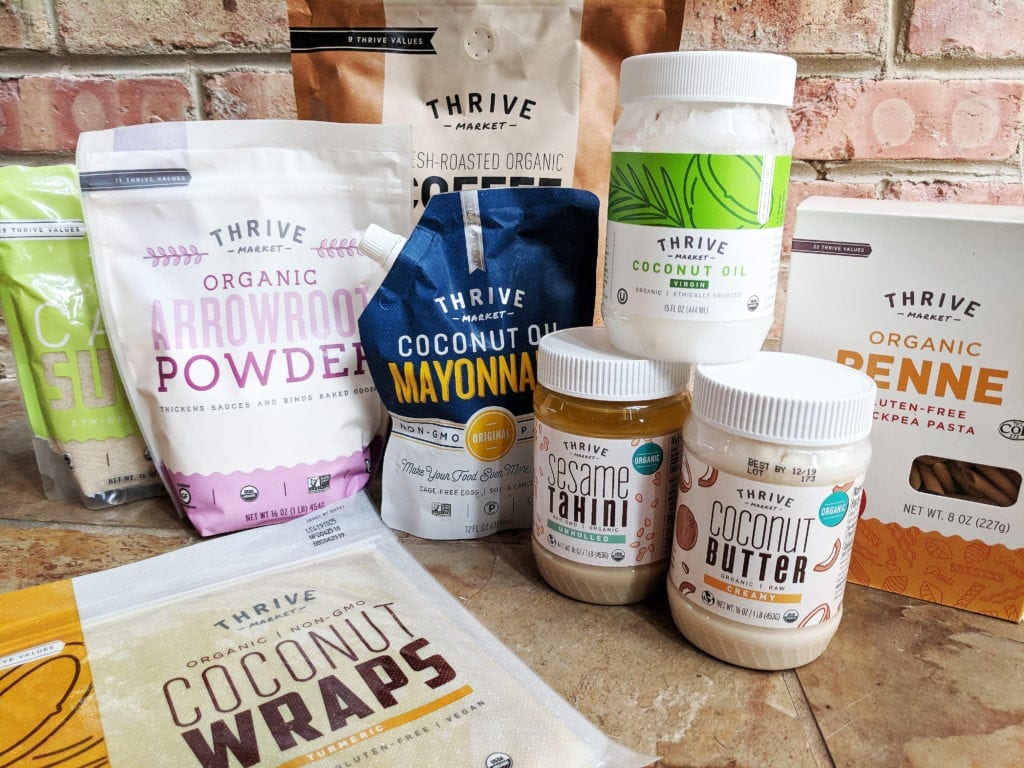 1. Consider your nutrient needs
Are you a vegan who is looking to get more vitamins and minerals in your diet? Paleo and want to get in more healthy fats? Someone who eats a general diet but wants to get more protein? Analyze your nutrition goals so that you can plan your pantry to support those goals. This will help narrow down the kinds of foods you want to focus on.
When budgeting for your pantry, you should prioritize your highest nutrient needs. Those raw almonds or hemp seeds (providing good sources of protein and healthy fat) could take precedence over that chocolate chip quick bread mix.
2. Choose your favorites (and watch for sales!)
Focus on always having your favorite pantry basics. Items like brown rice, beans, sweet potatoes, canned fish, or whole grain pastas are great to always have ready to go. Always keep a lookout for sales on your go-to foods so that you can buy up good deals and keep them in stock.
3. Experiment wisely
When it comes to introducing a new food to your pantry, try experimenting with just one at a time. Maybe you read a recipe that included a bunch of new ingredients to you, so you get excited and run out to buy all these items, but now you have a whole lot of random superfood powders strewn about your kitchen (speaking from experience here – what am I supposed to do with all this maca powder?).
Avoid random purchases just because they seem like a healthy choice. If they don't match your needs, or if you don't know what to do with it, then it will just collect dust in the back of the pantry.
4. Consider your sourcing
Once you have determined some of your favorite basic items that fit your nutritional needs and goals, research ways you can source these items at the best cost. Buying in bulk doesn't always provide the most cost savings, but it can be very helpful with the right ingredients. If you have access to a membership at a wholesale grocer like Costco, take advantage of it and pick up some bulk bags of quinoa or beans. But that big bag of pretzel snack mix? Might not be the best price.
Make sure to check out bulk bins at grocery stores – this is a great way to experiment with a new ingredient because you can pay by weight. Take a little sample home, test it out in your meals and do a price comparison.
As another alternative, you can try sourcing your ingredients through online retailers and services. Online retailers such as Thrive Market sell ingredients at a lower cost than the brick and mortar stores, avoiding the retail markup. Retailers like Thrive Market also sell their own private label items, which can really help with the cost savings, especially when it comes to generally pricier items. I recently ordered some of their private label items to do a cost and quality comparison on some of my go-to items – coconut oil, tahini, nut butters, and bone broth – and was pleasantly surprised at how well they matched up to my favorite brands and the money saved by ordering online.
Also, check out subscription services such as Imperfect Produce, which delivers produce that can't be sold at the grocery store due to slight imperfections or surplus, and sells to you at a much lower price than your brick and mortar store. Online retailers and subscription services can be helpful in budgeting because you can take the time to research and plan with the internet at your fingertips.
6. Do the pantry challenge
About every two weeks, my husband and I have a "scrounging night" where we search out random ingredients in the pantry that have been sitting there for a while, and find a creative way to make dinner with it. This can be a fun challenge to do with the family, and helps rotate "older" ingredients that might otherwise sit in the back of the cabinet until they expire and unfortunately get thrown out. My last concoction included quinoa, canned chickpeas, dried cranberries, chopped apples and a quick balsamic and honey dressing – all just lying around in my pantry. Reduce cost and food waste by hosting a "pantry challenge"!