5 Size-Inclusive Lingerie Brands You Should Try Now
Sure, it can sound cliche, but a nice pair of underwear or a great-fitting bra (or even a bathing suit) can seriously boost your confidence and mood, even if you're the only one who sees it.
Unfortunately, if your size is higher than a 12, finding pretty undergarments in your size isn't simple. Many brick-and-mortar stores only offer straight sizes (up to a 10 or 12 usually, depending on the brand or store), and that sends the message some bodies shouldn't be wearing certain clothing items, which we know is farthest from the truth.
There are some brands out there, however, that think all women deserve a bra and panty set that looks and feels great, and they've worked to create size-inclusive lingerie. While these brands might not offer the biggest range of sizing they could, they're off to a good start and can hopefully send the message that we want more representation in terms of clothings sizes.
Here are some size-inclusive lingerie brands and stores you should check out whether you need something in a size you find hard to find, or just want to support a company that's making positive change in the fashion industry.
True&Co.
True&Co.'s mission is to make sure every woman feels comfortable in her own skin. The brand uses an online "fit quiz" to help women pinpoint the right size and bra styles for them. They sell lingerie, plus individual bras and underwear for daily use. Many of the bras are made with a seamless material for added comfort and many full-chested reviewers said the True&Co. True Body Lift V Neck Racerback Full Cup Bra offered plenty of support while still feeling comfortable.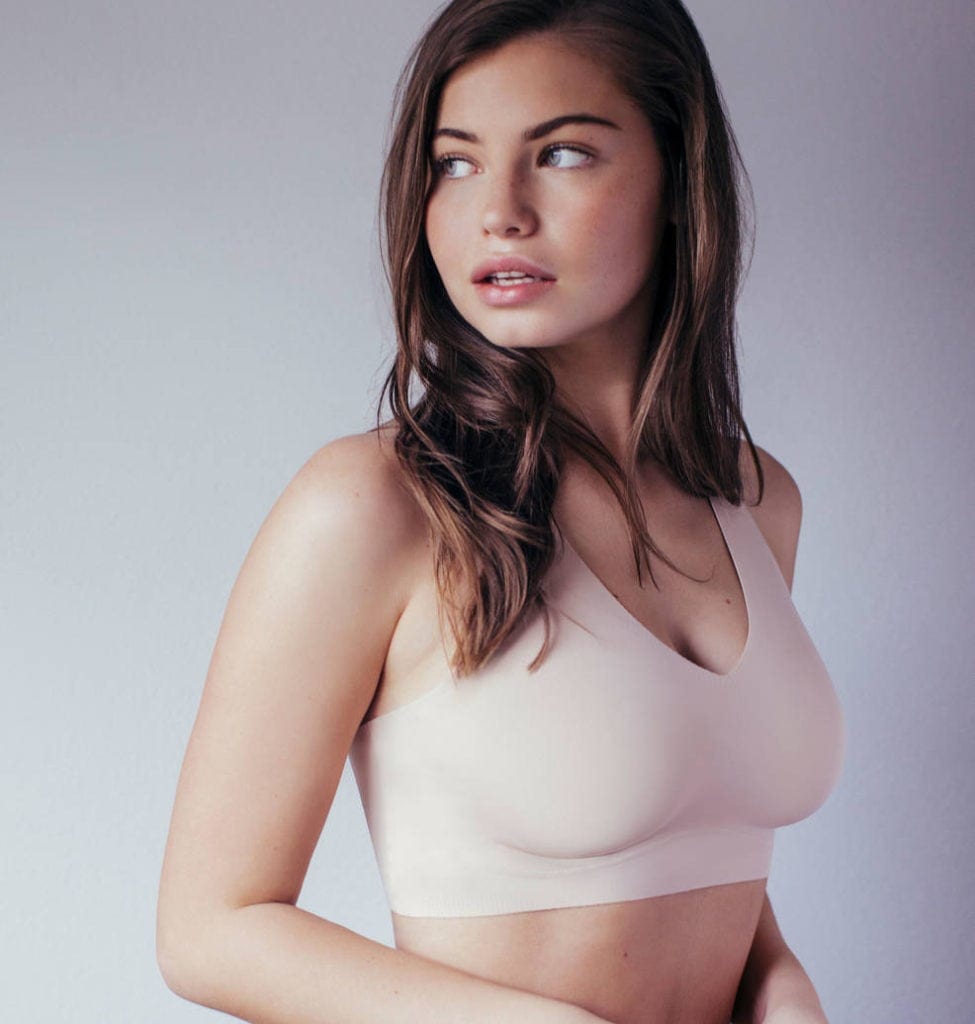 The bras come in simple colors like white, gray, black, and beige, so if you're on the market for a colorful bra, this store might not be the best pick. The underwear and lingerie come in a wider range of colors, though.
Lane Bryant
Lane Bryant has been serving the plus-size community great clothing for some time now, and their in-house lingerie brand Cacique offers bras up to an H cup and underwear up to a size 26. You can choose from sexy bodysuits, lacy bras, cheeky underwear, and more when shopping the brand. Most importantly, curvy women model all of the lingerie so you can get a better idea of how these items look on a bigger frame, something we don't see often enough.
Savage x Fenty
Rihanna made waves when she released her new lingerie brand Savage x Fenty. While the line isn't as size-inclusive as it could be compared to other companies, it's great to see a celebrity creating lingerie for multiple body types and skin tones (and hopefully RiRi will expand her size options down the line!).
Shop pretty bralettes, bras, silk slips, and more designed by the R&B queen herself, who said she wants more women to find and wear lingerie for themselves and their own journeys to self-confidence.
Nubian Skin
Size-inclusivity is super important, but it can only do so much when the color range isn't inclusive as well. That's where Nubian Skin comes into play. The brand aims to help women of color who have trouble finding "nude" underwear that matches their skin tones properly. The London-based company has bras, undies, and sexy lingerie in a variety of brown hues to women can feel supported by their undergarments without feeling like they're showing through their clothes. Sizes go up to an XL and a DD cup.
Adore Me
Adore Me is a one-stop shop for pretty underwear. It's an online store that offers a variety of sets in a subscription-style service. You can choose from a variety of styles and try them on in the comfort of your own home. Send back what you don't want and keep your favorite bras and underwear. Adore Me has a dedicated plus-size section with styles that go up to a 46G cup. Whether you like an unlined bra or lots of padding, there is definitely an option for your preference on Adore Me.