How Leadership Coach Scott Hopson Went From Being Expelled to Helping Others Excel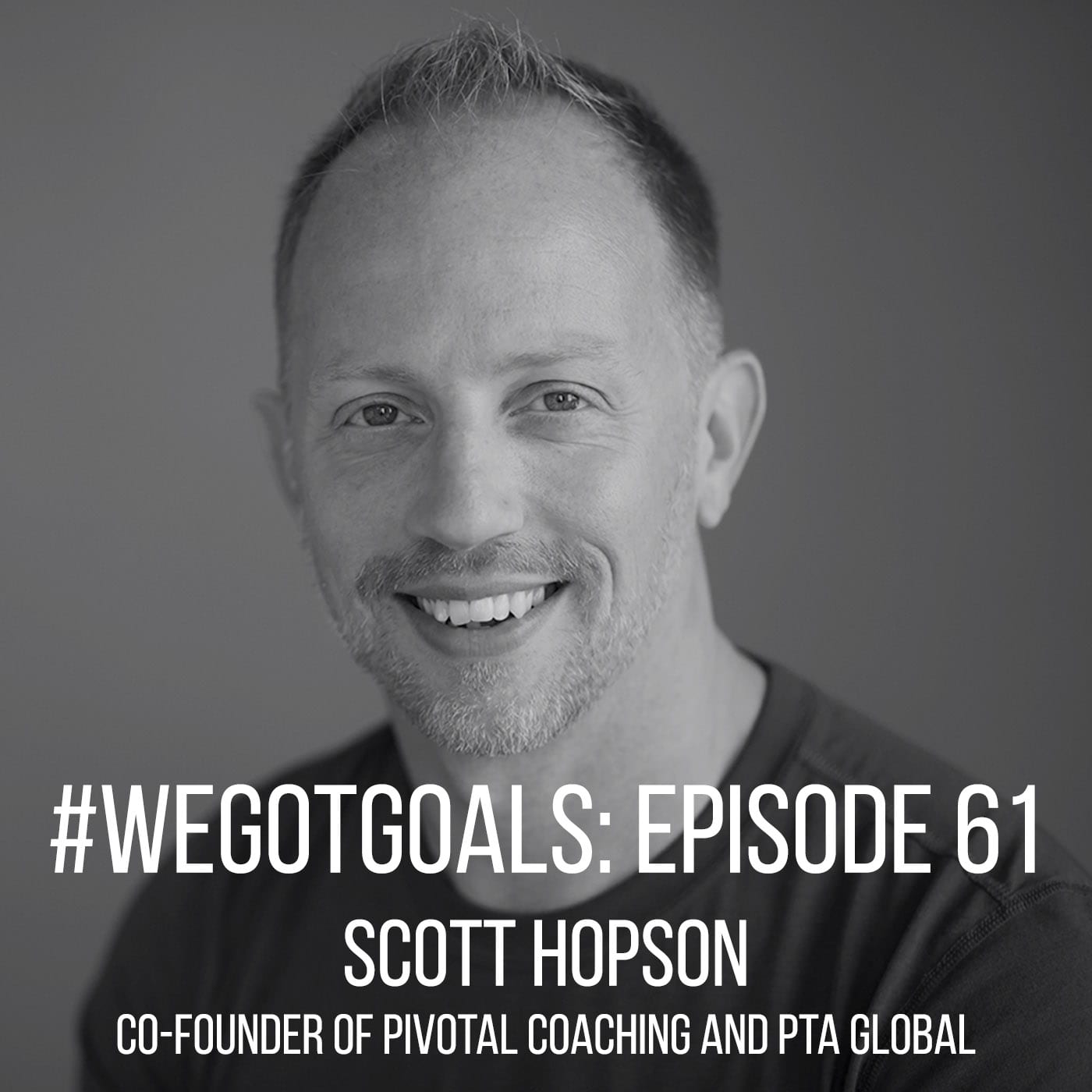 There's something to learn by listening to any individual's success story, but when the story starts with being kicked out of high school at 15, one can get pulled especially quickly into hearing how it panned out.
I found myself at the edge of my seat while sitting across from Pivotal Coaching Co-Founder Scott Hopson for the latest #WeGotGoals podcast episode interview because that was exactly how his story started.
If you're in the training industry, maybe you've attended continuing education sessions through NASM, EXOS, The Gray Institute, or Power Plate International; if so, you've probably studied Hopson's material or done a workshop with him. He also helped launch Midtown Athletic Club, Chicago's first urban sports resort with 575,000 square feet of health and wellness amenities. And, as the co-founder of PTA Global, he's coached countless personal trainers in a unique approach focused on behavioral science.
Essentially, Hopson has worked his entire professional life on becoming the best version of himself as a personal trainer, but he's also dedicated his life to the fitness industry from a practical coaching, educational, and business perspective. And with the prestigious laundry list of titles he possesses, you can imagine why I found it unbelievable that it all started with being kicked out of school.
But, as Hopson told me during the interview, when he decided he wanted to turn his life around, he started at the source where he felt like he was always home, the one place where he felt "in flow" amidst it all – with his coaches when he was playing sports.
He held onto the memory of being coached and let that passion drive him forward. Now, helping others achieve their movement goals makes him feel alive, and he's equally passionate about training other coaches to bring out their fullest potential and thus, inspire clients to become the best version of themselves too.
The most interesting thing about our interview, though, had nothing to do with fitness and everything to do with the human behind the science of coaching. In order to go after the "what" (whether that's a specific fitness goal or any other transformational goal in your life), "you have to articulate the 'why,'" Hopson said.
Ultimately, understanding that it's not about him as a coach at all when he's in a coaching session has helped him understand how to navigate every other kind of partnership and communication in his life.
"If I'm going to coach you, I've got to create an environment for you to train yourself, because I can't do it," Hopson said. "That'd be quite arrogant and ignorant of me to believe I can. If I create an environment for you to change yourself, that affects how I communicate to you, how I listen, do I have empathy? And I apply that to my business relationships. Am I listening? Am I willing to consider the possibility that they don't only have a point of view, but they might actually change mine?"
Hopson also mentioned that he leans into his intuition to help guide his unique, nonlinear career path and what big goals he goes after.
"I'm at my happiest, and in flow, where nothing else matters than that present moment, when I'm being of service to someone as a coach," he said.
I commented on how lucky he was to know that feeling – a feeling of just being in total flow. He replied that we all have it, in some way, shape or form. We just have to notice and be open to tapping into it.
"It doesn't happen every day, [but] there are things you can do to connect you back to it if you lose it – whether it's prayer or meditation, or whatever it is that connects you to that thing," Hopson said.
Listen to Scott Hopson's episode of the #WeGotGoals podcast to hear one success story you likely won't ever forget. You can listen anywhere you get your podcasts (did we mention, we're on Spotify now?) If you like what you hear, please leave us a rating or a review! We'd really appreciate it. And stick around until the end of the episode, where you'll hear a goal from one of you, our listeners. (Want to be featured on a future episode? Send a voice memo with a goal you've crushed, a goal you're eyeing, or your best goal-getting tip to [email protected].)