Make the Most Out of Your Sweet Potato with These Two Recipes
Disclosure: we received free Imperfect Produce credits to try the service and write about it. As always, we only write about brands and products that we truly love.
Last month, we shared our love for Imperfect Produce with some delicious summer recipes featuring the famed "ugly" produce. We can't get enough of how easy it is get these fruits and vegetables sent to your house – all while saving money, supporting farmers, and fighting food waste!
Imperfect Produce offers a great variety of fruits and veggies, but a staple of the weekly boxes is the mighty sweet potato. Sweet potato (the superior potato)  is chock full of vitamin A and fiber and can be cooked in a variety of ways – from savory to sweet! Check out this veggie prepared two ways using our Imperfect sweet potatoes.
Sweet Potato & Black Bean Enchiladas with Salsa Verde
Gluten free, vegan if you omit the cheese
Salsa Verde
1-1.5 lbs fresh tomatillos, husked and rinsed, chopped in halves or quarters

½ cup white onion

1-2 jalapenos, stemmed (adapt to preferred spice level)

3 Tbsp lime juice

¼ cup packed fresh cilantro leaves

1 tsp salt
Place all ingredients in a blender or food processor and blend until smooth. Store in a sealed container in the fridge.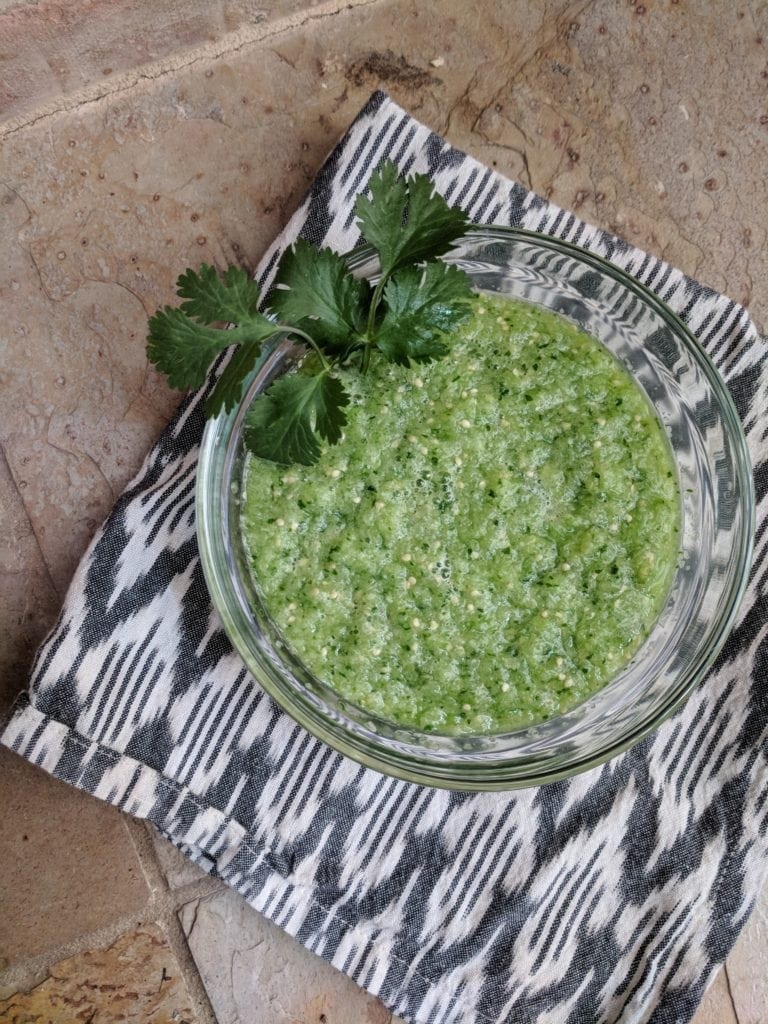 Enchiladas
2 cups sweet potato, peeled and chopped into small cubes

1 yellow onion, chopped

1- 15 oz can black beans, drained and rinsed

1 bell pepper, diced

1 package corn tortillas

1 tsp chili powder

1 tsp cumin

½ tsp salt

Olive oil

½ shredded cheese (optional)

For topping: avocado, sliced green onion, fresh cilantro leaves
Preheat oven to 400 degrees.

On a baking sheet lined with parchment paper, toss sweet potato cubes in 1 tablespoon olive oil. Roast for 20-25 minutes.

While the sweet potato is roasting, heat a skillet to medium heat on the stove. Add ½-1 tablespoon olive oil to the pan and then add the chopped onion.

Saute onion for about 3 minutes, and then add the bell pepper and continue to cook.

Add chili pepper, cumin, and salt; stir until combined.

Stir in the rinsed black beans and saute for another minute. Remove pan from heat.

In a large bowl, gently mix together the roasted sweet potato with the onion and bean mixture. Add about 1 cup of the salsa verde and mix to combine.
To assemble the enchiladas:
Take ½ cup of salsa verde and spread it on the bottom of a prepared baking dish.

Scoop filling (a few tablespoons to 1/4 cup each) into a corn tortilla, folding tortilla and placing seam side down into the pan. Continue to add each tortilla next to each other in one layer, filling the baking dish.

Optional: Top with extra salsa verde and cheese.

Reduce oven to 350 degrees, and bake enchiladas for about 25-30 minutes or until heated through. 

Serve and top with sliced avocado, fresh cilantro leaves, sliced green onion, and extra salsa verde.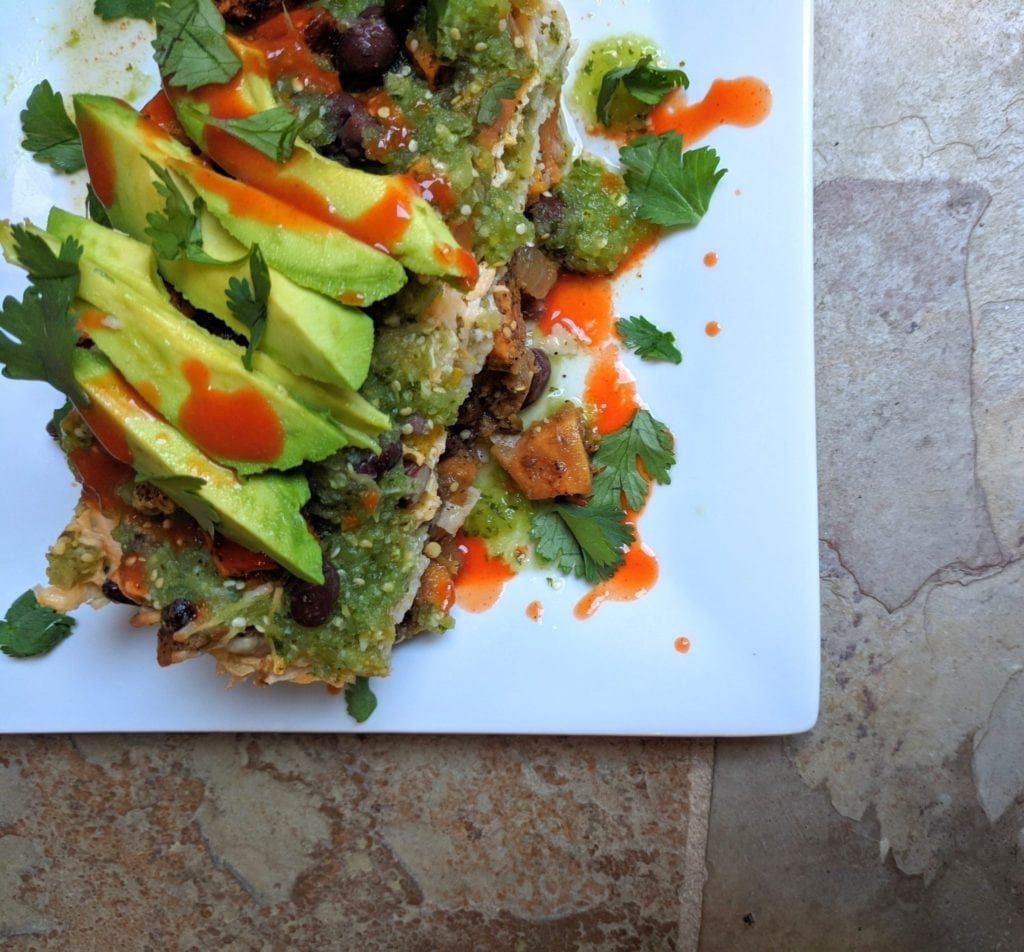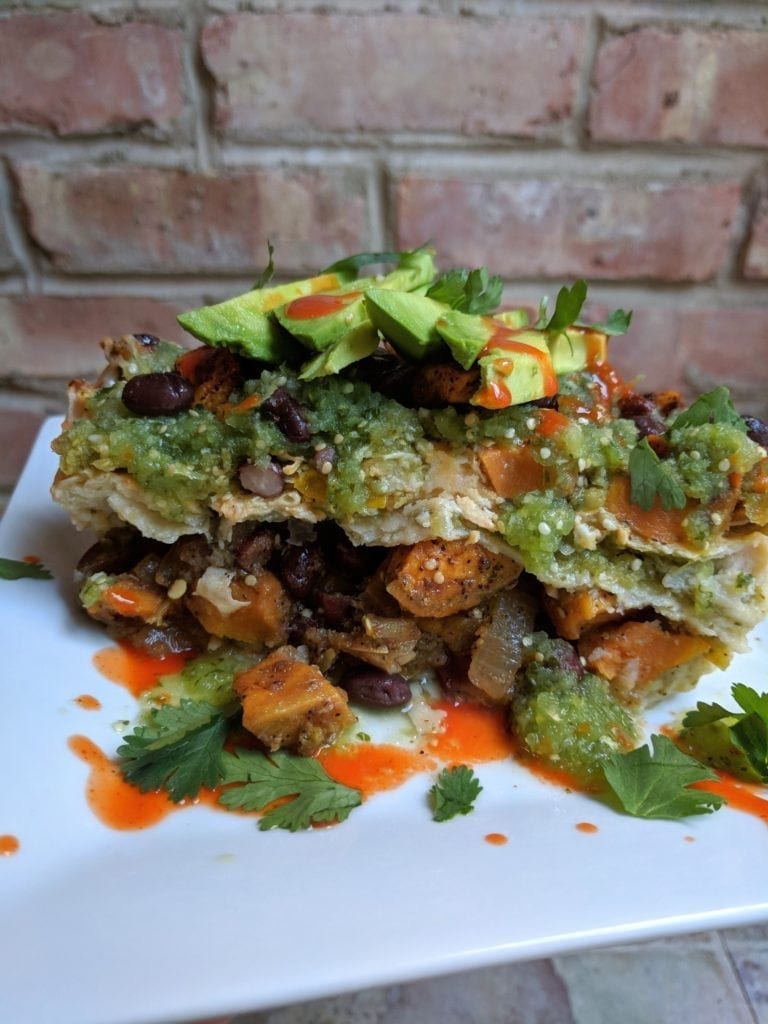 Sweet Potato Chocolate Chip Cookies
Gluten free, vegan, paleo-friendly
1 cup cooked and mashed sweet potato

½ cup almond flour or almond meal

1 cup dates, pitted*

⅓ cup creamy almond butter, peanut butter, or cashew butter

1 tsp vanilla extract

1 tsp cinnamon

Pinch of salt

¼ to ⅓ cup mini chocolate chips
*can substitute ½ cup maple syrup, but the cookies may not be as firm
Soak dates in a bowl of water overnight (or, if you are in a pinch, place the dates in a bowl and pour boiling water on top, submerging them and letting them soak for about 10-15 minutes).

Drain the dates and place in a food processor and pulse until a smooth paste forms.

Add the sweet potato, nut butter, vanilla, cinnamon, and salt and blend.

Add the almond flour and process to incorporate. If the batter is a little too "wet", continue to add extra almond flour, 1 Tbsp at a time.

Gently mix in the mini chocolate chips.

Place the dough in the fridge for an hour to firm (this step can be skipped if short on time, but the cookies may not be as firm).

Preheat oven to 350 degrees.

Scoop dough, about 1-2 Tbsp each, onto a prepared baking sheet.

Bake for 15-20 minutes. Let cool and store in an airtight container.