How Imperfect Produce Is Changing the World (And Your Kitchen) — Plus, Two Summer Recipes!
Disclosure: we received free Imperfect Produce credits to try the service and write about it. As always, we only write about brands and products that we truly love.
Second disclosure: Imperfect Produce boxes do NOT come with an adorable Corgi puppy.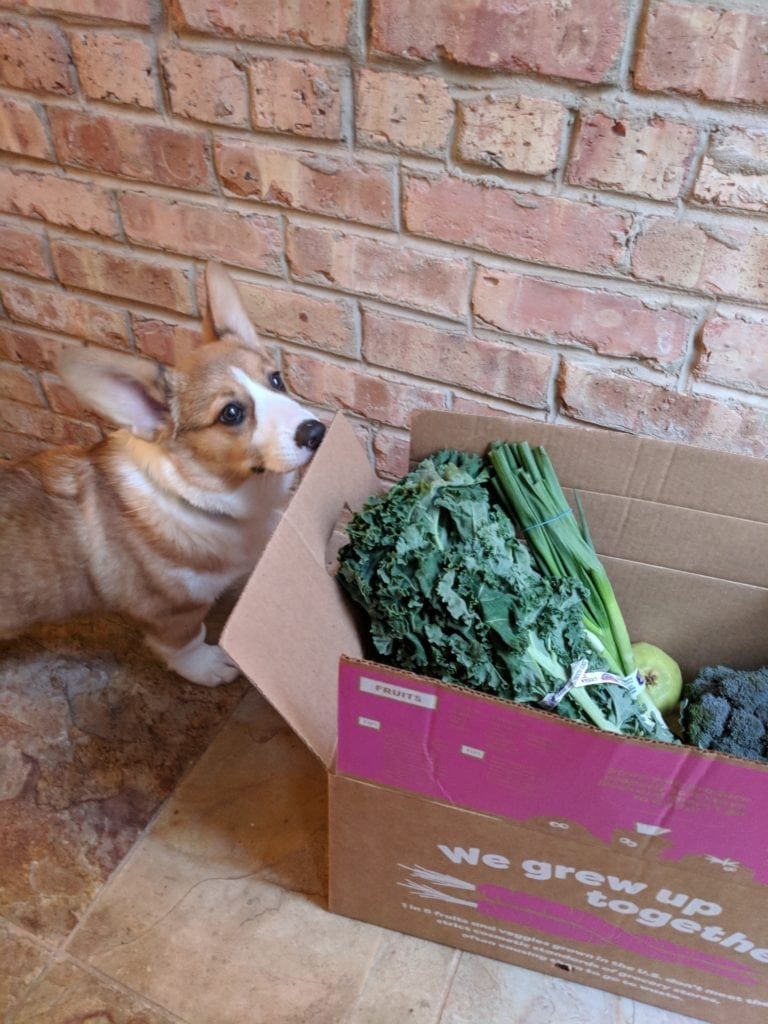 Imperfect Produce is the healthy superhero we need fighting all the food problems. You want to eat healthier? Check. You want to save money? Check. You want to fight food waste and support farmers? Check and check!
Imperfect Produce sources "ugly" produce straight from farms and delivers it to your door for 30-50% less than grocery store prices. And by "ugly," it really means fruits and veggies that don't quite meet strict cosmetic grocery standards – from the avocado that is a little too small (hello perfect single serving size!) or that potato that is a little lumpy looking (it's going to get sliced and roasted anyways!) – it's all still your nutritious fruits and vegetables.
What I personally love about Imperfect is that you get to choose your produce (organic, conventional, fruit, veggies, or a mix). In the past when I have gotten produce through a CSA, I end up wasting some of the fruits and vegetables because I either didn't know how to use them (looking at you, kohlrabi) or couldn't find a way to incorporate it into my meals that week. With Imperfect, they alert you a few days before the shipment and allow you to choose exactly what you want in your box – and even better, it's easy and fast.
We teamed up with Imperfect Produce to try out their service – and what better way but to make some delicious and healthy meals using produce right from the box! I was inspired by the blossoming warm weather (finally hitting Chicago!) to use the produce in some summer dishes – and when I think of summer I think of cool crisp salads and grilled veggies.
Check out these two veggie-friendly recipes: first up, a cool and crisp Sesame Soba Noodle Salad with Carrot Ribbons and Cucumbers, with a light Asian inspired dressing that will be refreshing on a hot summer day. And next, an outdoor grilling inspired Roasted Cauliflower Steaks and Shishito Peppers with Garlic Sriracha Aioli – a perfect quick and easy summer evening dish. All the produce used in the recipes came straight from my Imperfect boxes!
Sesame Soba Salad with Carrot Ribbons & Cucumbers
Serves 2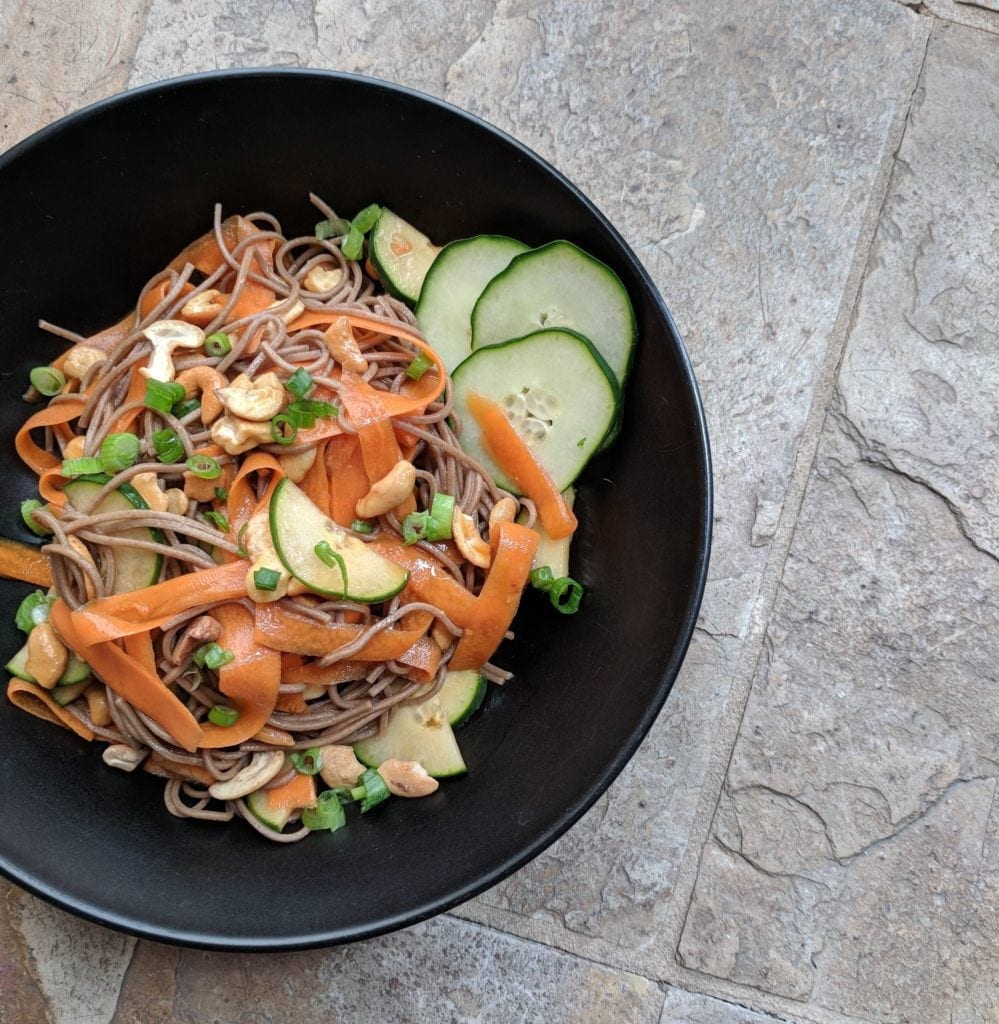 You will need:
For the dressing:
2 Tbsp rice vinegar

1 Tbsp sesame oil

1 Tbsp low sodium soy sauce (or tamari)

1 Tbsp honey

1 tsp minced fresh ginger or ¼ tsp ginger powder
For the salad:
2 large carrots*

½ cucumber*

Green onion*

Roasted cashews

1 bundle of soba noodles**

2 eggs (optional)

Sriracha (optional)



*Indicates from Imperfect Produce box
**If gluten free, look for 100% buckwheat soba noodles. Some varieties are made with wheat.

Make the dressing: In a small bowl, whisk together the rice vinegar, sesame oil, soy sauce, honey, and ginger. Set aside.
Make the soba noodles: In a medium saucepan, bring water to a boil for cooking the noodles. Add the bundle of soba noodles and cook for 2-3 minutes. Immediately drain the noodles and rinse with cold water. Soba noodles cook very quickly and can get mushy if overcooked, so running them over with cold water helps stop the cooking process. Set cooked and cooled noodles aside.
Make the carrot ribbons: Wash and peel the carrots. If you have a spiralizer, use that to make carrot "zoodles." If not, use your vegetable peeler to continue to peel the carrots and create "ribbons."
Wash and chop the cucumber into thin, half moon slices. Chop the green onion.
Assemble: In a large bowl, combine the cooked noodles, carrot ribbons, and cucumbers. Toss in the dressing. Portion into a bowl and top with roasted cashews*, green onion, and an optional fried egg and sriracha. Enjoy!
*Want to make homemade roasted cashews? This can be done two ways: dry or with oil (oil will add a little more crispiness, but both will have a delicious roasted flavor)
On a baking sheet, place raw cashews in a single layer. If using oil, toss the nuts beforehand in a small amount of neutral oil, such as grapeseed or canola. Roast in the oven at 350 degrees for about 5 minutes; flip and roast for another 2-3 minutes. Watch nuts closely in order to avoid burning.
Roasted Cauliflower & Shishito Peppers with Garlic Sriracha Aioli
Vegan
Serves 2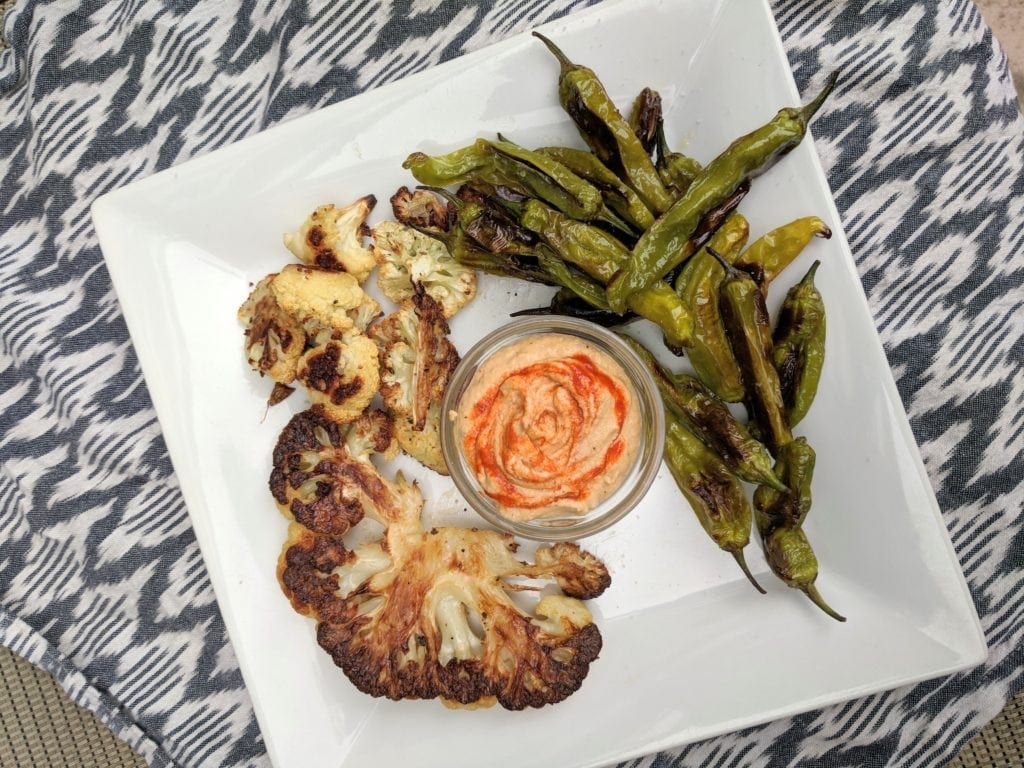 You will need:
1 head of cauliflower*

1 container (8 oz) shishito peppers*

Olive oil

Salt & pepper
For the aioli:
3 garlic cloves

1 cup raw cashews

¼ to ½ cup water

2 Tbsp lemon or lime juice

1 tsp maple syrup (or honey)

2 tsp sriracha or more to taste
*Indicates from Imperfect Produce box
1. Make the garlic sriracha aioli: Place the raw cashews in a bowl and cover with boiling water. Let the cashews soak for at least 20 minutes – the longer the better. The softer the cashews, the more creamy the sauce. If you are in a pinch, you can use 1 cup of vegan mayo substitute instead. Drain and rinse cashews and place in a blender or food processor. Add the garlic cloves, a little bit of water, lemon juice, maple syrup, sriracha, and salt and pepper to taste. Blend until smooth, adding a little water at a time to get the desired consistency. Taste and add more salt and pepper if desired. Set the aioli aside (or even place in the fridge while you cook the rest).
2. Roast the cauliflower: Preheat oven to 400 degrees. Chop cauliflower into florets or "steaks." To make "steaks," place it on a cutting board, floret side up, and slice into ½ inch slices. Toss or brush cauliflower with olive oil, salt and pepper. Place parchment paper on a baking sheet and arrange the cauliflower in a single layer. Roast in the oven for about 25 minutes or until golden brown and crispy on the edges.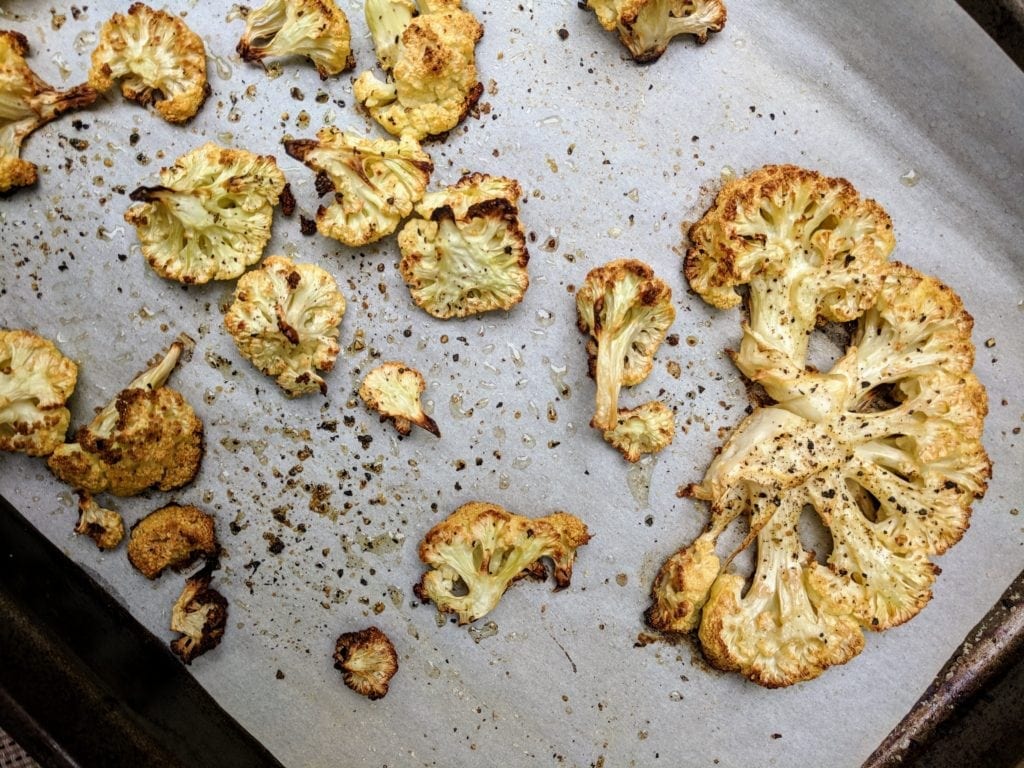 3. Cook the peppers: Wash and thoroughly dry the shishito peppers. In a large bowl, toss the peppers in a little bit of olive oil, salt and pepper. Heat a cast iron skillet on the stove to medium high heat. Check if it's ready by flicking a drop of water onto the pan – if it sizzles and evaporates, you are ready (high heat and quick cooking will lead to tastier peppers). Place peppers into the pan, letting them cook on one side first to get a char on the first side, about 3-5 minutes depending on how hot your pan is. Once charred on one side, sauté the peppers with a spatula until they are "blistered" (darkened spots or popped blisters) and a bit shriveled looking.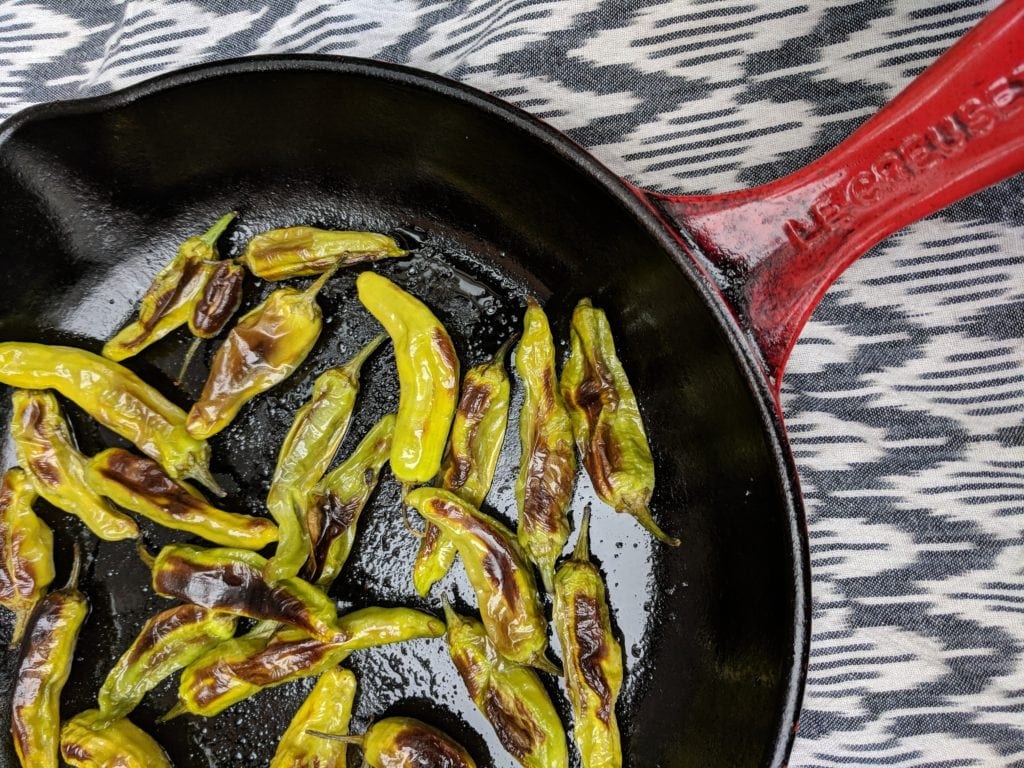 4. Serve with a side of garlic sriracha aioli for dipping!