Marc Marano Sets Big Goals to Bring Australian Brand F45 to the US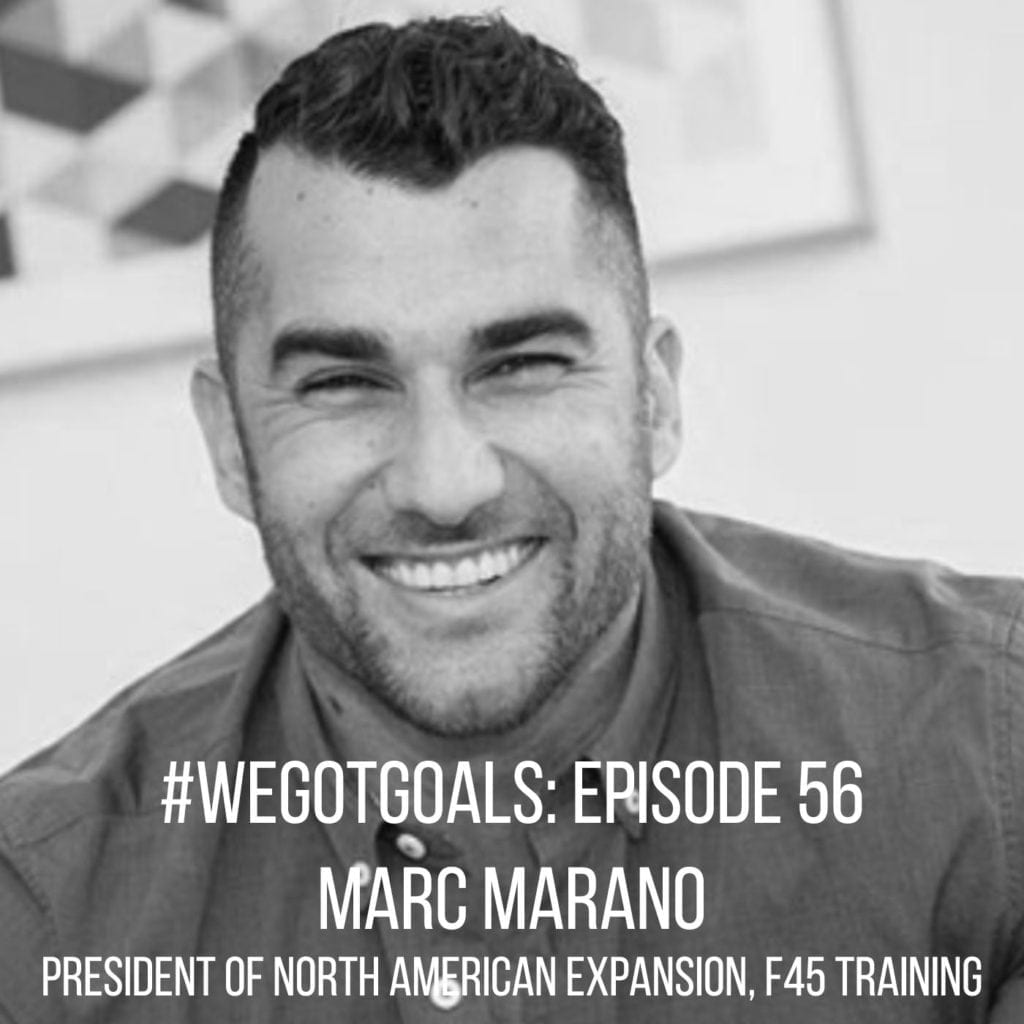 As president of the U.S. expansion at F45 Training – the Australian-born fitness franchise – Marc Marano's job is as much sales as it is strategy. He's here to make Americans fall in love with F45 – and to get more franchisees in the process.
And as you'll hear Marano talk through on this week's episode of #WeGotGoals, getting to F45 – the big goal he accomplished – required a giant leap away from his family's legacy business passed down from his grandfather to his father and finally to his cousin and him.
As difficult as it was for him to leave the business in property, for Marano, it was even more difficult to watch friend Rob Deutsche. He opened the first F45 in Australia in 2014. "He was former banker, but again like me, decided to hang the tie up for the last time because he needed something better in his life," Marano recalled.
After six months of careful deliberation, Marano made his decision.
"That goal was achieved only to walk out of a business that I knew everything about to walk into the fitness world that I had only ever been a consumer," he said.
Now the he's in the fitness world, there's no turning back and no slowing down as he chases his next big goal – total market penetration. The franchise is in 22 states in two years.
"In the last 24 months, we've awarded over 300 F45 studios in the U.S. We have currently, I would say it's just about to topple over 100 studios that have opened," Marano said. "We are awarding anywhere between 20 and 50 studios across the country a month."
How's he doing it? "By traveling wherever I have to go, by speaking to whoever I have to."
Uprooting his life on one beach in Australia to another beach in the US, Marano moved to spread F45 to the US from Los Angeles. But he isn't going it alone; he noted that his fiancé Emma Rose – also Australian and known for her time on the Bachelor Australia – has been a steadying presence in his life. A big goal he stated for the future was building a family of six kids.
He'll have to wait for his life to settle down, as he spends more time in the air, traveling to new F45 locations, than he does on the ground.
Listen to Marc talk to me about his goals on this week's episode of #WeGotGoals by downloading his episode on Apple Podcasts here. If you like the show as much as we do, be sure to subscribe wherever you get your podcasts and leave it a rating and a review. And stick around until the end of the episode, goal getters. We have real life goal getting to share from a listener.