Where to Work Out When You're a New Parent
Finding time to exercise can be difficult for anyone, but as I recently learned, it can be damn near impossible when you're a parent. The good news is that my biceps are getting a daily workout from lifting my daughter; the bad news is that I didn't set foot in a spinning studio for over three months.
The great news, however, is that I've found several parent-friendly workout options, none of which require a babysitter. Now if someone could just figure out a way for babies to ride a spin bike, I'd be all set.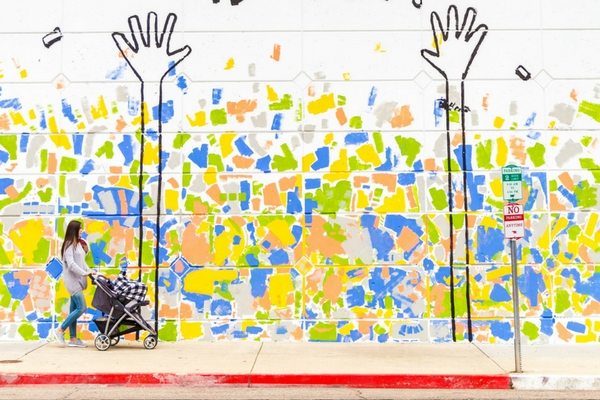 This national franchise offers Stroller Strides®, Stroller Barre® and Run Club, three programs designed for active moms and babies. I'm a big fan of Stroller Strides, which is one part workout, one part playgroup and one part support network. The kiddos stay strapped into their strollers as the instructor leads the class in exercises that correspond to popular children's songs. Try holding a plank while singing "Old McDonald Had a Farm" – believe me, it's not so easy!
Each 60-minute session incorporates light cardio in addition to bodyweight and resistance band exercises. At the end of each class, the kids come out of the strollers and everyone hangs out for a while. It's a safe place to ask for advice, share parenting wins and socialize.  
Speaking of strollers, the Stroller Run is wheeling across the country, with upcoming dates in 13 cities, including Chicago, Dallas and New York City. The tagline of this 5K run and walk is "run like a mom," but dads should also feel free to join in the fun.
This casual race concludes at an expo featuring shopping, food and alcoholic beverages; there's also a kids camp and a stroller valet. Plus, a portion of the proceeds support a local children's charity, and the owner of the best-decorated stroller gets some sweet prizes.
Mommy/Daddy and Me Yoga
Most parents I know could benefit from an extra hour of relaxation on occasion. (And by "on occasion," I mean "all the time.") It's tough work raising a little human! That's just one reason why I recommend yoga with your youngin'.
If you're in Chicago, check out Bloom Yoga Studio and CocoonCare, two great spots to practice happy baby pose with your happy baby. CocoonCare also offers a parent-child circuit training workout class. Similar classes can be found on ClassPass wherever you live and sweat.
I lauded RightFit Personal Training in an earlier post, but it's worth repeating here. For time-crunched moms and dads, there's something extra luxurious about having a trainer come to your home or office. No commuting time means more time with your kiddos (or more time to tackle that tower of laundry or overflowing diaper pail). RightFit Personal Training matches each client to the best possible trainer – so if you want someone with postnatal experience, for example, they'll make that happen.  
Studios with Childcare
If you've been using the "can't find a sitter" excuse as a reason to ditch your workout, several Chicago fitness studios make that a bit more complicated. At most Shred 415 locations, a Kids' Corner with Wii entertainment and plenty of toys will distract your child while you're huffing and puffing up the treadmill in the other room. Body toner The Bar Method offers a Childcare Room (known as a Playroom Visit on their schedule) at many studios, while CrossTown Fitness in the West Loop entertains the littles with books and toys. For yogis craving parent time, 105F in Wicker Park pairs its 10 am classes with a childcare option.