#DelosYourself: The Mobility Method Built for Muscle Health
[
Disclosure: This post is a part of a sponsorship with Delos Therapy. As always, we only talk about the place, people, things and experiences we truly love.
]
In the corner of your gym's designated stretching area sits a foamy cylinder. You pick it up, lie on top of it and roll back and forth as you scroll on Instagram. If this sounds anything like you, you're probably doing it wrong – and you're using the wrong tools to boot.
"The biggest mistake they made was calling it a roller," Eric Owens, co-founder of Delos Therapy – Chicago Pain Management therapy clinic – said.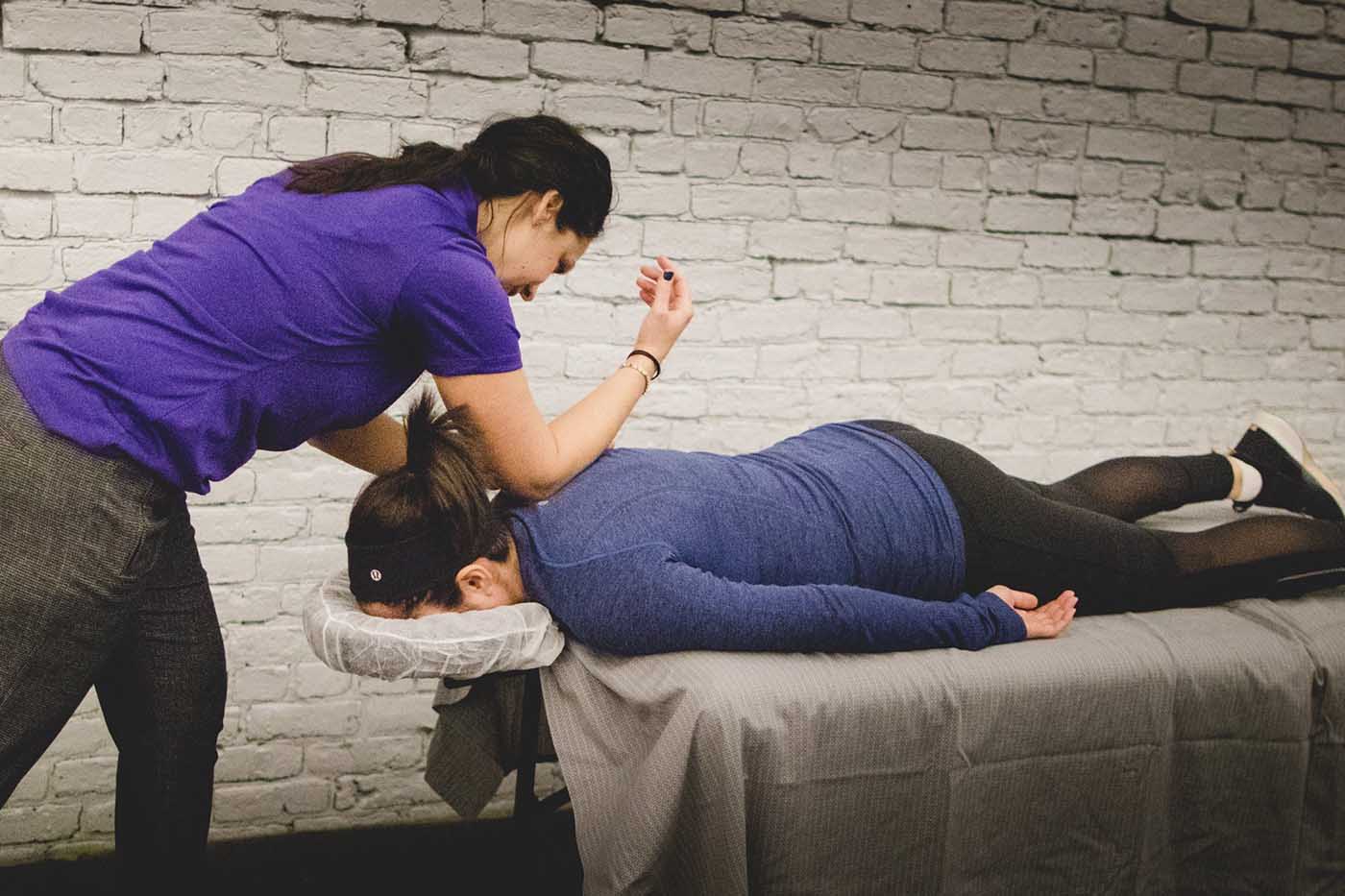 His biggest grievances with foam rollers are that most are too soft and many people take the whole, "rolling" thing far too literally. According to The National Academy of Sports Medicine, "rolling" should be used to find where your muscles are "tender" or tight, then "hold on that spot while relaxing the targeted area and discomfort is reduced, between 30 seconds and 90 seconds."
Tightness has very precise three-dimensional structure, Owens said, so pressure needs to be applied at the appropriate angle which is always changing because "as soon as you apply pressure to the tissue, the tissue changes."
And at Delos, seeking and destroying areas of discomfort is all that they do, but what their practitioners are really looking for is tightness. Tightness is where they say your muscle health really falls apart.
"If [muscles] feel hard in a relaxed state, what that means is that they are chronically tight," Owens said, "And when they are chronically tight they don't function very well."
Dysfunctions include poor flexibility, lack of power, weakness and poor endurance. The opposite of tight muscles? Pliable muscles, but it takes maintenance to keep tightness and knots at bay.
"Through wear and tear, muscles get tight. As soon as you break down that tightness, it doesn't mean it won't come back," Owens reasoned. "How many times do you brush your teeth a day? Once or twice? How many times do you go to the dentist a year? Maybe once, maybe twice? … The muscles need some level of maintenance to maintain their function too."
How Delos does that – and how you can do a version of it at home – is by applying sustained pressure to the muscles that are chronically tight to separate the muscle tissue and break up tightness. Translation: use a harder surface to dig deeper into the specific muscle tissue that is tight.
"The key component is some type of a hard surface that can apply some direct sustained pressure into the muscle," Owens said. "That pressure needs to be somewhat focused so if it's too broad – like a foam roller – the pressure isn't focused enough."
"It should hurt so good," Owens said.
Tools to apply pressure to your muscles:
The Theracane
This candy cane-shaped tool has multiple knobs and handles to allow you to apply pressure where you need it the most – to your upper back, to your calves or to your hip flexors – by pushing, pulling or laying on the tool. You can push, pull, lean your weight into it – whatever it takes.
For Delos, this is the torture device of choice for when clients aren't able to get into the office and it's available online for less than $20.
A lacrosse ball
Next best, but not quite as precise as the Theracane is the lacrosse ball. Its smaller surface makes it more precise in applying pressure to tight muscles than a foam roller and it's a bit more portable than a Theracane. A three-pack will run you $3.99 on Amazon.
Random household objects
The Delos Therapy Method was developed by Eric Owens' father who designed it out of desperate need for a solution to a debilitating shoulder pain. Originally an engineer, "an expert in troubleshooting complicated system" – as Owens says – he crafted the solution to his shoulder pain using whatever he could find, including door handles and broomsticks.
He later realized it had a profound effect on athletic performance, particularly at the Olympic level. Owens recounted that "both Carl Lewis and Leroy Burrell broke the 100 meter world record while getting regular Delos treatments."
If you're on the road and have a nagging headache that starts in your neck, pain in your low back or any other common tightness, don't be afraid to get creative.
Owens recommends "a door knob, broom handle, corner of a door or anything that you can push into your muscle." 
Once you have the tools, these muscles need your love the most:
According to Delos, your upper back, shoulders and traps are the most affected by sitting, hunching and computing all day. Start to release this tightness by placing a lacrosse ball between your trap muscle and the wall while standing with your back to the wall. Move to roll the ball until you find tightness and lean into it for 30-90 seconds, moving slightly as you feel the tightness change. Once you've released your traps, try the same movements facing the wall on your chest and shoulders.
Ready to incorporate these tools and stretches into your regular routine? Get started with this guide you can go through anywhere – even your desk.
In Chicago and want to stop in for your complimentary assessment? Email [email protected]. If you're not in Chicago, follow along as we help you #DelosYourself.