How Fitness Communities Help Growing Loneliness Epidemic
In an article for the Harvard Business Review, former U.S. Surgeon General Vivek Murthy cited 40% of adult Americans reported feeling lonely. He compared loneliness' effect on the reduction of one's lifespan to smoking 15 cigarettes a day.
"The world is suffering from an epidemic of loneliness," he warned. "If we cannot rebuild strong, authentic social connections, we will continue to splinter apart – in the workplace and in society."
Murthy focused his article on what companies can do to alleviate loneliness among their employees. But with more people working from home, choosing to be stay-at-home parents, retiring or a variety of other reasons, work isn't always the answer. Therefore, people may have to look outside the workplace to create meaningful social connections.
As we at aSweatLife know through our #Sweatworking events, group fitness can be a great outlet for such a thing.
The city of New Orleans seems to understand that as well. Many of their studios operate with a sense of community in mind, offering more than just a place to get sweaty and leave.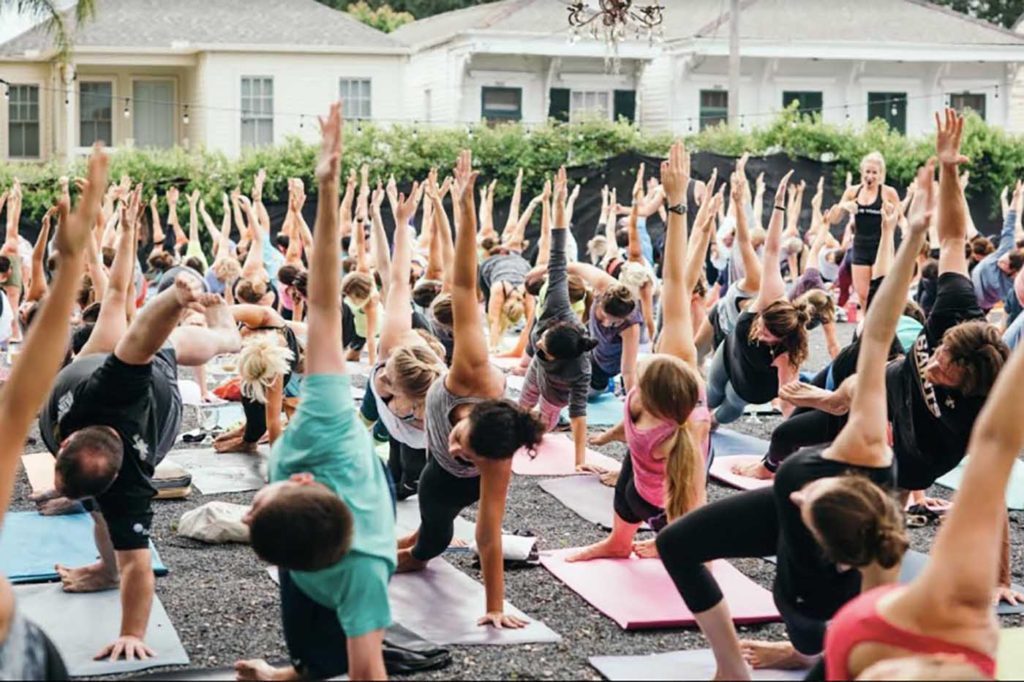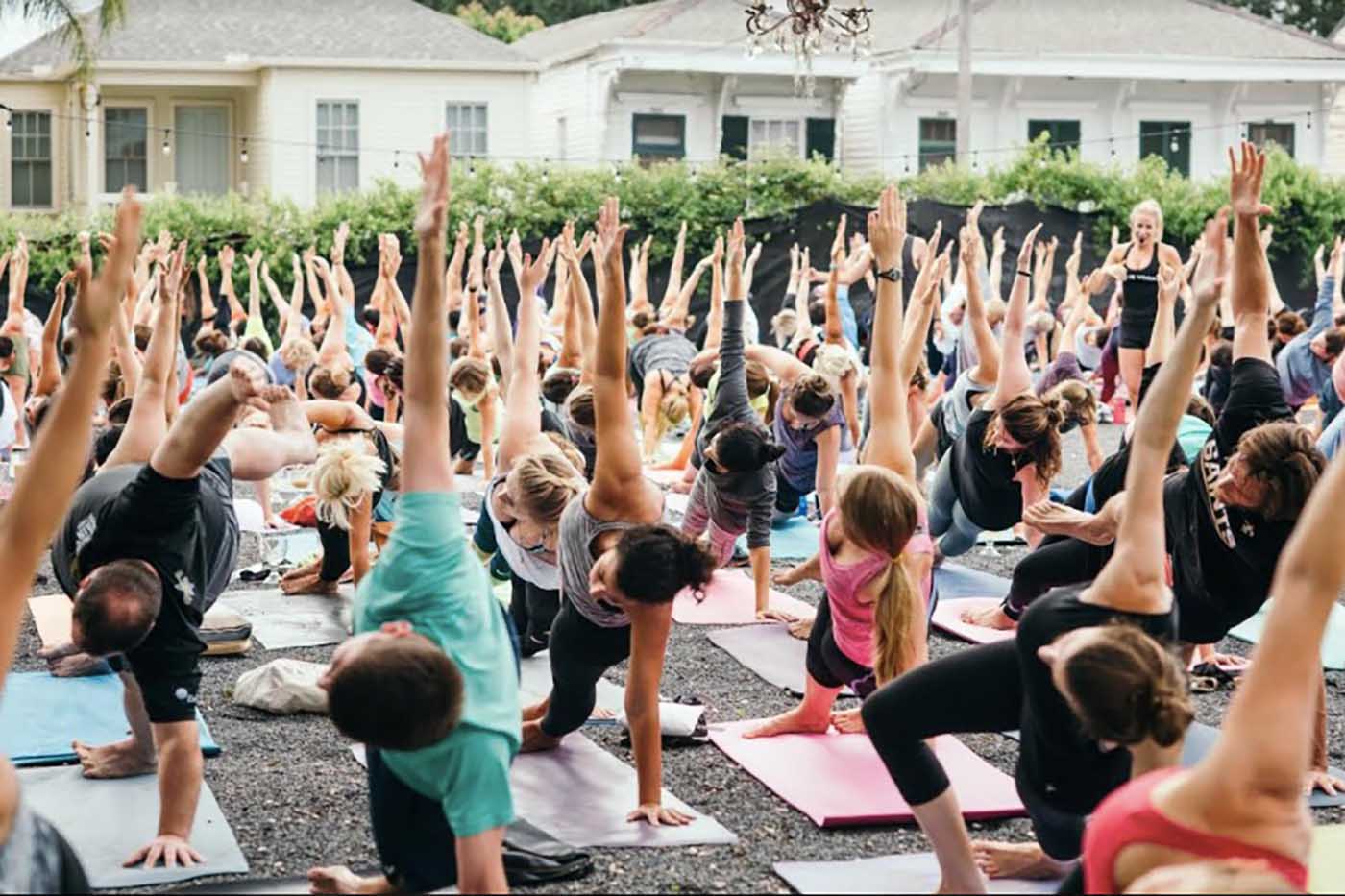 "We must take action now to build the connections that are the foundation of strong companies and strong communities — and that ensure greater health and well-being for all of us."
NOLA Tribe Yoga is just one example of a fitness group taking the action Murthy suggests. Their seasonal sunrise yoga classes are held in different locations throughout the city, they host a variety of events like goat yoga and they offer free Wednesday yoga classes with food, drinks and socializing available afterwards.
"NOLA Tribe Yoga is about connection," NTY co-founder Baye Cobb told me. "We initially began offering on-site yoga to connect the best people and the best places in the city in a practice of movement and mindfulness. Once we realized how unapproachable people thought yoga was, we focused on what we could do to remove the barriers and stigma around yoga – sometimes it takes the lure of a cold drink, a beautiful sunrise, a rave (coming soon!), my terrible jokes or a couple of adorable goats!"
Pure Fitness & Yoga is also doing their part to build a sense of community by serving a free healthy dinner immediately following their Thursday night HIIT class. (FYI, participating in class is not a prerequisite for attending the meal.) As for how their dinners began, instructor and preparer of said meal, Nina Shelby, explained, "We wanted to create a healthy social option where everyone feels welcome."
The studio's combination of exercise, social connection and healthy food brings "a community feel to our gym and with our clients," Shelby continued.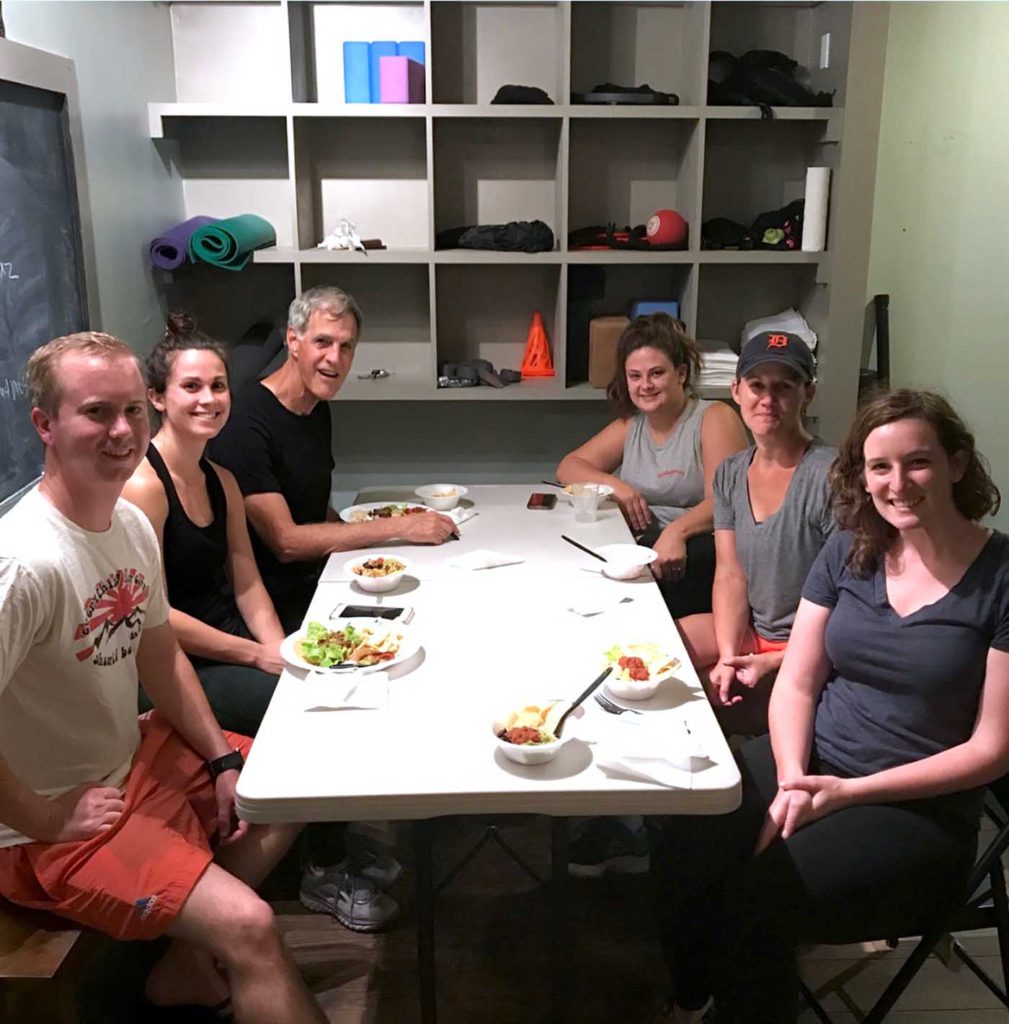 "Giving and receiving help freely is one of the most tangible ways we experience our connections with each other."
There is a plethora of New Orleans studios in line with Murthy's sentiment, offering free, sliding scale, discounted or donation-based classes. Immersing themselves in this concept, Swan River Yoga's Arabi location is 100% donation-based. Students simply leave what they can afford after class. In lieu of payment, the instructors perform SEVA, or selfless service. As Swan River posted on Facebook, "SEVA is about much more than just getting or giving something for free. It is a practice in recognizing our interconnectedness, in recognizing our good fortune and in making an intention to give and receive wisely so that our good fortune may continue."
"Real connection requires creating an environment that embraces the unique identities and experiences of employees inside and outside the workplace."
Dancing Grounds does its part in creating that environment by "actively and intentionally recruit[ing] teachers, students and artists through a lens of equity, inclusion and social justice."
Teaching an array of adult classes from Bounce Fitness World Beat to Ballet to Queer Friendly Pilates, Dancing Grounds "offer[s] programs that are culturally relevant for people in New Orleans and cut[s] across a variety of cultural dance techniques." Taking a cue from the previous tenant of giving, the studio also offers youth students tuition and registration assistance, while community members can sponsor students for a semester or a full year, as well as donate to Dancing Grounds' Healthy Food Zone.   
Of course, not every fitness opportunity will make you feel like part of the family upon your first visit. It may take time and visiting more than one studio to find real connection, but exploring a city's fitness scene can help counteract a feeling of loneliness, even if it's just for an hour a day.
What fitness organizations do you know of that foster a sense a community? We'd love to hear about them below.