The Up-And-Comers: Meet Your Five New Favorite Chicago Trainers

After a hiatus of vacation and outdoor patio drinking, Chicago fitness lovers are beginning to think about heading back indoors and picking up a regular fitness routine. As you make your way back into your favorite studios, introduce these trainers and instructors into your routine.
These five up-and-comers may be new to you, or they may be your fitness-faves. Whatever the case, you'll want to heart-eye-emoji all over them.
1. Kenna Sullivan, On Your Mark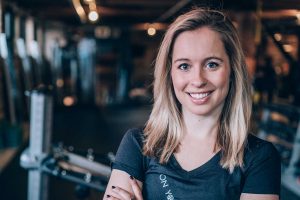 On Your Mark is a Boutique Training studio in the West Loop and Bucktown where trainers treat everyone like an athlete.
"Trainers enjoy working with clients at OYM because it's a space where they, as well as their clients feel welcome, inspired and motivated to come in week after week," Emily Hutchins, owner of On Your Mark and Nike Master Trainer said.
To keep trainers inspired, On Your Mark focuses on learning and development.
"Trainers at OYM work with one another on anything from industry trends to development among the team to make each of us better at what we do," Emily said.
And one of those trainers teaching one of the 23 different class formats and training clients is Kenna Sullivan.
"Kenna is a very educated and motivated trainer with a unique background in dance and yoga that brings a very different perspective to her training approach. Her ability to educate her clients on form and technique, as well as hold them accountable, speaks volumes for her clients success," Emily noted. "Her clients have seen major improvement, not only in their physique, flexibility and strength, but also when dealing with injury and even mental and emotional wellness."
Where can you find Kenna? Across the schedule at On Your Mark, but spending a lot of her time at the gym's Bucktown locations. Her favorite class to teach? Metabolic Conditioning, a class designed with few rest periods throughout with exercises to increase the metabolic rate during and after the workout.
Kenna loves the room for creativity she has with Metabolic Conditioning – and really – every class at On Your Mark, she said.
"This helps progress the clients personal growth and encourages the trainers to stay on top of their game," Kenna explained.
Want to take a class with Kenna? She says that you can expect "smiles, sweat and flawless form."
"Ultimately my goal is to have people leave my class feeling better both physically and mentally," she said. "Along with that, due to the small group training atmosphere that On Your Mark offers, I make sure that each client gets the personal attention that they need and deserve."
2. Alysha Ferry, CrossTown Fitness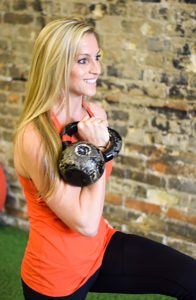 CrossTown Fitness is a space that offers more than 100 classes each week between its locations in the West Loop and Lakeview. Expanding those offerings even more this fall, it will open its third location in Roscoe Village. While CTF has plenty of success stories built around weight loss and getting "wedding ready" it primarily focuses its clients on how they feel when this training is a part of their lives.
"We offer busy people the opportunity to get fit and feel good about themselves, all within a supportive community of trainers and other athletes striving toward similar goals," Principal at CrossTown Fitness Charlie Graff said. "Our proven training services provide a unique way for everyone to de-stress, take care of themselves and have fun."
One fitness professional whose mission is to help clients feel good is Alysha Ferry, whose favorite way to help you sweat is through the gym's signature Total Body classes.
"The mix of conditioning and strength allows me to really get creative with our classes and keeps a great balance," Alysha said. "The energy from the metabolic exercises gets everyone moving as hard as they can while the strength exercises give people that opportunity to push their limits on weight."
In Alysha's classes, you can expect her to keep you motivated with her playlists, but those only feed into her overall goal of making everyone's experience the best possible.
"I love keeping the energy high with some great songs that will keep people motivated," she explained. "I also make sure everything makes sense with the workouts. For example; the timing, spacing and the exercises have to all go together."
3. Veronika Grybauskas, TITLE Boxing Club Lincoln Park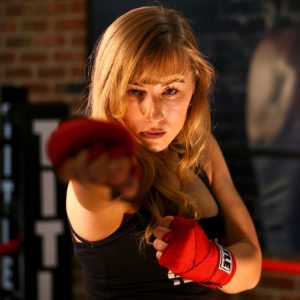 Take a class at TITLE Boxing Club and you won't know what hit you – literally. After a 15-minute warm-up, eight rounds of boxing sequences and 15 minutes of core, you'll feel the effects of the total body workout for days.
"The structure of the class provides direction but allows [trainers] to be creative and utilize their own knowledge to create a total body workout," Kelley Curran, Manager at TITLE Boxing Club Lincoln Park, said. "All of the classes follow the same format but every trainer puts their own spin on it."
The spin that Veronika Grybauskas puts on her classes marks her as one of TITLE Boxing Club's most stand-out trainers.
"In an industry where many of the trainers are similar and try to fit into a specific mold, Veronika stayed true to herself," Kelley commented. "You may have passed her riding her 1978 Vespa, with her gold hoop earrings in and her boxing gloves hanging out of her bag. [And] her eclectic playlists serve as her introduction. There are very few people who can mix a Nancy Sinatra song into a hip hop playlist for a boxing class and make it work. She is one of the most unique people you will meet and the ultimate example of a strong, fierce woman."
Members at TITLE echo this sentiment, remarking how integral Veronika has been in their training and experience at the gym.
Kelley mentioned the members who gush about Veronika's impact on their fitness journeys, retelling how one said, "She taught me about nutrition, pushed me to challenging heights, kept herself accessible whenever I had a question and demonstrated the patience I needed to transform from out-of-shape to the best shape I've been in."
Still, no one explains what class with her is like better than Veronika herself, who started coaching at TITLE Boxing Lincoln Park when it opened and will be one of the lead trainers in Wicker Park when it opens September 25.
"I love coaching for so many reasons, but living in the present is number one. No phones, no distractions, just me and the people around me focusing on our bags and our bodies and movement. We become our own little universe. We can forget about the day we may have had and everyone gets to be a star," TITLE Boxing Club coach Veronika Grybauskas said.
4. Akiya Brown, The Barre Code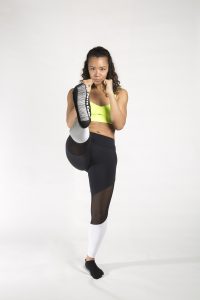 The Barre Code is a Chicago-based barre studio with nine class formats under the categories cardio, strength and restoration. It evolved along with the wave of group fitness over the last seven years and is now franchised in 15 states. But no matter which studio you walk into, you'll find a welcoming atmosphere full of passionate staff and instructors.
"Our classes serve as a vehicle for our instructors to share their passions, their goals and what makes them special," Lina Midla, Chief Training Officer says. "We give them a platform to positively impact the lives of all those around them, and we also support them through providing constantly-changing class choreography and playlists."
With any group fitness experience, participants want to feel like the class allows them to make the most of the time dedicated to it. Akiya Brown, Master Trainer at The Barre Code Chicago, is an instructor who ensures each class is unique and empowering.
Her secret sauce? Teaching "from a place of energy, empathy and empowerment," Akiya says. "'Yes you can' permeates all of my classes through various themes relevant to my personal self-empowerment journey."
No matter what type of workout you're in the mood for, Lina recommends Akiya to get you exactly what you need and want from class.
"If you are ready to punch, kick and sweat out all your stress and leave feeling strong, confident and ready to take on the world, take a Brawl class with Akiya," she said. "If you are ready to set your muscles on fire, work on your mental game and discipline skills and leave feeling jello-legged but energized, take a Barre Code class with Akiya."
And she'll get you to that mind-body connection too.
"Aside from her unparalleled positivity, she also brings deep, thought-provoking, soul-lifting commentary to her classes while pushing you further physically than you thought possible," Lina said.
5. Sally Burke, CycleBar Fulton Market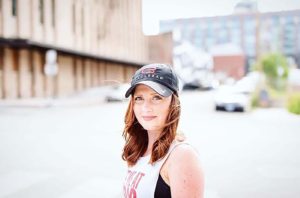 Spinning classes are some of the most cardio-intensive and physically demanding workouts out there, and CycleBar is no different.
CycleBar Fulton Market is one of the newest boutique fitness options to Chicago's West Loop and Fulton Market District. Find three types of cycling classes on the schedule every day of the week: Classic, Performance and Connect.
"Whether you like to compete with your classmates or zone out and rock out to the beat of the music, we have something for everyone," manager Natalie Casper said.
With special Friday happy hour rides and Sunday brunch rides (with free post-class mimosas), this studio makes your commitment to a workout that much more enticing.
Even more exciting than the promise of a well earned cocktail after class is the line-up of Cycle Stars on the schedule to coach you through your ride. Sally Burke, known for her "pure gold" playlists, is also an instructor, Natalie told us, who is, "approachable, welcoming, funny and motivating all while delivering a kick ass workout, and it's clear to anyone on the bike in Sally's class that she absolutely loves what she does."
Sally's classes aren't just a workout, they're an experience.
"I was a dancer my whole life, so the music is everything to me, and I really feel like it is what drives my classes. I will never use the same playlist twice because every class is unique and tells a different story, and I think that is what makes my classes special.
As you work your way back inside for fall, dedicate a spot on your roster to this all-stars. You won't regret the addition. Who would you add to new favorites?
Let us know!
Did this post help you get closer to achieving one of your goals?