Sept. 19: #TrainersConnect Sweats With Gideon Akande at the Beach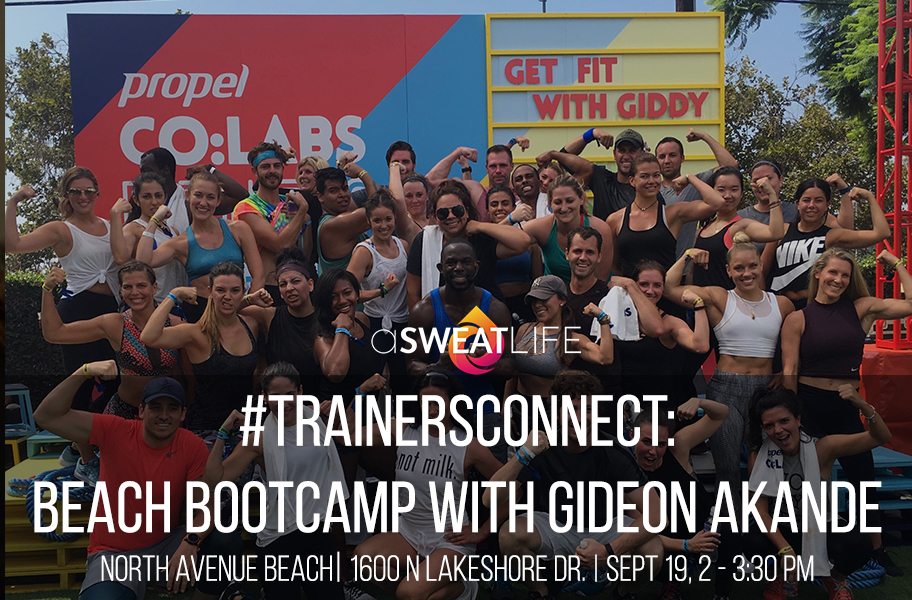 (Tickets for September's #TrainersConnect are right here.)
When trainers get together to train, we all get better.
We've seen this happen each month that we host #TrainersConnect. This hour dedicated to working out alongside other Chicago trainers and instructors happens during a time when most trainers are free – in the middle of the day, in the middle of the week.
Over the 60-minute workout, we're able to connect in ways we aren't normally able to (because let's be real, when we're not rushing from one client or studio to the next, we're eating or sleeping). And by taking class in a different gym or studio each month, we get a taste of everything that's out there, no matter how far out of our comfort zone it might be.
Since launching #TrainersConnect December 2016, we made the fitness rounds. Monthly events landed at Flywheel, CorePower Yoga, Barry's Bootcamp, Yoga Six, Shred415 and Atlas Performance.
Instead of going indoors this month, we wanted embrace the final warm days of summer for a beach workout. Tuesday September 19 at 2 pm, we'll gather at North Avenue beach for a classic  workout with Gideon Akande.
Gideon has free range on the beach and we can't wait to see what he has in store for us.
Come prepared to not only sweat and work hard (Gideon isn't one to let his classes and clients slack off), but also ready to cheer each other on as we work hard and get stronger as together.
Grab your $5 ticket here. And remember, all proceeds from the workout go to the Greater Chicago Food Depository.
Here are the details for #TrainersConnect: 
When? Tuesday, September 19, 2-3:30 pm
Where? On the east side of Castaways (the lake side) at North Avenue Beach, 1603 N Lake Shore Drive
What do I need to bring? Workout gear and shoes, water and a readiness to meet someone outside your usual training circles
Where do I sign up? Right here!