Experience Chicago Through Adventure: Night Kayaking and More
Cubs games at Wrigley Field, days at the beach and movies at Millennium Park are just some of the activities that remind us of summer in Chicago. But aside from these ways and more to soak up the sunshine without working up a sweat, Chicago offers plenty of adventure-driven activities throughout the summer and well into the fall season.
Take a deeper look at what those options are and you'll find the city is crawling with interesting, unique ways to get outdoors and move no matter what your preferred level of activity is – or what time of day you're looking to explore.
I'd seen kayakers on the Chicago River many times before I looked into trying it myself, but it was on my list of things to catch before summer had completely come to an end. To my surprise, when I researched Kayak Chicago I found not only daytime options, but kayaking trips that left from their dock at sunset.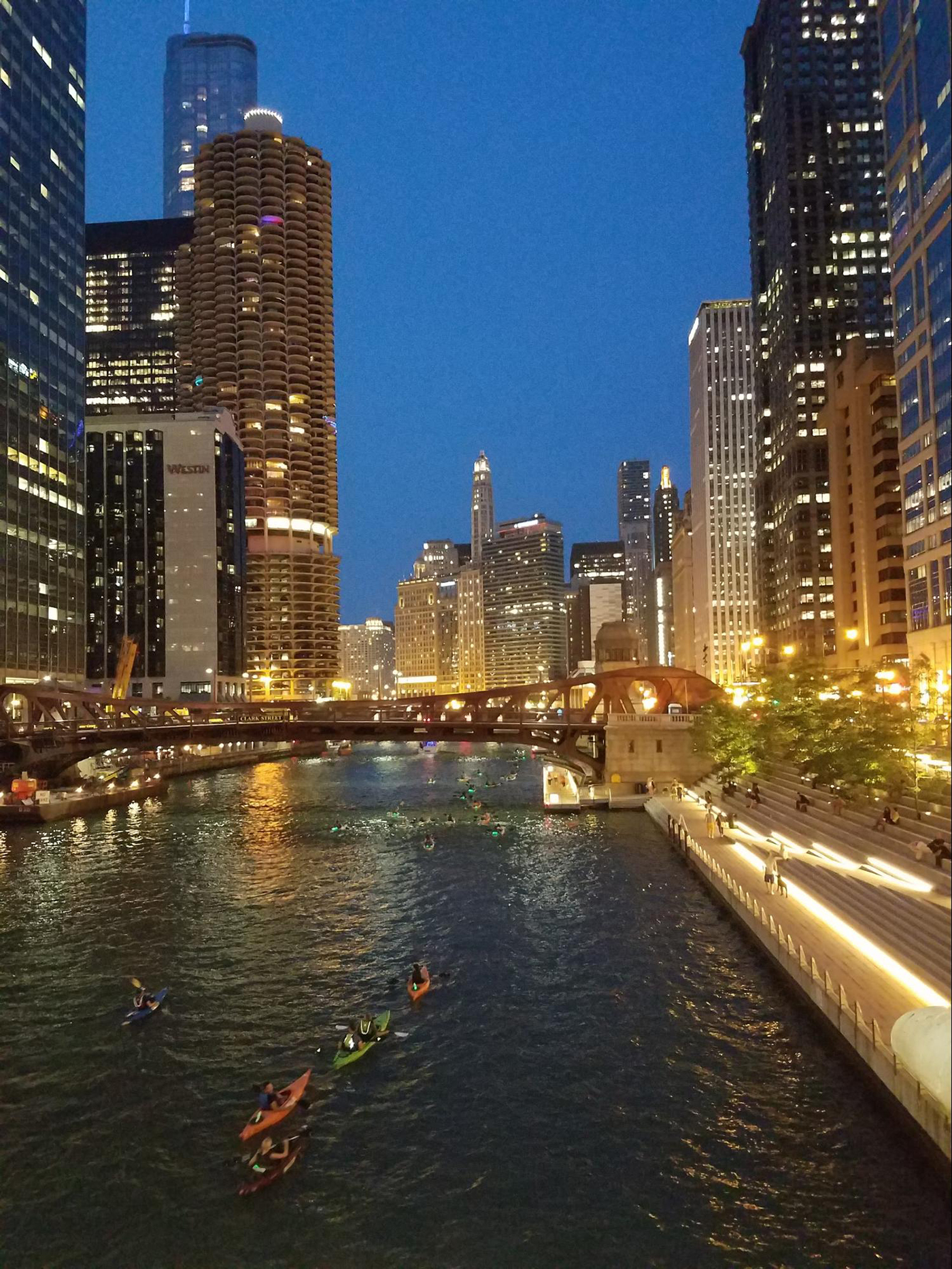 A three-tour that would allow me to catch these sweeping views of the city, experience Chicago a different way and get in a workout? I was sold.
According to Kayak Chicago instructors, we paddled between 4-5 miles, a distance that did not go unnoticed by my arms, which – no matter how many bicep curls or triceps dips I do at the gym – were not ready for.
But ultimately, it didn't matter how exhausted my arms were from the kayaking workout. Once we started paddling and made our way downtown, the views of the city were gorgeous. It's a view that never gets old but seeing it from a new perspective – and at a night – was surreal, and a reminder of just how beautiful Chicago is. 
Along our three-hour tour, we stopped in front of Tiny Tapp on the Riverwalk where we listened to live music, relaxed and enjoyed the energy of the city and the water. But even with the stop mid-trek, two hours of this kind of exercise was plenty to call a workout of the day. According to Livestrong.com and the American Council on Exercise, the average 125-pound person burns 566 calories kayaking for two hours, and a 150-pound person burns 680 calories.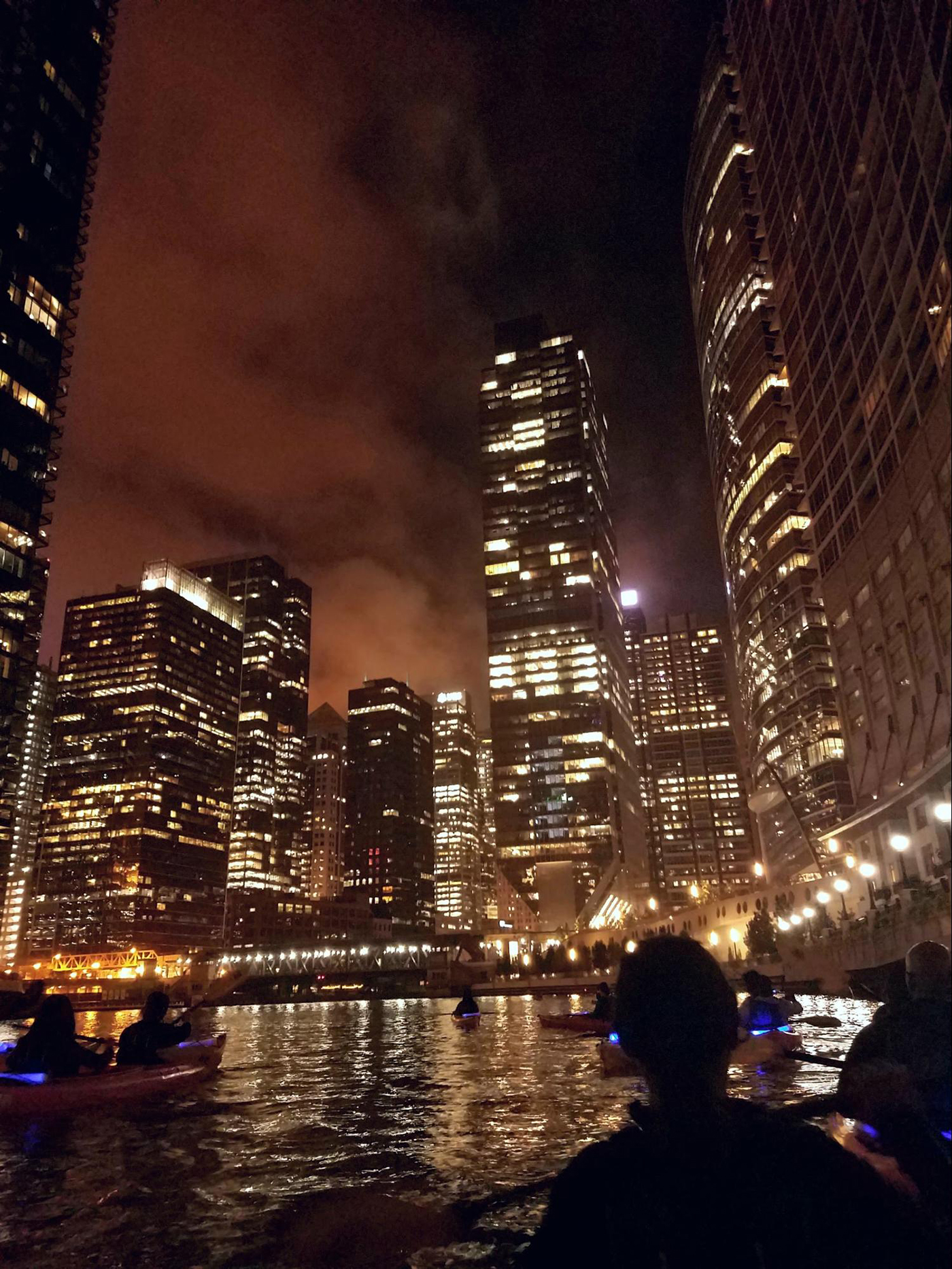 And if kayaking doesn't float your boat, there are plenty of other ways to get in a sneaky workout while learning something new about Chicago. My kayaking adventure, which started as something to check off my summer bucket list, led me to look into more of those opportunities across the city.
Free tours by foot

– this company offers free walking tours that include architecture, ghosts and a Pedway tour in the winter

Chicago Running Tours

– designed for any pace in mind, running guides through Chicago Running Tours will take you through a number of neighborhoods, including The Loop, Streeterville, Millennium and Grant Parks, Navy Pier – and a beer-themed run in the Uptown Andersonville neighborhood. What better way to learn your surroundings and get in a workout than with a running tour?

Local biking and walking tours like these offer guided tours and bike rentals to explore on your own
Segway tours in Chicago are offered every day of the week – and at night – if you'd like to get outside to experience the city but walking for a lengthy period of time is too much
Kayak Chicago's tours are currently scheduled through the end of September, but may stay open longer depending on weather. Catch the tours at 1220 W. LeMoyne St
Whether you're visiting Chicago or have been a resident for years, these ways to see and experience the city can help you explore some place new or see something familiar from a new perspective. Plus, you'll work up a sweat before you even realize it – and an appetite for any number of the dishes Chicago is best known for (we're looking at you, deep dish pizza and Chicago-style hot dogs).