What Is the Ultimate Detox? This Infrared Sauna Experience
Every day for two years I've passed by Shape House, an Urban Sweat Lodge on Larchmont Boulevard in Los Angeles. I had no idea it was literally a celebrity hot spot frequented by Selena Gomez and even the Kardashians.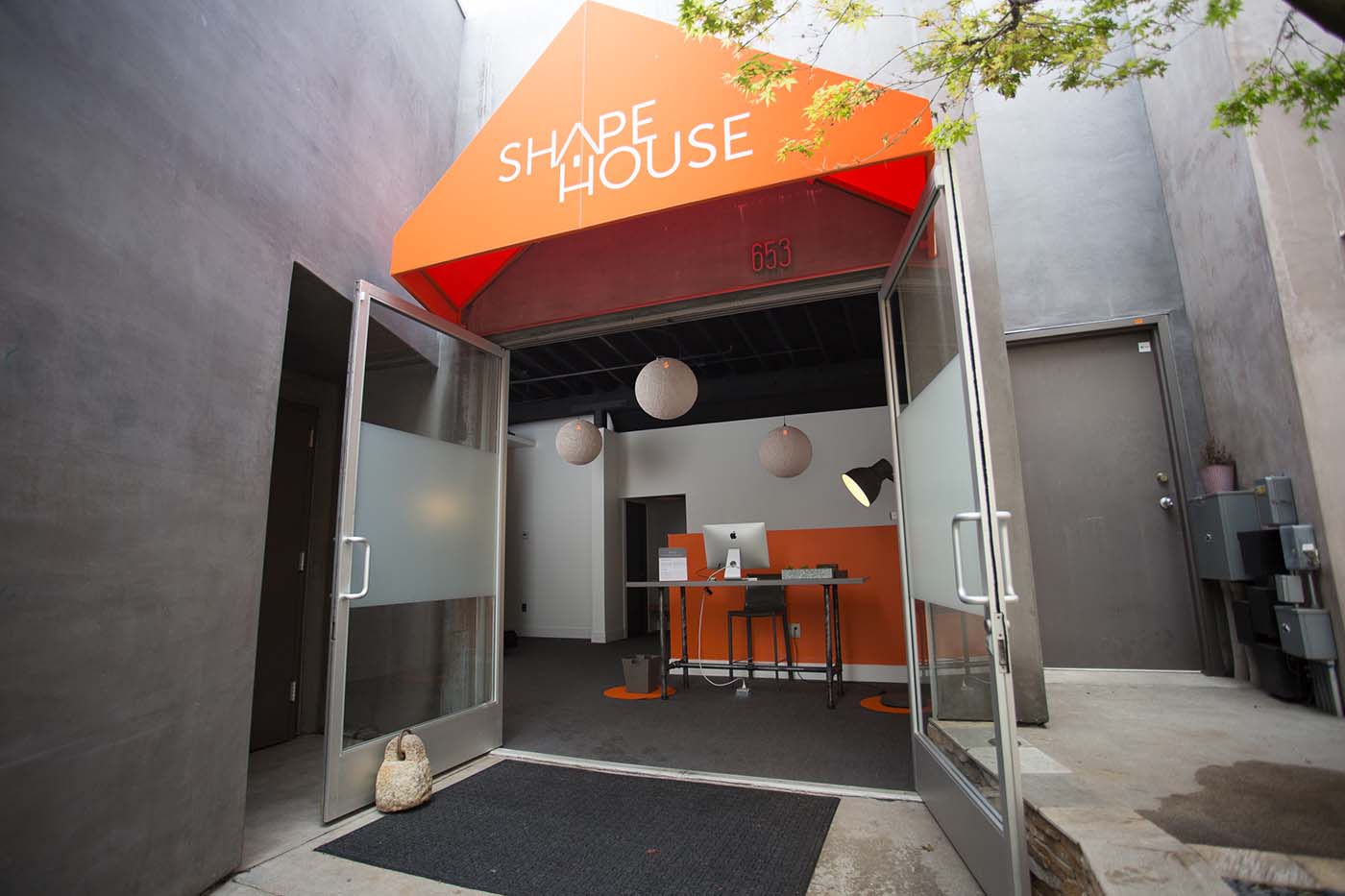 So what exactly is an "Urban Sweat Lodge?" It's probably not what you think. Less of a "lodge" and more like a spa, Shape House offers infrared sauna treatments.
To clarify, the word "sauna" is slightly deceiving. If you are expecting to sit in a wood paneled room shared with several naked strangers around a box of coal, that's not at all what it is. An infrared sauna is like a heated sleeping bag that uses light waves to penetrate deep into the body.
Shape House was founded approximately five years ago by Sophie Chiche, a former therapist who lost over 200 pounds with the help of infrared saunas. She changed her career, realizing her calling was to help people in a different way entirely.
But infrared saunas aren't just another fitness fad. They are medically approved devices. I spoke to Dr. Garrett Wdowin, who told me he recommends them for his patients because they can increase/improve detoxification and blood flow. He uses them for recovery as well as athletic performance and in generalized anti-aging protocols. These saunas have other benefits including improving your skin and helping you sleep. It's not a cure-all but something you can integrate into a healthy lifestyle.
So, I decided to try it for myself. What I really liked about Shape House was that they made the experience of being wrapped up like a burrito and sweating my butt off for an hour as pleasant and luxurious as it can possibly be.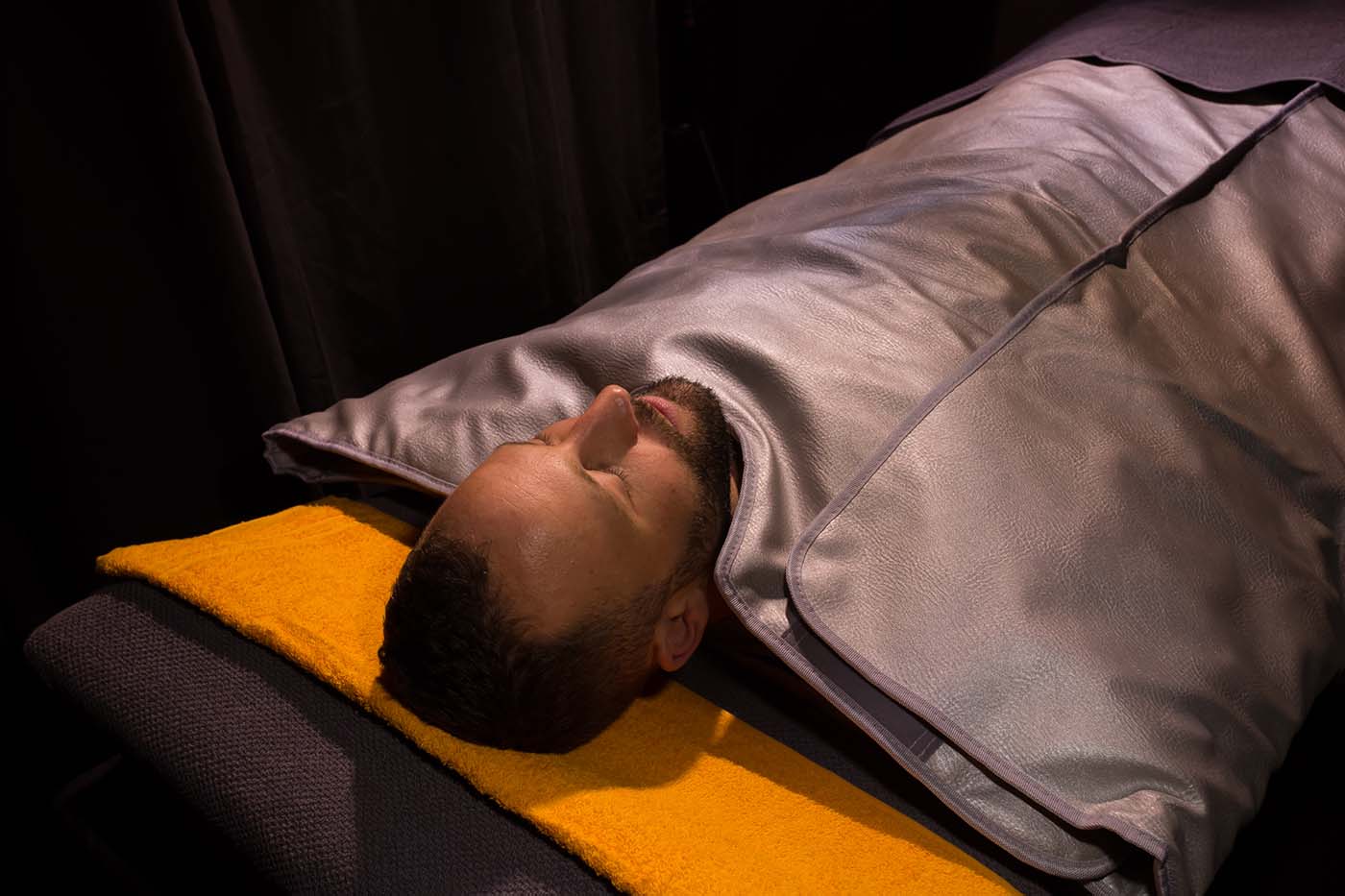 In many ways, Shape House feels a lot like a typical spa. When you arrive, you are offered alkaline water in a glass bottle (nice touch) and taken to the bathroom to change into sweatpants (no pun intended), a t-shirt and socks they provide. You sweat so much that it's best not to wear your own clothes.
Then it's time to get tucked in. The saunas are placed on adjustable beds in individual areas that are partitioned off. In front of the bed are flat screens with access to Netflix, Hulu, HBO, Showtime and Pandora as well as several other streaming networks. I decided to watch "Difficult People" on Hulu, which ended up being the perfect distraction. Although I was laughing so hard, it might not have improved anyone else's experience.
The first 20 minutes weren't bad. As someone who isn't a sweaty person in general, I was worried that I wasn't sweating enough. I briefly wondered if my sauna was malfunctioning, but by the second twenty minutes, I had no doubt in my mind the sauna was working. I was hot and really wanted to kick off my socks, but I restrained myself.
The final third of the session was the most challenging. An attendant brought a lavender soaked towel for my head. The second she left, I put it on the back of my neck instead. At one point, I considered pouring a bottle of water on my head, but there were too many electronics around, so I restrained myself.
While the session was challenging in some ways, I actually felt like I had some true "me time," for the first time in weeks.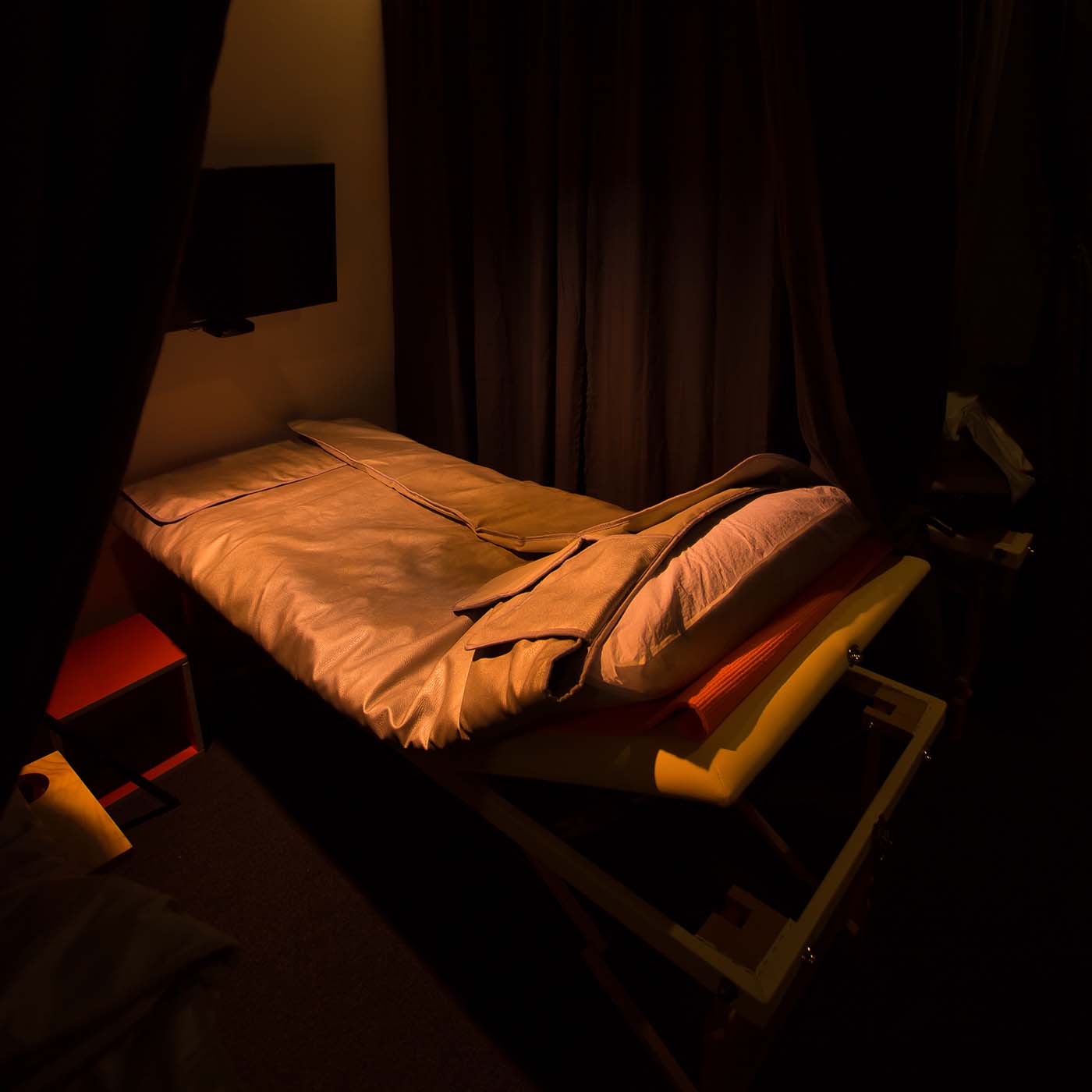 When my session was over, I went to the Relaxation Room where I was offered tea and fresh orange slices, which I needed because I felt slightly woozy. However, after about five minutes and pounding my third bottle of alkaline water, I felt really good and refreshed – definitely thinner and less bloated. This certainly won't be my last sweat.
Shape House has four locations in Los Angeles, one in the Hamptons and two opening up two in New York City in the fall. Not in these areas? Check locally for infrared sauna treatments within wellness centers and holistic healing facilities.