This is Why Yoga and Running Have More In Common Than You Think
Over the years, I've become more involved with training for long distance races like Half Ironmans and marathons while simultaneously, as a yoga instructor, deepened my yoga practice. It wasn't until recently that I was training for a race and realized just how much impact the strength of my yoga practice had on the success of my endurance training. Conversely, the better I became at steadying my mind and focusing during activity, the more I was able to appreciate my yoga practice.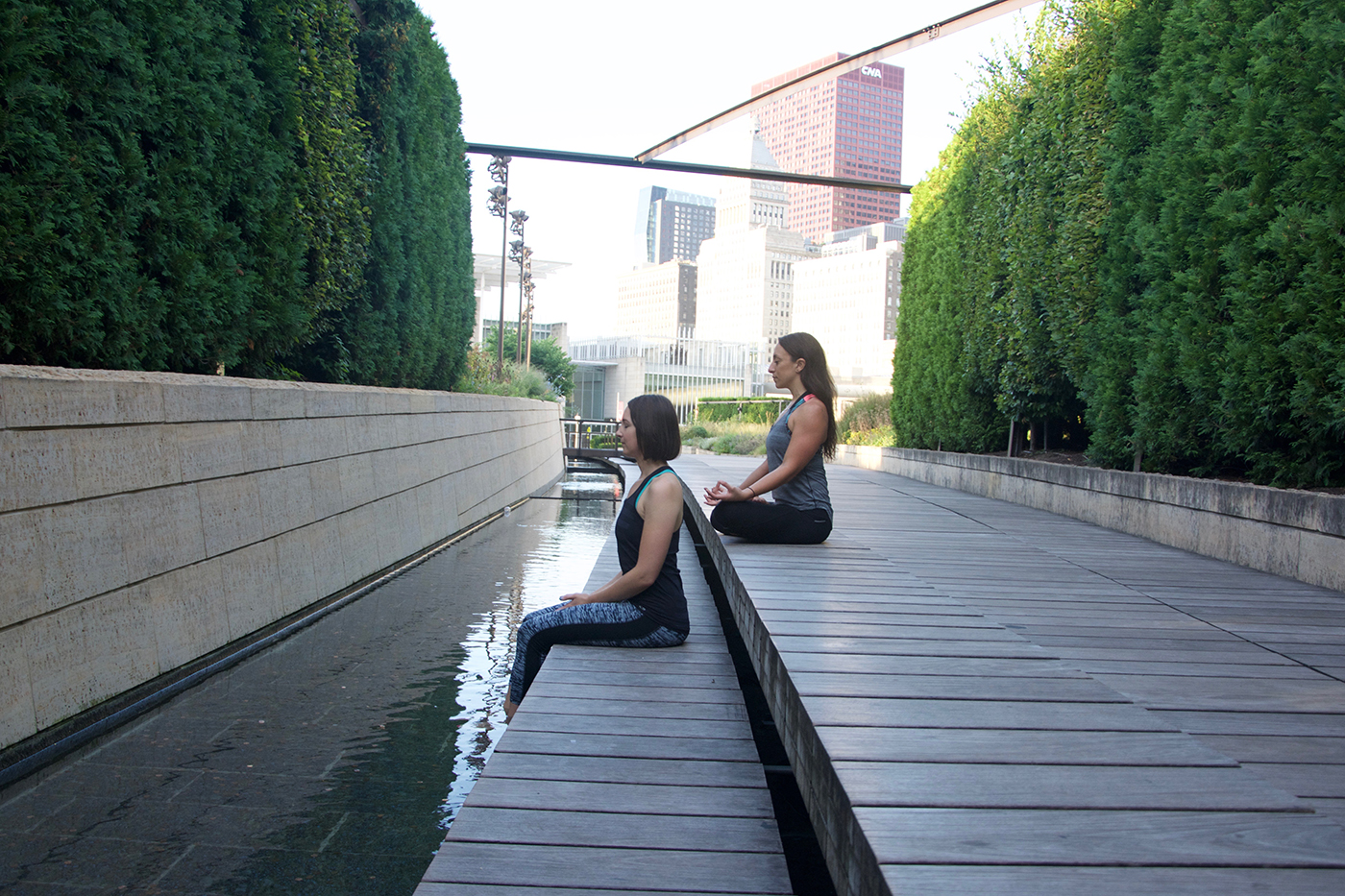 The relationship between yoga and running
While running 26.2 miles is no small task, the physical challenge of a long distance race is no match for the mental challenge you have to overcome in order to complete it. Physically, our bodies can probably do it, but controlling our thoughts, focus and drive to carry us through the long weeks of training and the race day itself is extremely challenging. Those who love endurance sports have found mental grit to push through when the physical task seems insurmountable.
Similarly, some yogis are devoted to a daily practice on their mat and find extreme joy and release from a yoga class, and other people can't get through a class without getting bored. Yoga is physically challenging in some regard, however I'd argue that like running, most people that dislike yoga dislike it because of the mental challenge that comes with it. They have a hard time abiding by the focus that is required of the practice.  
Incorporating yoga into your training
If you're training for a long distance race, mental focus is equally as important to train – if not more so – than the physical training you'll do. It's easy to feel defeated over weeks of training or in a race if you're not able to stay strong mentally. The hardest part about doing any activity for a long period of time is keeping your mind from wandering or letting in negative thoughts.
But with practice, your brain, like any other muscle can be strengthened to focus and keep you present. On your next long run, think about implementing these elements of a yoga practice to keep you mentally strong and focused for the duration of your workout:
Set an intention
In yoga, we often start class with an intention or mantra that we revisit throughout class for inspiration, guidance or focus. It's so important to have a mental space you can go to during training when your workout gets challenging. For me, I repeat the mantra "hang on" when I'm doing an interval set that takes me to my edge. Rather than giving in, I remind myself to "hang on" to push myself past my limit. A mantra can be a reminder of why you're doing a particular workout or just a phrase that inspires you to push through.  
Control your breathing
Yoga is also centered around the breath. Moving with the breath throughout your practice creates a cadence and flow for you to move from one posture to the next and helps keep you physically and mentally focused and in sync.
The same goes for any endurance activity. The next time your mind starts to wander on a long run, come back to your breath. Focus on your breath as it goes in through your nose and out your mouth. This will help control your heart rate. After a challenging interval set or a big hill, focus on consistent breaths through your nose and out your mouth to steady your heart rate for a quicker recovery from the set. And just like using a mantra, focusing on breath is a great way to prevent negative thoughts from breaking you down. 
Find focus
Yoga is about slowing down and finding ease in each posture, although you may be holding the particular pose for several seconds at a time. It's not easy – physically or mentally – to stand in one position for a long time. This is where many people say they get bored with yoga, when really they find it challenging to stay calm while being still.
The same boredom people find with yoga is similar to why people say they don't enjoy running. It's very challenging to focus for long periods of time on one activity. With each run, or each yoga class, your ability to focus for longer periods of time will grow and develop. Once you build up the mental strength, in both running and yoga you'll be able to find ease in staying focused. Using breath and the intention you set will help you get there.
If you're an endurance athlete logging several hours of physical training each week, incorporate yoga into your routine to train mentally as well. You'll conserve energy by strengthening your mental ability to stay focused, allowing you to conquer the distance ahead.