Got Two Minutes? Try This Balance-Booster Before Your Next Run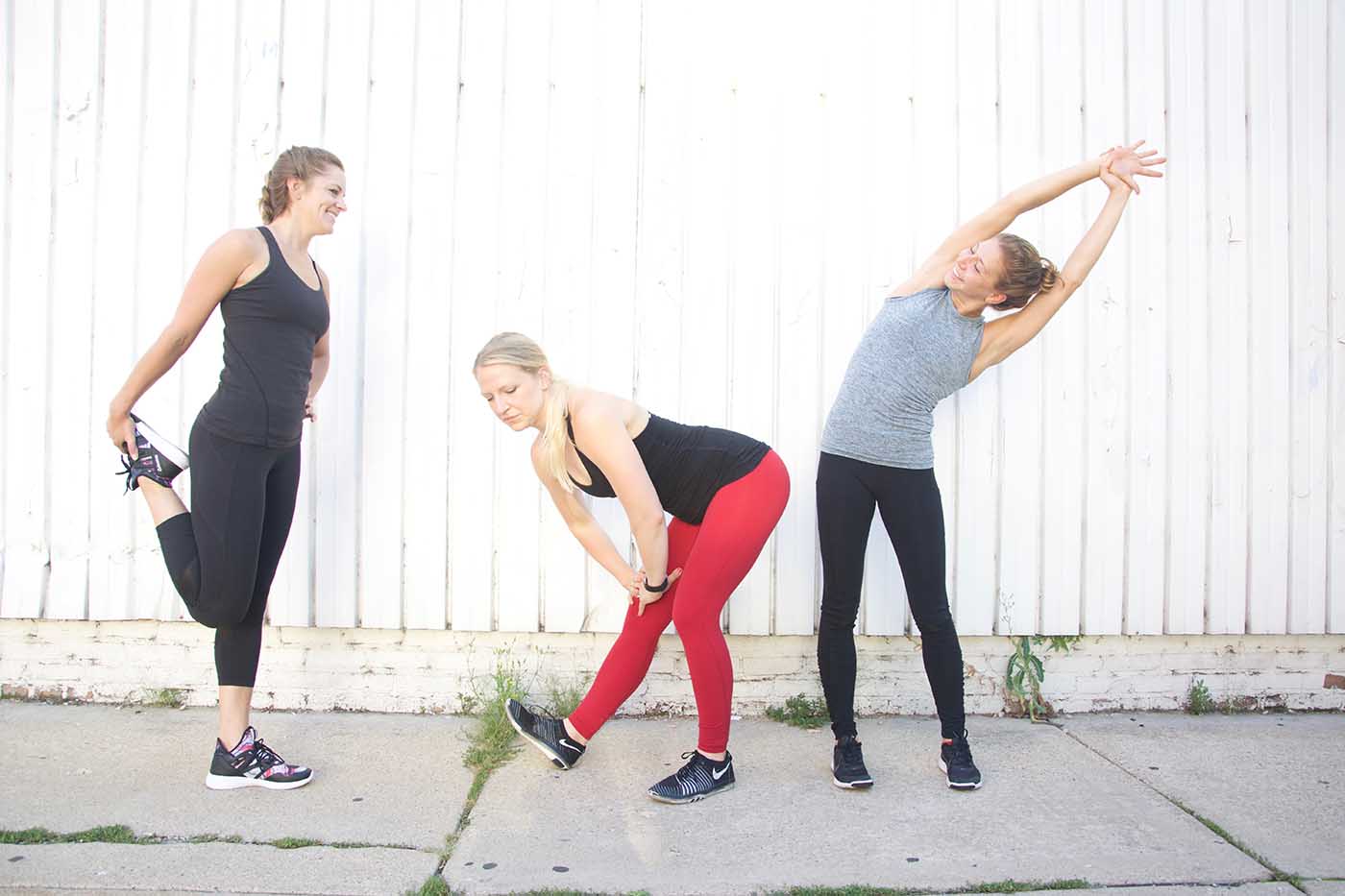 If you're anything like me, you *absolutely don't* have ~any~ time to warm up, stretch or do strength work before or after your run.
Which is patently false, but it's what I tell myself each and every time.
Cass made it as easy as possible for us when she wrote about this pre-run dynamic stretching routine that only takes a couple of minutes, and yet that still wasn't good enough for me. Luckily, I stumbled upon this cross-training movement that I really have no excuse to skip before any run.
Why is that, you ask? Well, the routine is putting on my shoes and socks – kind of a must for any run, since I'm not a barefoot runner.
Don't just take my word for it, though. Nike Elite Trail Team member and ultrarunner Sally McRae vouches for this routine. In an interview with Outside Online, she described her love for single-leg stance cross-training exercises since they improve your balance, coordination, and speed.
"When we run, we are continually in the single-leg stance so you should want to be strongest in this stance. Most runners have some type of weakness or imbalance that can be strengthened by doing these exercises," advised McRae, who is shown below demonstrating the exercise on her Instagram page.
Chicago Nike+ Run Club coach and Edge Athlete Lounge owner Robyn LaLonde agrees.
"When we run, we never have both feet on the ground at the same time. It truly is a single leg sport! And when we have any form of impaired balance, it means that our muscles will work less effectively – which can lead to slower times, fatigue and even injury."
Coach Robyn went on to explain that by getting more comfortable and stable on one leg at a time, you're isolating your balance muscles, directly addressing any weaknesses or imbalances and improving your running efficiency. As a bonus, you'll be working on your core, hamstrings and glutes.
Ready to try this exercise out for yourself? Keep these tips in mind.
To make things easier on yourself, lay your socks and shoes out in a horizontal line in front of you. I go left shoe, left sock, right sock, right shoe.
Right from the start, Coach Robyn suggests timing yourself for each leg; that way, you'll be able to gauge progress. Plus, you'll know which side you're stronger at balancing on, which is a good thing to know when transferring to other exercises (like a single leg lunge with hop or single leg deadlift).
Loosen the first few rows of your shoelaces before you start the exercise. You may be able to jam your feet in with barely untied laces on solid footing with the ground as leverage, but it's not as feasible on one foot.
I've found that the best way for me to slip my shoe on snugly is to use one hand to stabilize my ankle and the other hand as leverage underneath the shoe heel, pushing it upwards until it's on completely.
Until you develop more hip flexor strength, it may be hard to lift your knee up long enough to be able to put on your socks and shoes, and then tie your shoelaces. Don't despair! When I started this exercise, I put my socks and shoes on with my knee bent out in a figure 4; then, I'd tie my shoes in the position shown by Sally above (with knee and quad raised parallel to the ground). Start small and progress from there.
Ready to take it up a notch? Coach Robyn suggests a couple of ways to up the ante if you're getting too comfortable on one foot. "Put a pillow under your foot to create some intentional wobble, or use a tight compression sock instead of a standard sock."
Oh, and a tip from personal experience: try this for the first time in front of a bed or couch. That way, if you fall, you'll fall into something soft and comfortable, and you'll avoid having weird bruises and scratches on your leg for a week after. Just a helpful hint I've found along the way.
Have you tried doing this before a run or a workout? Has it helped with your balance and core strength?