How Pounding It Out Can Get You Fit
"I want my arms to be cut." That was the overwhelming thought that led me to try my first boxing class some three months before my wedding last fall. I'd been doing daily push-ups and religiously attending my favorite barre class (the one with the upper body series that seemed to go on forever). But I still felt my arms — which would be on full display in my fitted, strapless gown — could stand to be a little bit defined.
I wasn't the only one stepping into the ring in 2016. As countless celebrities showed off their best one-two combos on Instagram (see: Demi Lovato, Gigi Hadid and Ashley Graham) the workout started gaining ground with mere mortals. In recent years, studios such as Shadowbox (now in New York and soon to open in L.A.), BoxUnion and Title Boxing Club (with 169 nationwide locations) began popping up. Within weeks of our first class my now-husband and I watched several studios open in our New York City neighborhood alone.
The surge in popularity isn't simply due to boxing's ability to work your upper body. (Though it does a fine job of that. Even my wedding photographer commented on my toned biceps.) The work out also tones your legs, butt and core and torches major calories.
Most classes are structured to include rounds of boxing on either a heavy bag, a water bag or a partner holding up pads. And in between each set, instructors lead exercisers through what they'll call an active recovery — a minute or so of a body weight-based exercise such as mountain climbers, squats or holding a plank. That combo means you're working every muscle in your body, plus there's the mental release you get from, you know, hitting something really hard. I asked Rob Sulaver — a founding trainer at NYC's Rumble Boxing to break down the benefits.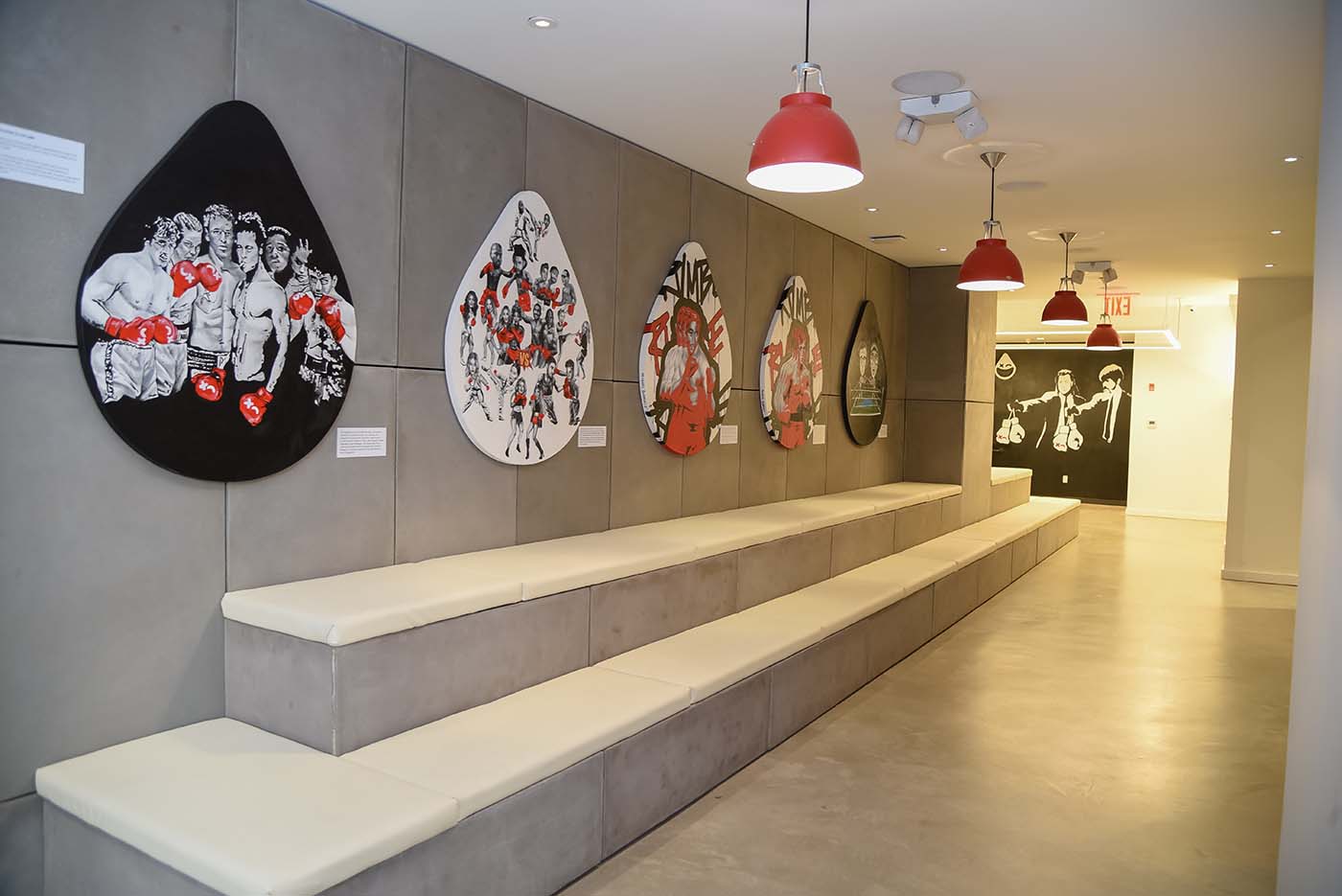 (Photo courtesy of Rumble)
You'll tone everywhere.
Wailing on a heavy bag or pads won't just firm up your arms and shoulders. Because the four standard punches — there's the jab, cross, hook and uppercut — require you to move your lower half, "no muscle is left untrained," vows Sulaver. Not to mention the warm-up and between-round sessions involve full-body moves such as high knee sprints, jumping jacks and jump squats. And then there's the core work. "A punch actually starts from the ground up," explains Sulaver. "So we have to transfer all of that energy through our midsection in order to throw with power. That means our core gets a lot of training." Plus, he adds, "We add a solid amount of abs-specific training to our floor routines."
You can torch major calories.
Boxing burns between 12 and 22 calories per minute, says Sulaver. So over the course of a 45-minute class, you can sweat away nearly 1,000 calories! But the perks extend far beyond working off last night's double cheeseburger and fries. The cardio element "offers heart health benefits and gives an endorphin high," says Sulaver, while the strength training builds muscle, giving your body a more toned look and increasing the number of calories it can burn while at rest.
It's like a mini-therapy session.
For me, being able to pound on a bag helped erase some frustrations. I credit weekly sessions for keeping me sane throughout wedding planning. Though my friends swore I'd feel anxious in the weeks leading up to the big day, I actually felt remarkably calm. (Save for the few days I stressed over the rainy forecast.) "Punching things is a lovely form of therapy," agrees Sulaver. In Rumble's New York studio, he ends each class with a freestyle round "and I can't tell you how many people I see unloading on their bags with huge smiles on their faces!"
And it will make you feel like a boss.
Mastering the jab, cross, hook, uppercut and accompanying defense moves definitely gives you a bit of swagger. I mean, not enough that I'd go looking for a fight, but at least my husband knows not to, er, cross me. "Being physically capable is a huge confidence boost," says Sulaver. "The real magic is watching people take that confidence outside of the classroom."