LIT Method, Giving HIIT Workouts a Run For Their Money
The first time I walked into LIT Method, I knew absolutely nothing about it. A friend of mine invited me at the last minute and there was not even time to ask anything more than the standard "Grippy socks or sneakers?" question. When I arrived, I was completely surprised.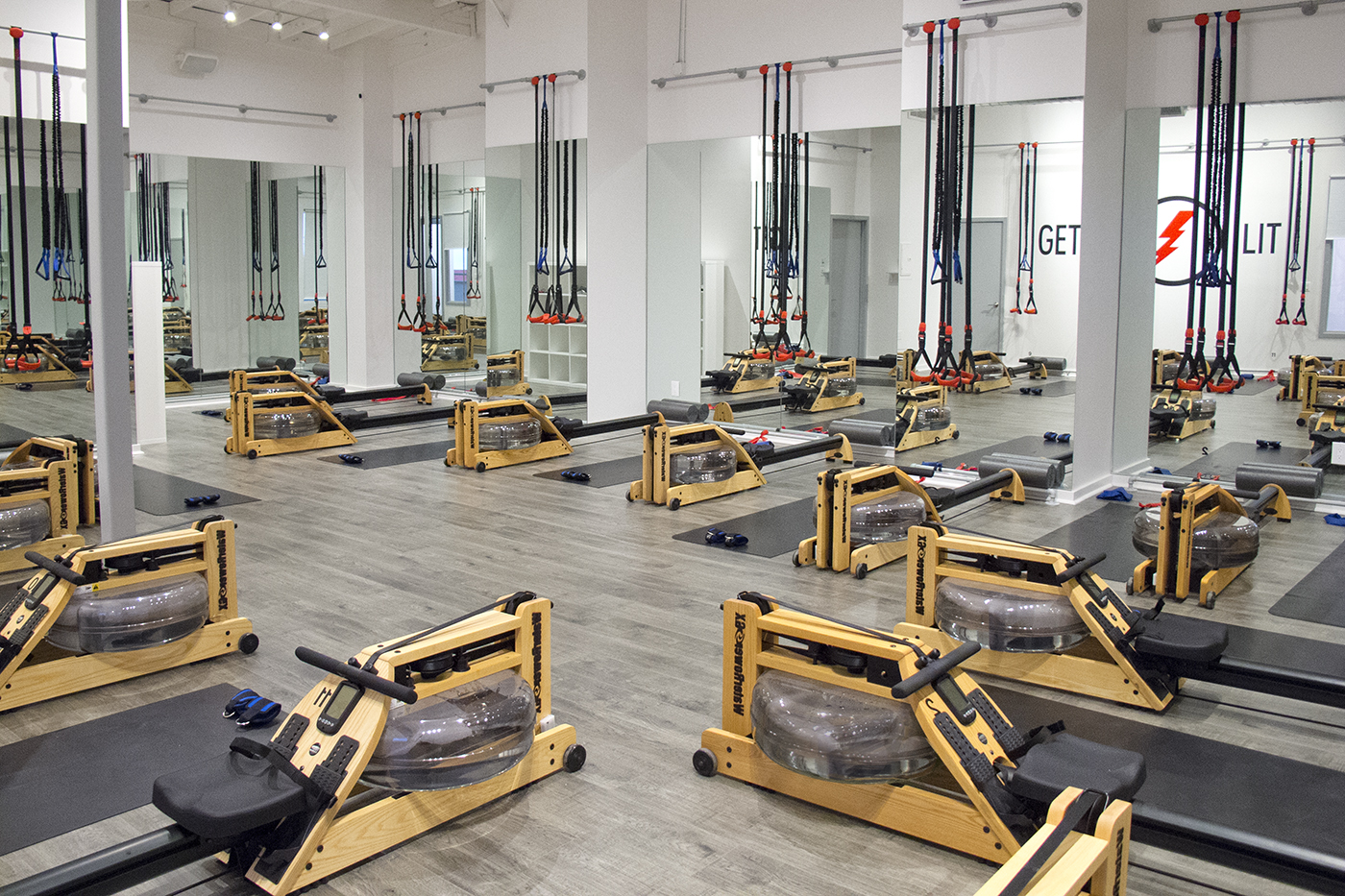 LIT Method is a HIIT workout that combines lots of different exercises including water rowing, TRX, several kinds of bands, mat and various bootcamp-style classics like sit-ups. Although every class is a challenge, all exercises are low impact, so there is no running, jumping or weights. LIT actually stands for low impact training. Lower impact also means there is a lower risk of injury, and what can ruin a workout faster than hurting yourself?
One of the first things that surprised me about LIT is that the central piece of cardio equipment is the water rower. I had not so much as seen a water rower before going to LIT and the last time I used a traditional rower was in college when I had crush on a member of the crew team.
Water rowers are quasi-futuristic-looking pieces of equipment that use a tank of water instead of a flywheel. There are no settings to change because the water provides self-regulated resistance, meaning the faster you go, the higher your resistance is. I like this because it simplifies the process of switching intervals. After a few classes at LIT, I really think it is the best piece of cardio equipment most of us aren't using.
I asked LIT co-owner Taylor Gainor why she chose the water rower in particular. She told me, "The water rowing machine is our central piece of equipment because it provides the only 60/40 split of upper and lower body that works 84% of your muscles, giving you a balanced workout."
There are so many reasons why I like LIT. Every single class is different. The only thing I know entering class is that I will be challenged. Some classes utilize all the equipment, whereas others only use some, but you never know what you are in for. Because of the fast pace and the fact that I don't know what the instructor is throwing at me next, I have no choice but to concentrate deeply and work out as hard as I can.
To be honest, in other bootcamp classes, for the most part, I'm completely over whatever exercise I'm doing at least thirty seconds before we go on to the next thing. At LIT, I sometimes wish I had an extra 30 seconds. They also call the time frequently ("We've got 10 more seconds here"), so if we are doing an exercise that perhaps isn't my favorite (push-ups, if you we're wondering), I'm generally able to push through because I know it will be over soon enough.
Every instructor at LIT is different, but they all share the same positive and upbeat vibe. Most importantly, they are very accessible. No one feels uncomfortable waving over the instructor to ask a question or to check if your form is correct.
The one thing that stays consistent throughout every session is the cool down, which is stretching with a foam roller. I wish every single workout I do at any studio ended the same way. It's like getting a little massage as a reward for sweating it out. Furthermore, as someone with lower back issues, the foam roller is a great way to prevent pain later or the next day.
LIT currently has one studio in Los Angeles, but they are planning on opening up additional locations and expanding to New York. However, no matter where you live, you can purchase a LIT KIT, which is a home equipment package and video on-demand subscription.