A Surf Sistas Retreat May Be the Fit Getaway You're Looking For
I've never harbored a burning desire to go surfing. I did, however, want to go on a fitness retreat. What I did not want was to be sequestered for days on end atop a mountain for non-stop yoga. Since most of the offerings I found online felt like a less exaggerated version of just that, I was happy to stumble upon Surf Sistas.
Surf Sistas' women only weekends in Cornwall, England are two days on a beach with easy access to a town that can be explored for food, shopping and spas. While England might not be the first place one thinks of to go surfing, Fistral Beach in Newquay (a major resort and surfing hub in Britain) turned out to be the perfect choice.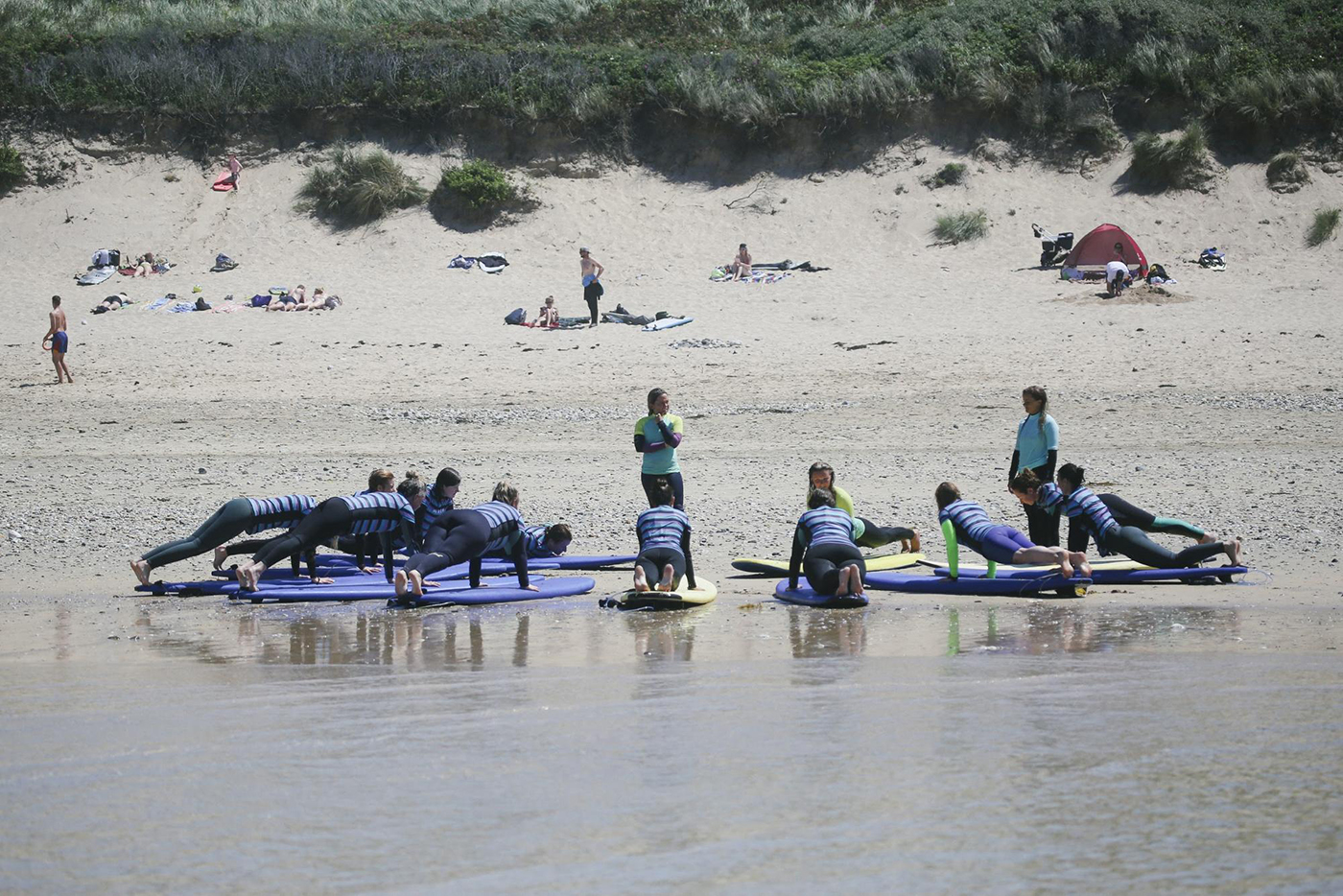 After spending three days in London, I met Surf Sistas leader Kate, along with my fellow surfers at a local hotel for the roughly six-hour drive to Newquay. Ranging in ages from late twenties to late forties, the other women all lived in the London area, but a few of them were transplants from Canada, Australia, Italy and France. Two pairs of the 16 women arrived together, but the rest came to the experience on their own and were mostly first time surfers, just like me.
Since we arrived in Newquay late on Friday, festivities started on Saturday with a group breakfast in the hotel. A couple of hours later, we were given wetsuits and rash guards and headed to the beach for our first lesson. After some instruction on the sand, we hit the water, which wasn't as cold as I feared. I was amazed how well those wet suits actually worked, but I was also too busy battling waves and falling off my surfboard to notice any chill there might have been.
We initially practiced walking out into the water, picking a wave and riding it in while lying in a cobra-like pose on our board. Back on the beach, we learned how to transition to our knees before standing up, which of course was way easier on the sand than on a wave. I was pretty terrible at it, but I did stand once for about a second. That might be a generous estimation, but it still felt like success.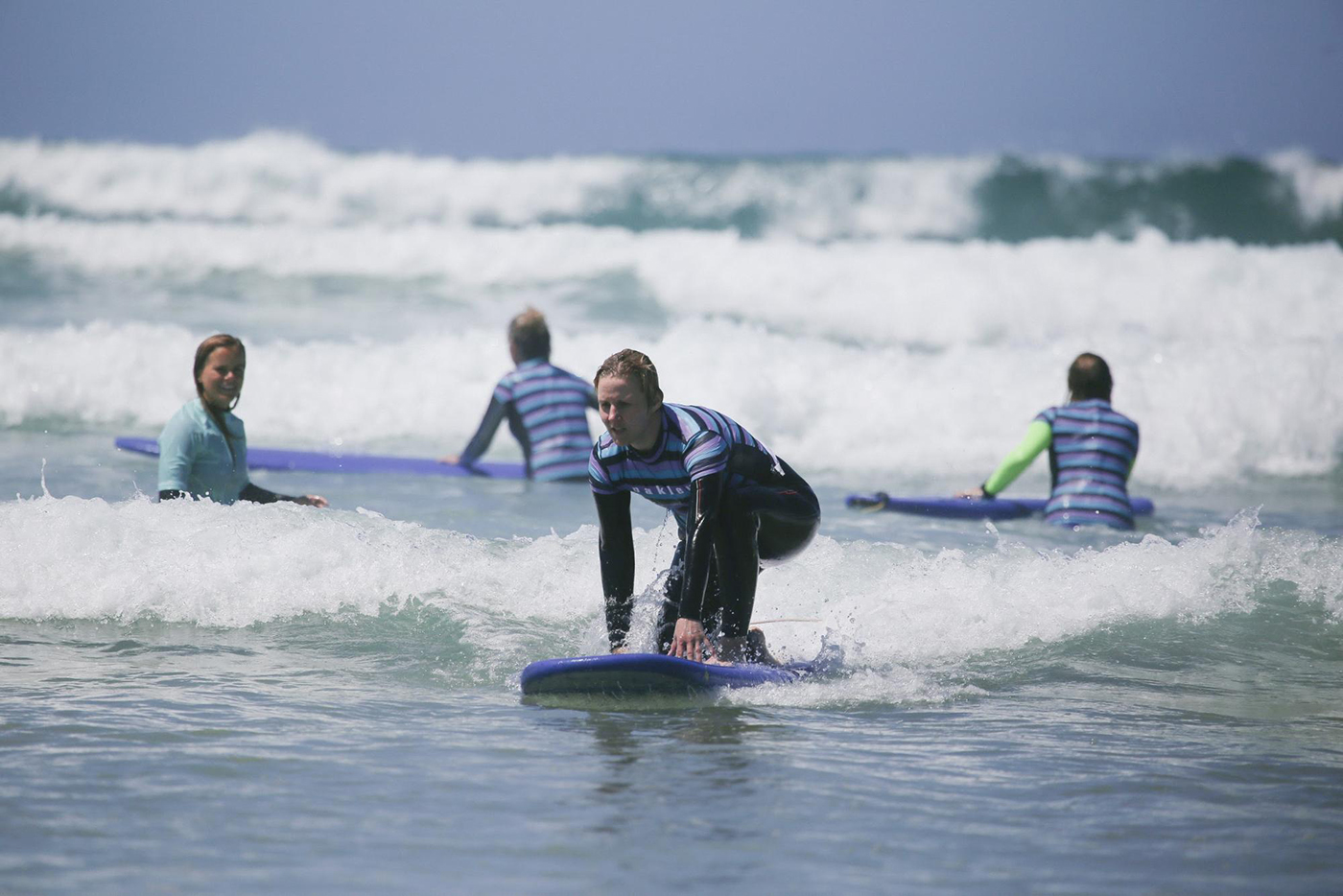 We broke for lunch in between the two two-hour sessions, with several of us gathering at a restaurant on top of a nearby cliff. Despite feeling exhausted from fighting the waves and constantly trying to maneuver our boards, we suited up again to try and finesse our newfound skill.  
Later that night, the group trekked across town for dinner at a Mexican restaurant and then went our separate ways afterwards. Some went to check out the night surfing contest going on, while others, like me, headed to the hotel to crash. The next day offered one last surf excursion and a yin yoga class before loading on the bus to head back to London. The slow-paced stretch session, where we held poses for several minutes at a time, was exactly what my tight muscles needed, especially my shoulders.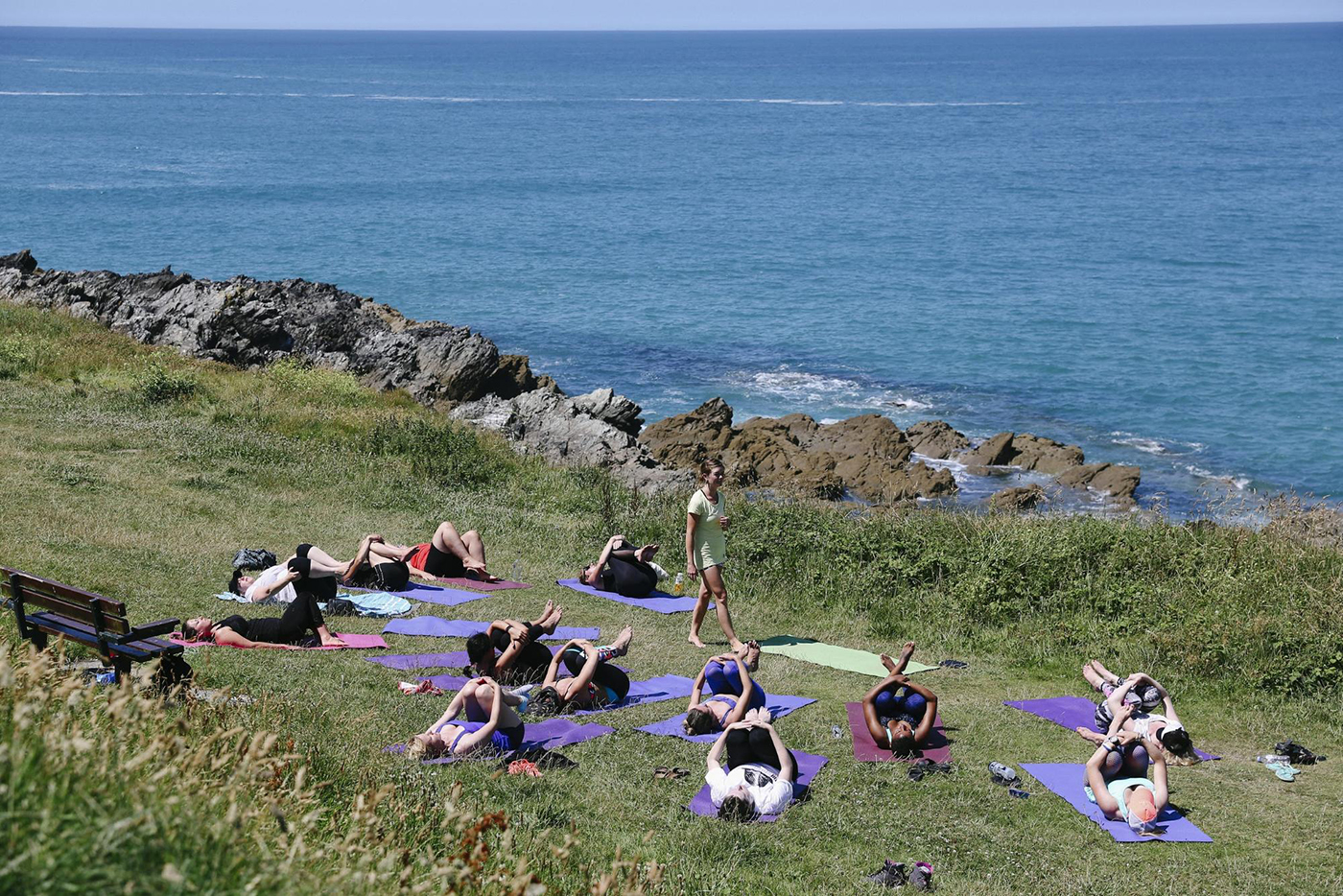 It was a quick, but perfect trip. Just enough time to explore a new area and try something new in like-minded, non-judgmental company. The itinerary wasn't overly scheduled, as every activity was optional. I confess, I skipped the Sunday morning session in lieu of lounging in my room and walking into town. Even without missing a session, there was still time to explore Newquay (ask for an itinerary ahead of the trip if you want to schedule a spa appointment) and indulge in solitude if need be.
The six-hour drive in a bus with 10 other people could be considered a lot, but we did make at least one stop each way for a food and bathroom break. A couple women drove on their own meeting us in Newquay, while another flew in on the Flybe airline, which offers flights out of the London Gatwick airport. The latter would obviously be the most expensive alternative, including transportation to and from the airport, but depending on your situation, the hour flight might be something to look into.
Another thing to consider is late check-out at the hotel. I missed my opportunity to take advantage of it, but the Esplanade Hotel offered a 2 pm check-out for an extra 20 pounds, which would be enough time to come back after the last surf session to shower and relax before yoga and piling back on the bus. There were general showers for the morning surfers in the pool area and near the storage area under the hotel, but having a private space to recharge sounded worth it to me.
Surf Sistas also offers beginner and more advanced surf weekends in Wales, France, Bali, Costa Rica and Ibiza. It is a fun, challenging activity to tack on to a longer vacation or for just a quick getaway to feed your adventurous spirit.