Disclaimer: I received my first subscription of Care/of vitamins free of charge to try them out. As always, my opinions are my own and I only write about the products and services I love and want to share with you. 
Back when I started doing a little bit of multivitamin research, I stumbled upon a company called Care/of that offered something I'd never heard of before, in the age of all-encompassing multivitamins stretching down entire aisles at Target: a personalized multi-vitamin pack, delivered in 30-day supply directly to your door.
And to be honest, I couldn't believe someone hadn't thought of it before. After all, I can personalize my toothbrush heads, my Chipotle burrito and my fitness apparel subscription box – and those don't directly impact my daily health as much as a multivitamin does. Why should I take a multivitamin that was mass-produced and targeted at consumers who may have wildly different health needs than I do?
Even if I do take the time to really sit down and consider my personal health needs, buying the individual vitamins is a huge pain, not to mention really expensive. We're talking buying full bottles of several different kind of supplements. But the fun part is just getting started, folks. Now that I've spent three figures on my medicine cabinet, I have to actually open each canister and put together my own vitamin cocktail every day – not the worst thing in the world, to be sure, but it definitely slows down my morning routine.
Luckily, Care/of has anticipated every problem with the vitamin industry and figured out a solution for modern health-conscious consumers.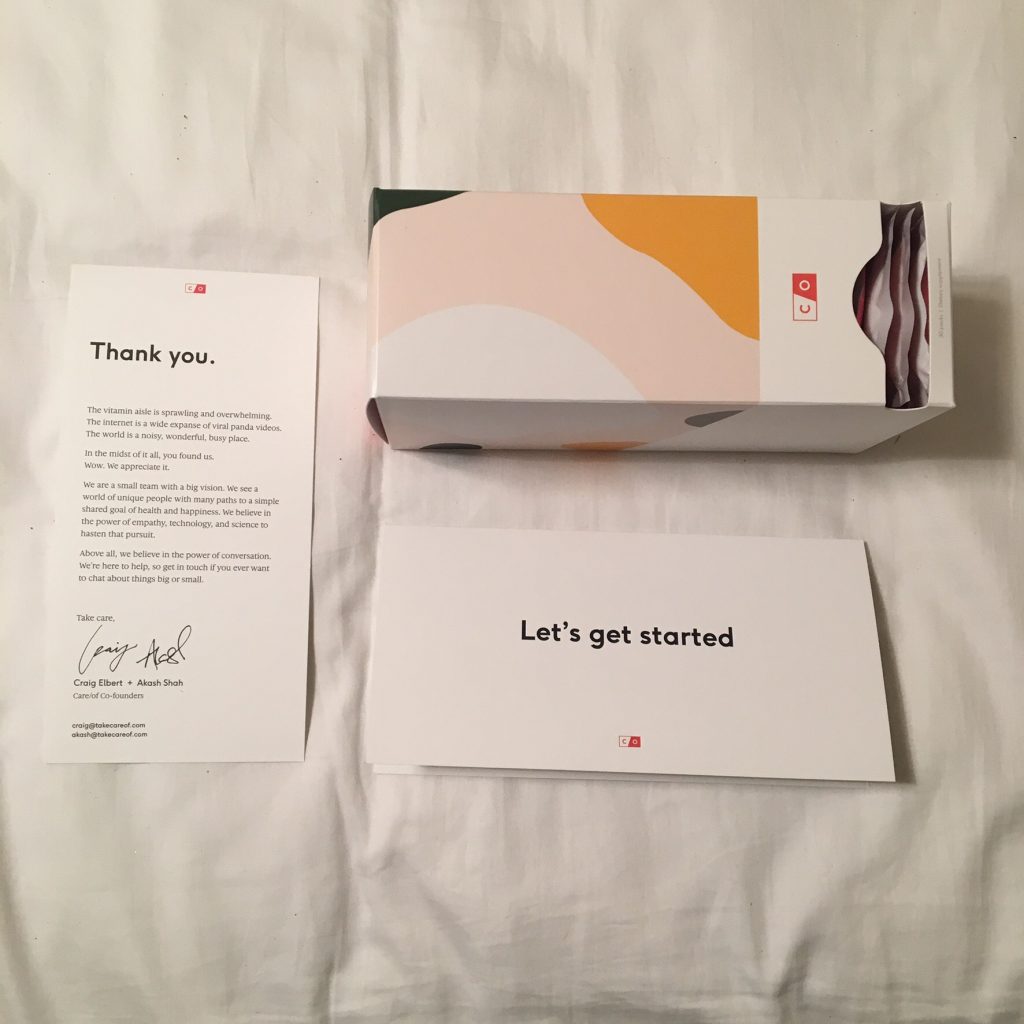 "People follow all sorts of different diets and have different health goals, so it makes sense that they would need a unique set of vitamins and supplements, but it can be hard to figure out what to take," says Craig Elbert, CEO and Co-founder of Care/of. "Our survey allows us to learn about the most important elements of your health needs and recommend the right supplements – and we've created those recommendations with the help of scientists and nutrition academics."
With Care/of, you log onto their website and take a ten-minute quiz decided to identify your health goals, lifestyles and values. Then, the team uses scientifically-backed research to recommend vitamins and supplements they think are perfect for you. Finally, after you review your supplements and add/drop as you see fit, your personalized vitamin packs are mailed to your house. You get a 30-day supply, with each day pre-packaged for you in an individual wrap, so you can easily take them on the go without worrying about missing a vitamin.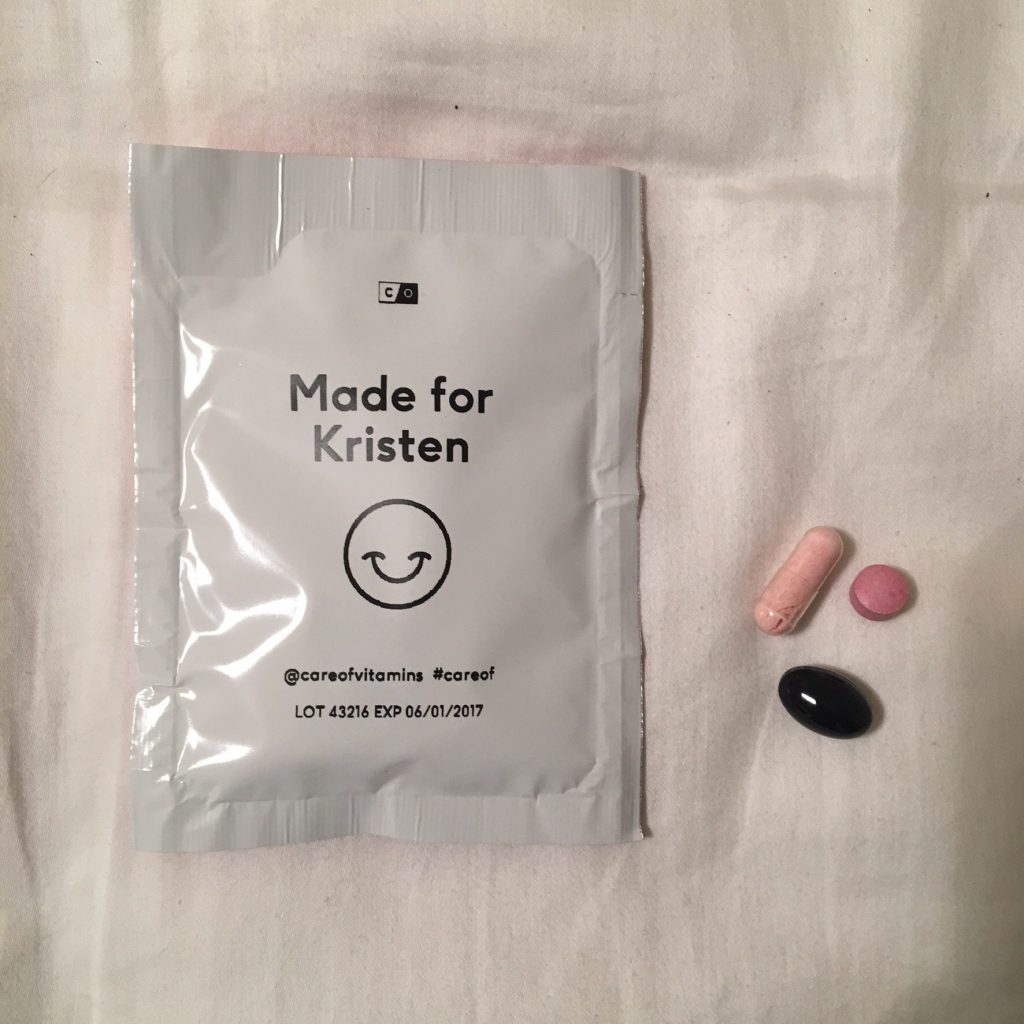 As a narcissistic millennial, I was hooked at just the thought of taking a quiz solely about myself. The quick quiz was insanely simple (not to mention beautifully designed) and at the end of it, the Care/of team recommended three vitamins: Vitamin B12, Vitamin D and the antioxidant Astaxanthin. Together, this blend would supplement my vegetarian diet, boost my energy during shorter winter days, support athletic performance and heart health and give my skin a nice healthy glow. The total bill? $19 for a month's supply of all three pills. I nearly fainted when I saw that.
Beyond the personalized attention to my needs, there were a few other things I really loved about Care/of that I will gladly shout from the rooftops to anyone who asks.
Transparency, honesty and information. The Care/of website is a wealth of knowledge, with whole pages dedicated to how they source their vitamins, what research backs them up and the rigorous testing process every product undergoes. It made me feel a lot safer about taking pills I ordered off the internet.
On-the-go convenience. I can't stress this enough. While part of me cringes at the individual pill packets (and hopes that Care/of eventually moves towards more eco-friendly bulk packaging), it's so easy for me to grab a few packs to keep at my desk during the week or to stash in my suitcase when I'm traveling. Plus, the cute little cardboard dispenser looks adorable on my desk.
It's such an easy way to boost my overall health and wellness. I'll admit it, I get caught up in the nuts and bolts of squeezing in a workout and eating a nutritious diet, and I tend to lose sight of all the little things that also affect my health (like drinking enough water, working on my mobility and getting quality sleep). Multivitamins feel like such a no-brainer way to improve my overall health and spot-check any things that might be missing from my lifestyle. Why wouldn't I take advantage of that?
After a few weeks of using Care/of, I've noticed that my skin is brighter and my complexion is more even. The energy levels are a little bit harder to gauge, especially since I'm writing this as my college friends are heading out of the city and I feel like a 9 pm bedtime is definitely in my future. That said, I believe it takes at least a month for my body to adjust to any new routine before I see results, so I'm already looking forward to renewing my Care/of subscription.
The kind people at Care/of want to help you get your personalized vitamin fix, and to help you out, they're offering a special promotion for A Sweat Life readers. Use the code ASWEATLIFE to get 50% off your first order of Care/of vitamins. I promise, if nothing else, you'll love taking the quiz and learning more about your own health and lifestyle habits – but I have a feeling you'll be as hooked to Care/of as I am.