The Art Form of Thai Bodywork
I chose the title of this post carefully. Thai Bodywork – Is it yoga? Is it a massage? Is it therapy? Paula Bui, Thai Bodyworker and yoga instructor, introduced me to some of the fundamental elements to this practice after I took her Deep Stretch class at Yoga Six and found the stretches to be different from anything I'd done in a yoga class before. I interviewed her after class and found out about her Thai Bodywork background. She gave me a taste of what it's all about and, long story short, I'm now fairly sure it's an art form beyond anything else.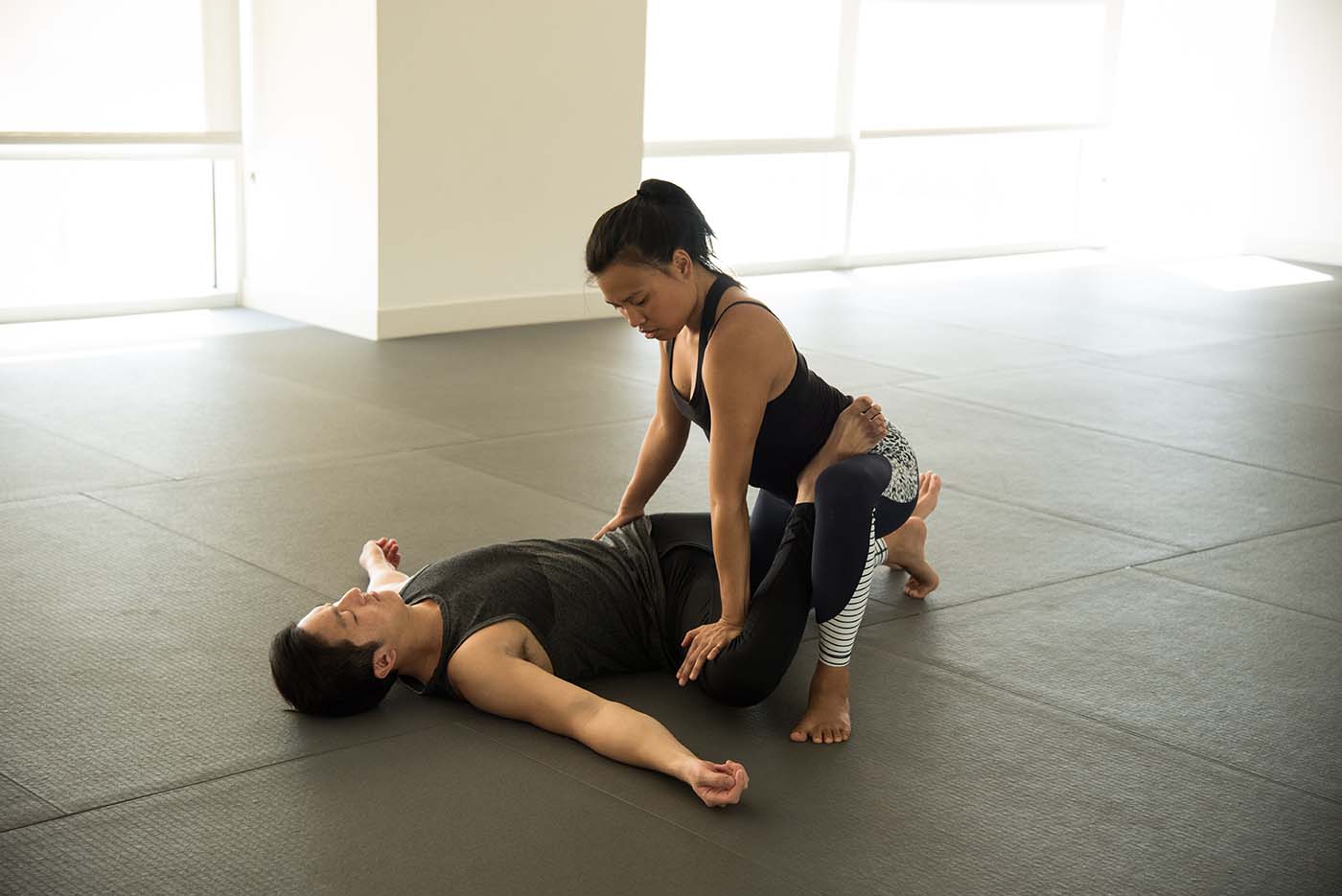 What is Thai Bodywork?
If you're like me, you may have heard of Thai Massage or Thai Bodywork before but never took the next step to really learn what it is. By signing up for a Thai Bodywork session, you'll (usually) get a one-on-one session with a Thai Bodyworker who moves you through shapes and yoga-like poses on the floor to lengthen and create space in your body. Two key differences between a regular table massage and Thai Bodywork is the importance of breath and the equal part effort between the receiver and giver during a session.
"In a regular massage, you're not participating as much in the practice of creating more space in the body, whereas on the mat, you are," Paula said. "I'm also cueing the breath the whole time. When you're twisting, we're taking an inhale together, [then] an exhale and letting it all go. So it's not necessarily meant to completely and totally relax you – we're working together to create space."
What's so unique about it?
Paula helped me better understand what to expect from a Thai Bodywork experience by showing me a few things after class. Let me just tell you. I never wanted to leave. Two things stood out to me about my mini-practice.
1. Trust is key.
Immediately, one thing that was abundantly clear to me was that Paula was so comfortable and sure of herself. She knew exactly how to displace her weight and support whatever shape she was moving me into. That confidence in turn let me relax more into the pose – a task much more easily said than done.
"The biggest challenge that I've seen practicing on people is learning how to relax," she said. "There's this tendency, this desire to help. And in Thai massage, it's a lot more helpful to not help, and just allow your body to be heavy. It's easier for the person that's giving, and it feels better for the person that's receiving when you can completely relax."
2. The benefits for the giver and receiver are equal.
As Paula described to me, the practice is as much about the giver as it is the receiver. Because she completely understood what she needed to do, she was able to work with ease instead of effort. Although the practice is physical, to Paula it's mindful and aids in her practice of Acro Yoga.
"Thai Bodywork has always been a part of the Acro Yoga practice, and when I did trainings and workshops in Acro Yoga, we'd end with a little bit of Thai Massage," Paula said. "So after doing that, I enrolled in the Blue Lotus Thai Healing Studies program, a six-month training, learning how to practice bodywork and be more comfortable in my body than I was before. That helped my own practice tremendously, feeling a lot more relaxed, a lot more at ease, developing and cultivating my own meditation practice. When you move, it's really a practice in meditation as you're applying pressure, as you're leaning and shifting your weight into the person that you're giving Bodywork to."
What else do you need to know?
The connection between Thai Bodywork and Acro Yoga led to a magical creation – Therapeutic Flying. A therapeutic flight is, essentially, getting upside down passively with the base person (the one supporting you) applying Thai Bodywork techniques and stretches. My eyes widened when Paula mentioned that she likes to start with this at the beginning of a session if a person has done Acro Yoga or is comfortable getting upside down.
"Usually it'll take me maybe 10 minutes to get into a certain muscle on the floor and I can do that same thing in four to five minutes while they're upside down," Paula said.
And she was right. I took one for the team and tested this out. Paula put me in what looked like a totally relaxed airplane and stretched my shoulders, helped me twist and created more space in my lower back in no time at all.
Sweet relief.
Find Paula leading Deep Stretch with some Thai Bodywork-influenced shapes at Yoga Six and at Acro Yoga 101 at First Ascent, and you can schedule a one-on-one session with her for the full Thai Bodywork experience here.
Let us know!
Did this post help you get closer to achieving one of your goals?