Finding Balance With Tips From Busy Pros Kelly Magnus and Eric Owens
If you imagine your work productivity, health goals and social life as a pie chart of how you dedicate your time. It's typical to feel that at least one slice of the pie is neglected at any given time. But it doesn't stop us from feeling the effects of those imbalances or striving for greater equilibrium, and aiming to implement more wellness in the workday.
When we talk to people who found a balance, we love to share their stories with you.
Eric Owens, professional table tennis athlete and co-founder of Delos Therapy aims to change the way the industry approaches the treatment of chronic pain and muscle tightness. But on top of (and maybe despite) the pressures of owning a business that goes against the grain of more traditional muscular therapy, meditating is a huge part of his daily routine to stay grounded.
Kelly Magnus, is a Public Relations professional by day and fitness instructor and triathlete by even earlier day. She manages to stay involved with aSweatLife and energetic about all her daily commitments to herself and her communities. She shared her most valuable tips for staying on top of her routine, rather than letting her schedule ruling her.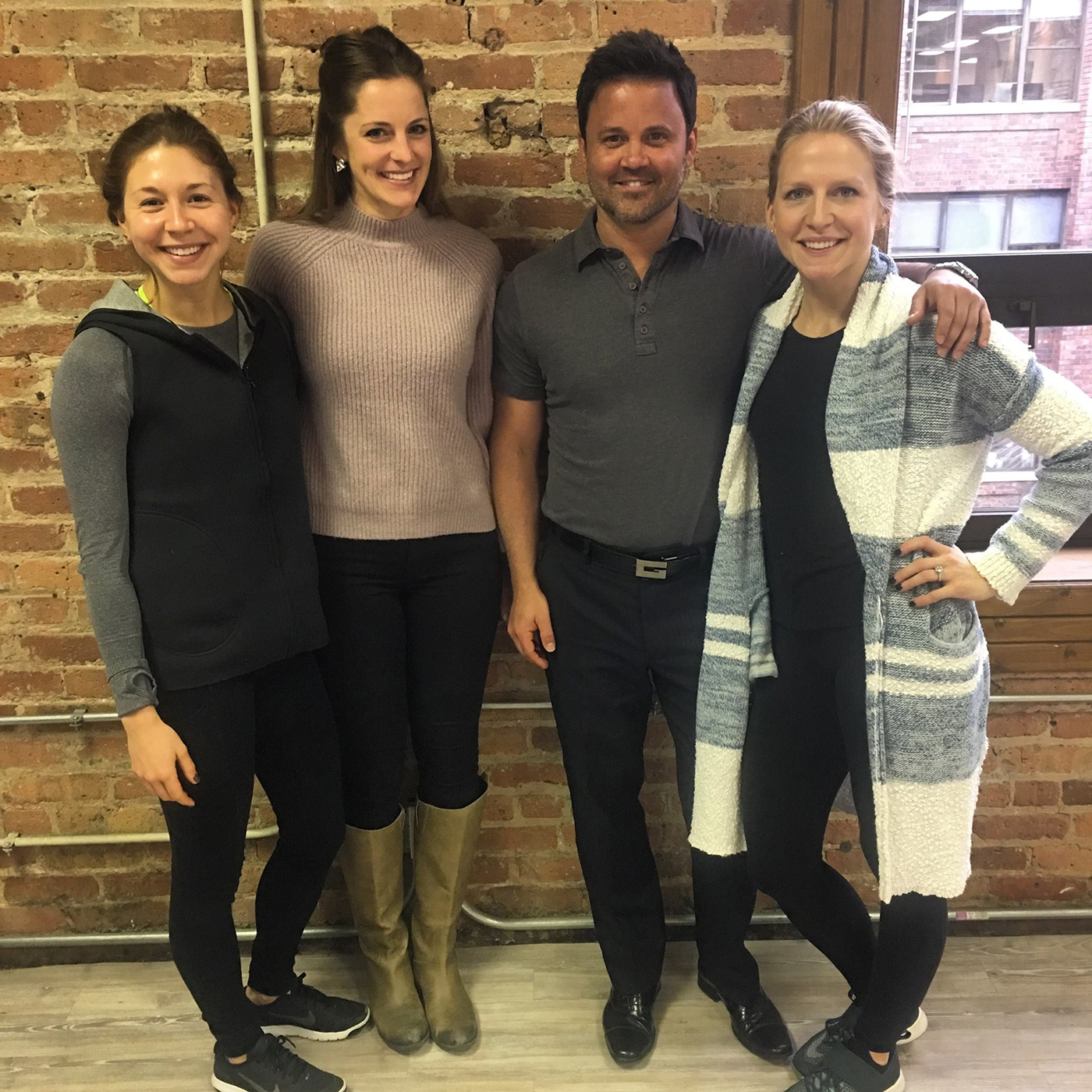 After chatting with Eric and Kelly at a #SweatworkingWeek Lunch and Learn, we walked away with these five takeaways:
1. Understand you can't do it all.
Try as we might, we can't literally do everything. In an ideal world, sure, we'd all love to have time for a little bit of it all – exercise, wholesome, healthy meals, quality time with family and friends and time wind down with a good book at the end of the day. But when it comes to creating your schedule for the day, decide what's important for you to include and check the rest at the door. Kelly described a morning workout – either teaching or taking class – as her way to clear her mind before tackling her day, which means that she often has to cut down her getting-ready time before work.
"Sometimes having a morning workout means I'm changing in a locker room somewhere, but that's a compromise I'm willing to make because my workout is important to me," she said.
And when you internalize – and feel good about – the fact that you can't make it all happen, you're able to more focus more clearly on what you feasibly can do.
"I have a notepad where I write down the three to five things that need to be accomplished before lunch, the things that if I get done I will be in good shape," Kelly said.
2. Be honest with yourself; you're the only one living with the schedule you create …
When you take the time to get to know yourself – how you work best, when you're most productive, what times of day are ideal for what activities, you set yourself up for a day you feel in control of.
"Mornings are most productive," Kelly shared. "I will write and get projects done that take strategic thinking and then the afternoon is when I'm meeting with people. I know my productivity goes down after 3 pm, so I try to schedule all my meetings for then."
3. Steal with pride.
Both Eric and Kelly described their morning routines in-depth as they talked about how they made time to do as much as they do everyday. Their morning routines, while vastly different, are what set them up for success, but it took learning from other successful individuals to develop them in the ways that work for them.
Eric found inspiration through reading biographies of others. "Many have similar stories and did a lot of introspection and self reflection," Eric said. "A lot of the people that were productive meditated a lot."
Eric incorporated meditation into his morning routine – eventually making it a central focus to his routine overall – which benefitted him in every area of his life, from playing sports to focusing on his business goals.
Kelly also looked to others when honing the morning schedule that works for her. After six years of trial and error, she has a few key things that set her up for success down to a science.
"What got me there is awareness," Kelly reflected. "You have to be mindful of yourself and what you're receptive to and not. Ask yourself what's an easy flow that you'll keep coming back to?"
4. Spend more time on fewer things to create space for yourself.
As Eric dove into his meditation practice, we all looked longingly at him, most likely all thinking the same thing: "That all sounds wonderful, but I don't have time to meditate." Interestingly, Eric thought the same thing, too. But taking the time to slow down and center his thoughts before doing anything else with his day makes every other decision and task much more efficient from that point forward.
"Meditation actually creates time, because everything else becomes so much more focused," Eric explained. "As a business owner, there are times that are very stressful but you can't let stress affect your decision-making so you have to remain calm. I start my day meditating so the rest of my day, no matter what happens, is more even-keel."
Kelly, just like any of us, knows that staying motivated every second of the day to be your most productive, accomplished self isn't realistic. She recommended that on the days when you need a break, listen to yourself. When you know a workout isn't serving your mind or body, simplify. Cut down on your commitments and be good to yourself until you feel more energized and excited to take on more.
"Being honest with what you want to do helps create space in your schedule. On any given day if creating space is baking cookies, go do that," Kelly explained.
5. In fitness and in life, plan for longevity.
Kelly and Eric both value playing the long-game in each area of their fitness and professional life. Delos Therapy, the company Eric co-founded, focuses on healing muscles that are in pain and extremely tight from years of exercise or injury.
"Most people just live with [muscle tightness]," Eric explained. "The people that realize how important functional muscle tissue is to the longevity of their active lifestyle are the ones who take the time to do more than just stretch here and there. It's a commitment."
Kelly's means business when it comes to planning ahead and creating a long-term game plan for training. In fact, it's her one piece of advice she'd give to someone starting a new training or exercise regimen.
"There's a transition period that needs to happen to even prep for the race prep," Kelly said. "I truly believe this is the biggest way to success. Then four weeks down the line, when your training comes, you're actually ready versus jumping in, starting training and finding things don't work, and then you're a month into training and think 'I haven't really trained," and then you toss it out the window."
Eric and Kelly's tips for fitting wellness in the workday come from years of assessing what does and doesn't work for them, adding in more to their commitments little by little and listening to what their body and minds need on a daily basis. After all, it is about creating a lifestyle that sustains a level of happiness and energy to last a lifetime.