Nordstrom x Nike Sneaker Boutique Blends High Fashion with High Performance
Raise your hand if this sounds like you: over the years, your workout gear has morphed from a 100 percent cotton t-shirt and Norts to sweat-wicking leggings, breezy tank tops and shoes for every kind of workout.
Still with me? Now, keep your hand raised IF, over these same years, this new workout gear has gradually shifted from being worn at the gym only to anywhere and everywhere – sure, the gym, but also brunch, errands, dinner, cocktails and even work.
Phew, glad I'm not the only one.
I've been lucky enough to work in casual environments for all of my adult life – my first two workplaces were extremely laid-back with the dress code. As in, I wore athletic leggings and tops every single day, often mixing a chambray button down or grey sweater with a funky printed legging if I wanted to "dress up." It became really easy to justify buying mostly workout gear, under the reasoning that it pulled double duty at the gym and in my everyday life.
My current office, though still pretty casual, is not quite a place where I can wear my favorite wild leggings and a 3/4 zip-up with thumbholes and call myself dressed. At the same time, I've spent years building my athletic wardrobe and I've gotten used to the comfort of wearing those pieces frequently. Without buying a whole new wardrobe, what's a girl to do?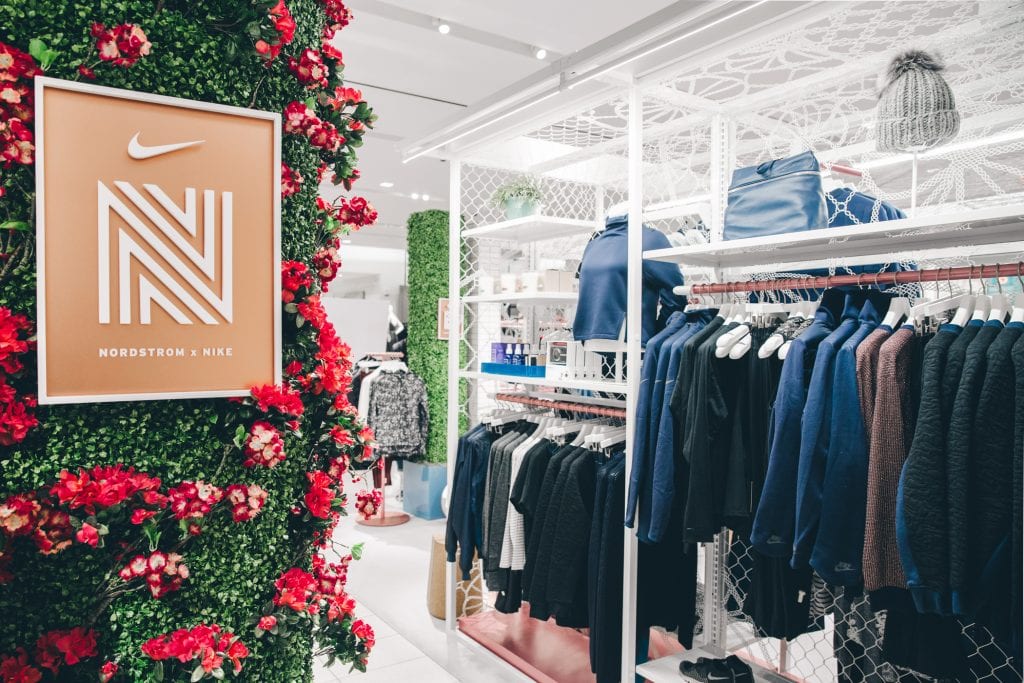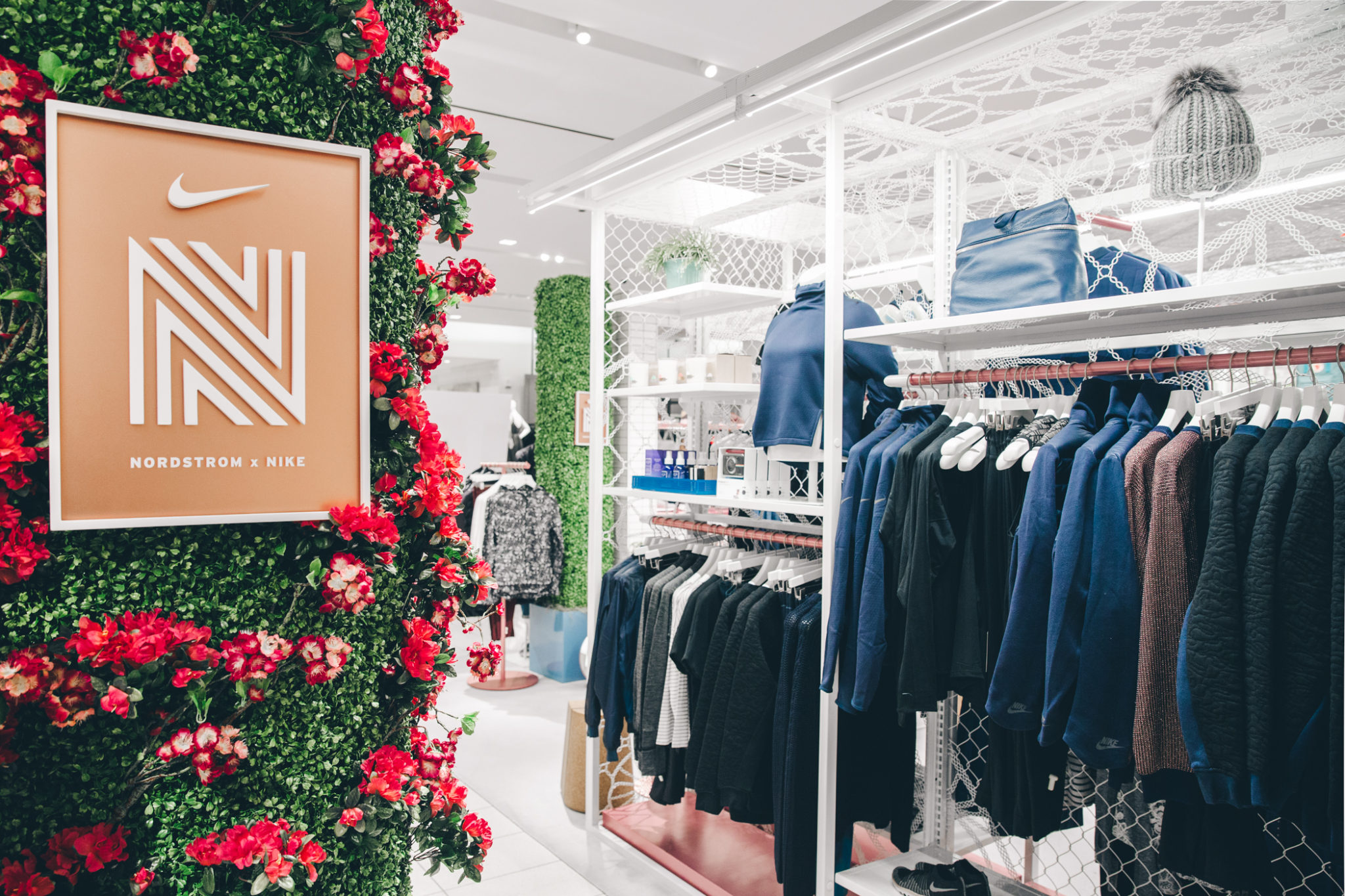 The Nordstrom x Nike Sneaker Boutique exists to fill the gap between athletic and everyday fashion. Located on the third floor of the Michigan Avenue Nordstrom, this ultra-Instagrammable space is filled with the latest drool-worthy Nike gear (including the most recent Nike Lab collection, the Nike Beautiful x Powerful Collection).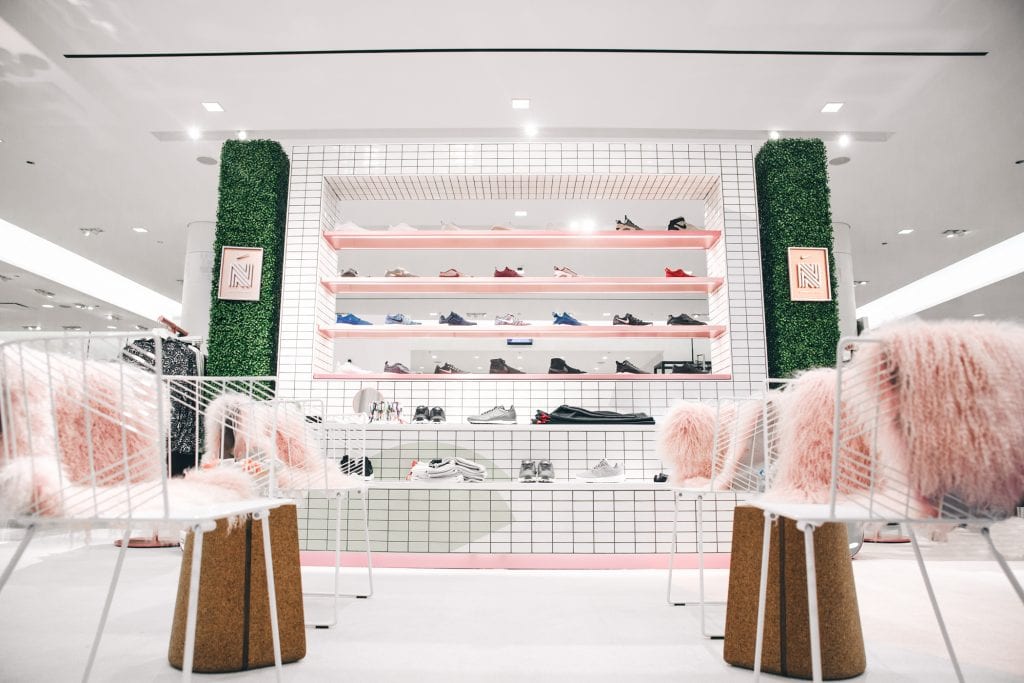 Here's the twist: at Nordstrom, Nike's athletic apparel isn't featured in a fitness vacuum that you'd see at other department stores. It's curated alongside other Nordstrom brands, giving you a tangible example of how to style your athletic wear with your everyday wear – even with a high fashion twist. Think black training shoes with rose gold accents, ripped boyfriend-style denim jeans, an understated gray t-shirt, and a bomber jacket painted to look like the Northern Lights – all displayed alongside purses, hats, candles, Polaroid cameras and even the most adorable greeting cards I've ever seen. Heaven, right?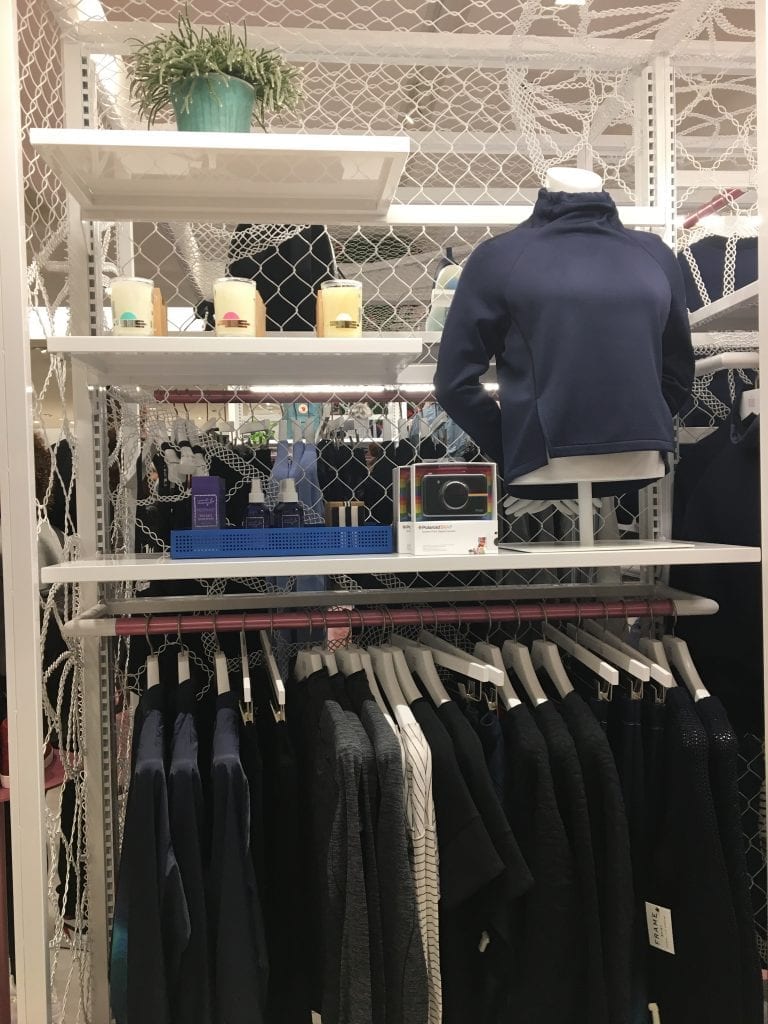 Nordstrom's VP of Creative Projects, Olivia Kim, shared that the inspiration for this collaboration came from her personal love of sneakers – a sentiment that she sees trending everywhere in the fashion world today.
"Sneakers are super stylish and fashionable right now, and we wanted to show girls how to style sneakers with their favorite fashion wear," said Kim.
Speaking as someone whose gold Nike Cortez trainers are worn at least three times a week, I identified deeply with this statement.
To help introduce the collection (which opened to the public on November 17th), Nike brought out actress/YouTube star Andrea Russett, WNBA star Skylar Diggins, and U.S. Track and Field 4x gold medalist Sanya Richards-Ross, who shared their styling tips for mixing athletic wear with high fashion with the audience.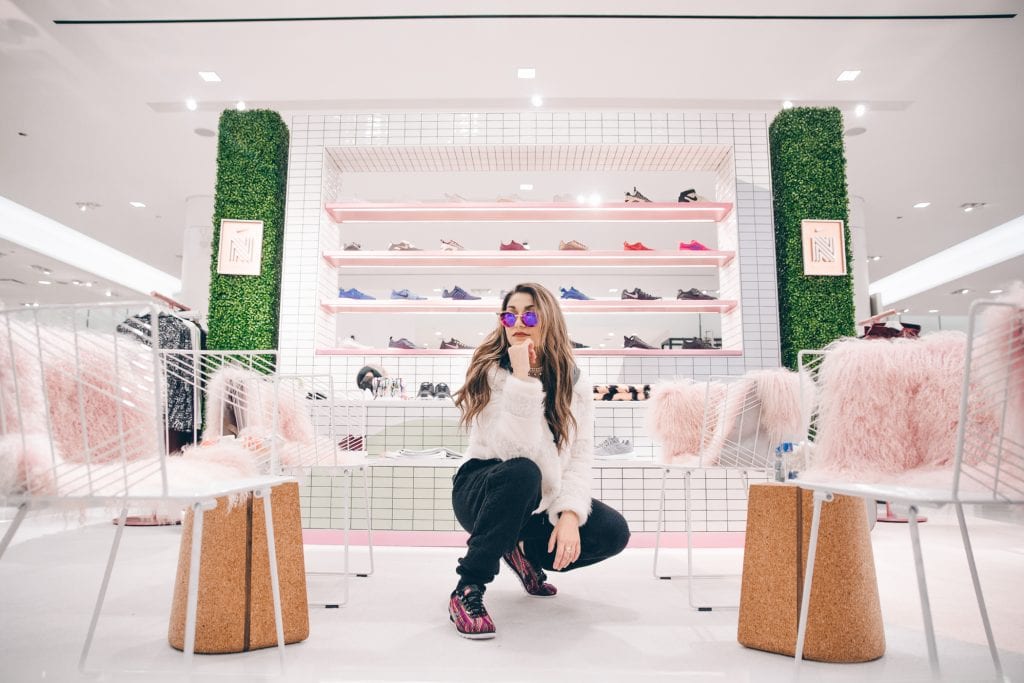 Andrea Russett pointed to her Nike Beautiful X Powerful Cortez: Jacquard trainers as her favorite sneaker of the moment. The Nike Lab Beautiful x Powerful Collection is Nike's first footwear collection dedicated to celebrating the female athlete and their boundary-breaking accomplishments. The driving inspiration? Marathoner Joan Benoit-Samuelson's famous mantra: "There is no finish line."
(Hot tip: the red/purple/pink/silver printed Jacquard shoes aren't available in retail until December 1, but Chicago sneakerheads can go ahead and grab them at the Nordstrom x Nike space – and you're going to lust after them immediately, so get on that)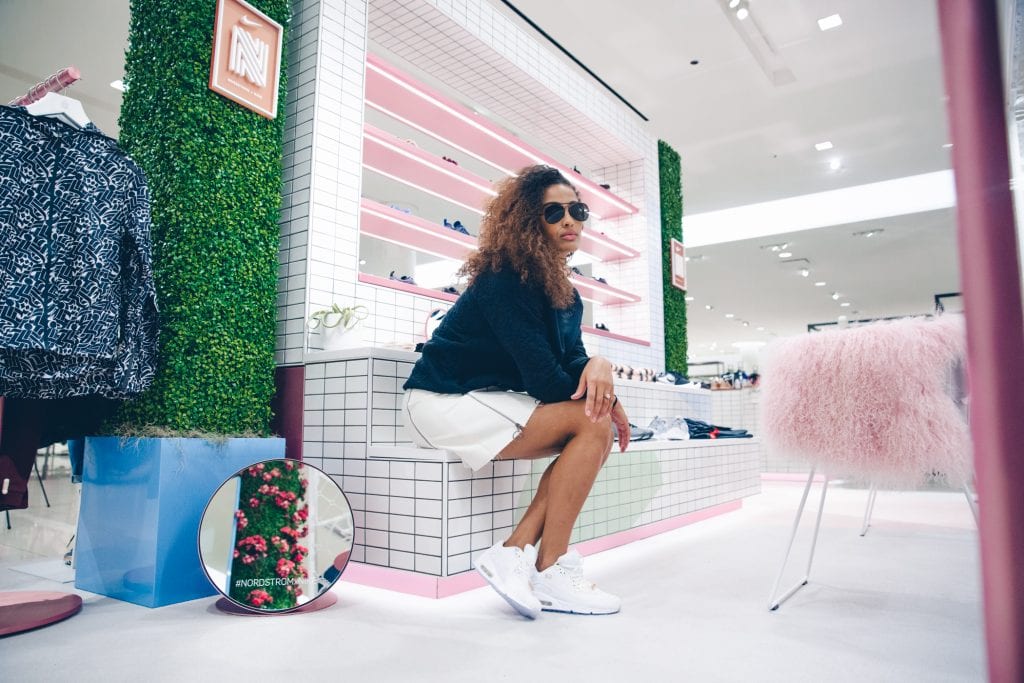 As a hoopster, Skylar Diggins knows a thing or two about always having the right sneakers for the occasion. She expanded on Olivia Kim's vision for the collaboration, noting that "everyone wants to know what to put with their sneakers and needs help knowing what to put together" (while wearing the most badass pair of sunglasses I've ever seen).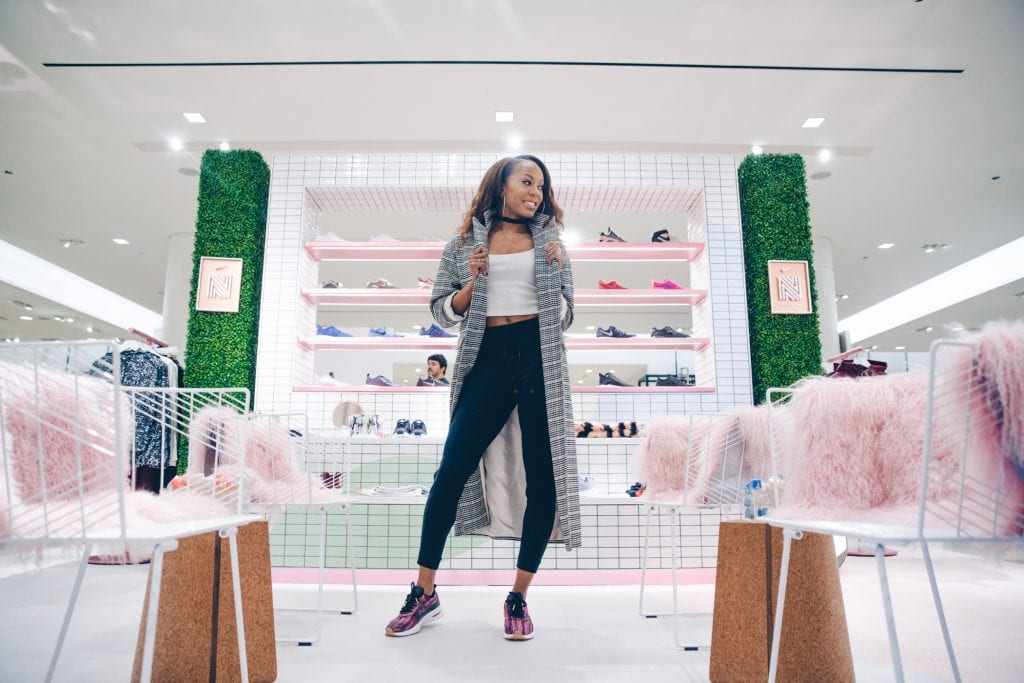 Finally, Sanya Richards-Ross and her abs came out to chat. A sponsored Nike athlete for the past thirteen years, Richards-Ross feels that now was the perfect time for Nike to partner with Nordstrom.
"It's an awesome space for women to come experience Nike in a new way," she said, looking insanely elegant in an oversized printed trench, a white crop top, black skinny pants, and the aforementioned Cortez: Jacquard trainers.
She's exactly right. I couldn't help but feel inspired as I walked through all of the rose gold and fake greenery, imaging exactly how I would style this bomber jacket or that boxy black pullover. Something tells me I may have to make another few trips to Nordstrom x Nike for more idea walks.