Bare Feet Power Yoga: Hidden Gem in the West Loop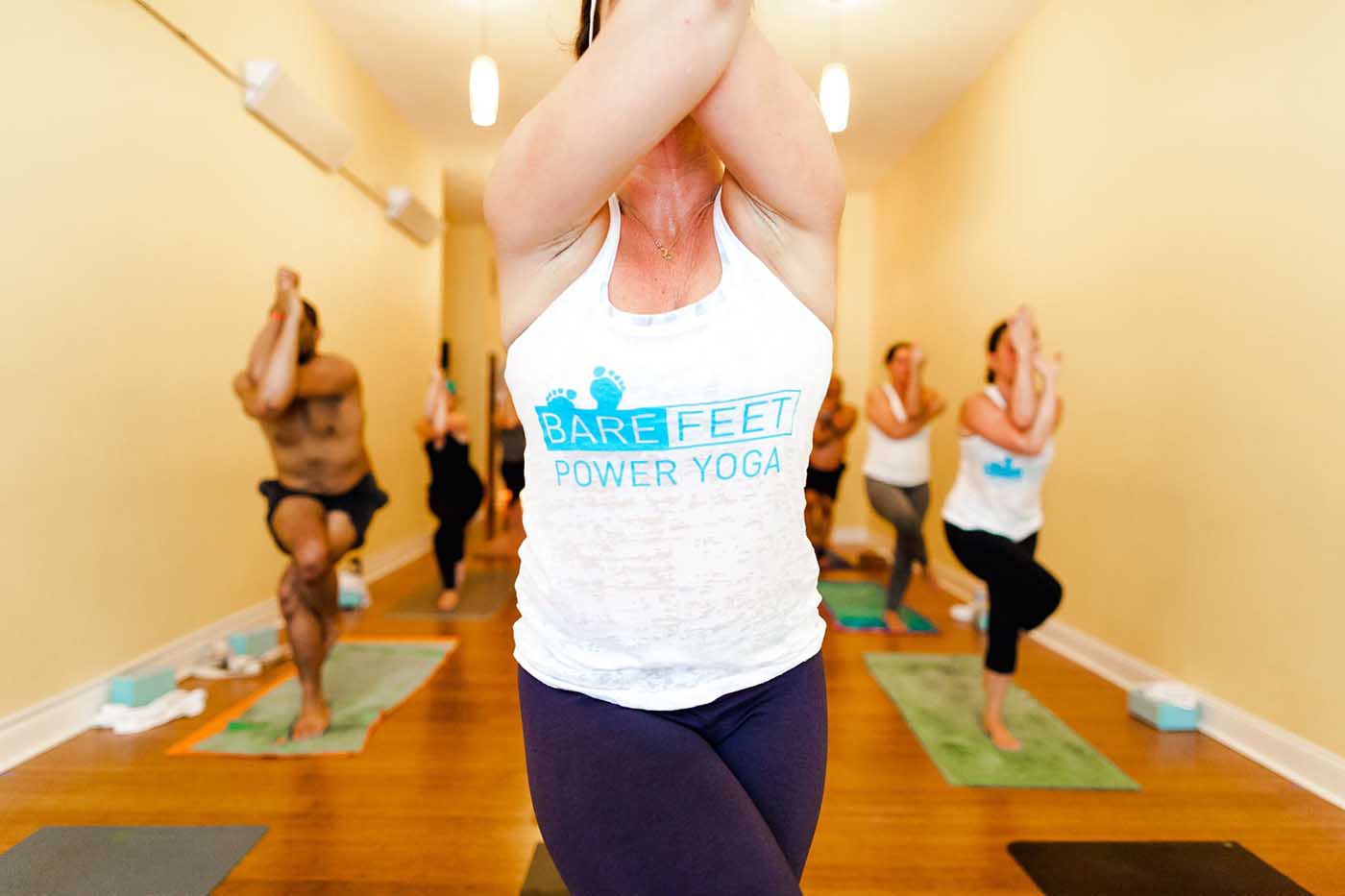 (Photo courtesy of Bare Feet Power Yoga)
When you think of the West Loop, it's easy to pinpoint why it's where all the cool kids want to hang out. While the bars, restaurants, coffee houses and art spaces are enough to keep the buzz going, it's not known for a busy fitness scene. Which is a shame, because just south of Little Goat and Green Street Meats is a yoga studio we should all be talking about: Bare Feet Power Yoga.
Bare Feet Power Yoga moved into the neighborhood at the corner of Monroe and Madison in 2012. Robin French, owner, took a leap of faith and left her job in marketing to open the space, and that little seed she planted four years ago has bloomed into a thriving West Loop fitness staple.
Working at lululemon athletica, I've had the privilege of trying out many Chicagoland yoga studios. While they all have their perks, there is something special about Bare Feet. It's intimate; there are no long hallways to get lost in, no office spaces hidden in the building. It is bare bones and simple. You walk in, place your belongings in a cubby, sign in with the smiling face at the front desk (usually your teacher for the day) and walk directly into the single-practice room. As you practice, you can feel the city vibes just outside the door, but you are transported to a space where you are entirely introspective, feeling your muscles give and take with every move in the flow.
One of my favorite instructors there, lululemon ambassador Ali Brashler, sums it up pretty perfectly:
"Bare Feet Power Yoga is more than just a place to get sweaty and work out (although we do guarantee this, too!). It is a place to be yourself, to connect with others and to become a part of a community. At BFPY we truly believe that together we can elevate the world and it starts by elevating yourself. Our teachers come as their authentic, weird selves and we encourage our students to do the same.  There is no judgment, only love. If that doesn't encourage you to get in the door, we also teach really kick ass vinyasa flow classes."
Bare Feet Power Yoga offers many different types of classes, so if you're new to the practice or need to shake it up, you have plenty of options to choose from. Aside from Power Yoga, Power Vinyasa, Slow Burn or Candlelight Yoga, which you can find at most studios, Bare Feet has a few unique takes on the practice that they've put their own spin on:
Shut Up and Flow
"This heated Power Vinyasa class starts with a continuous flow of Sun Salutations. As you flow confidently and with purpose, your practice becomes a moving meditation where your mind goes quiet while instincts and muscle memory kick in. To help keep the focus within, we craft original playlists of fun instrumental/lyric-free music such as Tycho, Bonobo, Emancipator, Ulrich Schnauss, and more."
Turn It Up Dog
"This heated class combines upbeat playlists with a skillfully crafted power vinyasa sequence, for what's best described as a dance party on your mat. The practice combines equal parts strength and flexibility, with some flair added to the transitions to get you exploring familiar postures in playful and unique ways."
Rock Your Core
"If you want a secret weapon to accelerate your practice and progression, this is it. Rock Your Core teaches you to access your abdominals and obliques, making your yoga practice more balanced and controlled. This heated Power Vinyasa is set to upbeat music and incorporates a variety of strength training techniques. RYC can help turn even the weakest midsection into yogic under armor. This class is accessible for beginners, but the high-energy pace will get your blood pumping and sweat pouring for one of the best workouts you'll find at any yoga studio."
As an intensity junkie, yoga can be a hard pill to swallow. I know I'm not alone in that feeling – sometimes the thought of slowing down to work out can be easily replaced by yet another spin class or HIIT session. But as someone who has been working out for years and knows better (or at least should), I know that yoga has to be a part of my routine. That being said, the motivation just isn't always there. At Bare Feet, you feel as though you're getting a little bit of both – a great workout and a great yoga class. 
The best part about BFPY is the community that it has created. I can always find someone willing to go with me who is excited to make it to class. Members at Bare Feet aren't casual attendees, they are converts – and with good reason.
The studio not only offers a variety of classes but workshops as well. They also believe in making yoga accessible for all, so Saturdays at 4:30 pm and Sundays at 4 pm they open their doors for a free community class.
While the West Loop has a longstanding reputation as the "It" social scene, Bare Feet Power Yoga is a perfect example of why it's a great place to sweat as well.
Plus it doesn't hurt that the truffle honey foccacia at Bar Siena is less than five blocks away.
Bare Feet Power Yoga
1006 W. Monroe Street
Chicago, IL 60654
(312) 624-8068
Let us know!
Did this post help you get closer to achieving one of your goals?