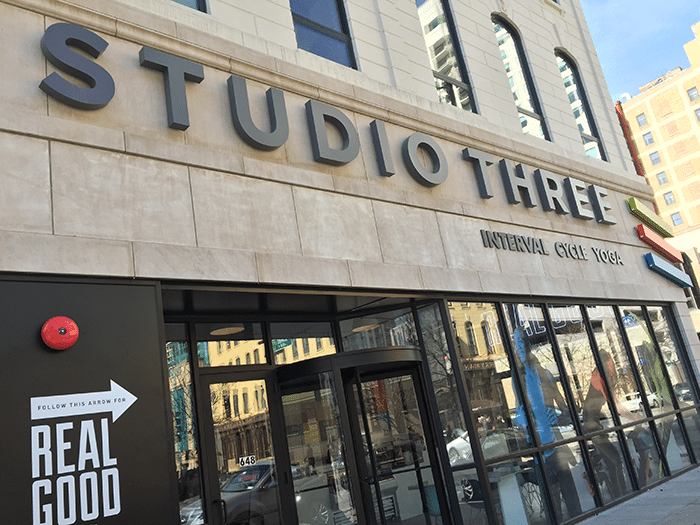 Group fitness, online workout programs, fitness apps and DIY training plans are great, but sometimes it's hard to find your "sense of direction" when it comes to a week of working out. Is the effort you're putting in day to day actually laddering up to results? It's easy to feel like you're working out all the time and not seeing results in your overall fitness. When I'm not doing specific training for a race and following a very calculated plan; I'm always weary that the combination of workouts I do in a week is not actually improving my fitness.
The new gym concept, Studio Three, in River North Chicago was designed to be your one-stop fitness destination to provide you the "right" variety of workouts to round out your weekly fitness routine. The three-studio concept offers interval training, spin and yoga classes with a variety of class formats in each studio – like a yoga based class with heavy weights (HiDef) to a cardio and strength interval mat workout (Inferno).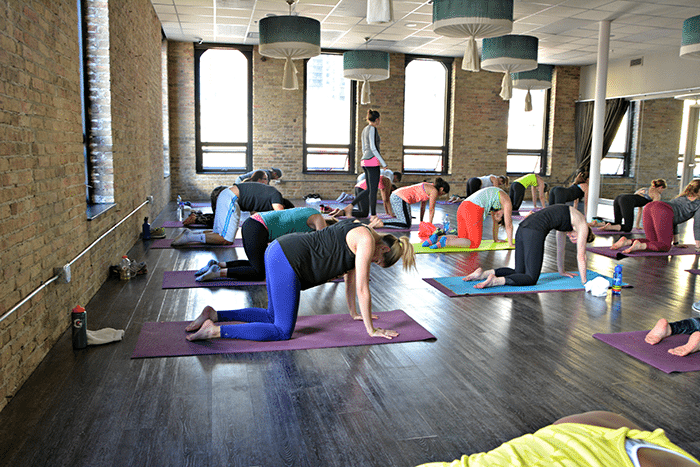 To support its members to achieve health and fitness goals, Studio Three teamed up with Bryce Wood, Founder and consultant at "Better Than Yesterday Consulting." I had the chance to catch up with Bryce to understand how a regular member (like myself and aSweatLife readers) can maximize their week of workouts at Studio Three. This schedule would be fit for a person who is trying to build strength, tone up and achieve overall health and fitness results from working out. This isn't tailored to meet needs for competition or specific fitness goals.
Below is a suggested workout schedule to maximize your fitness based on the different offerings available at Studio Three. Each week, aim for two days of interval training in the basement, two spin classes, two HiDef class and as recovery, one or two yoga flow classes. Bryce emphasized the importance of giving your body different workouts to build muscle, cardio endurance and recover, which is always an important component to any fitness program.
One week of workouts at Studio Three:
Monday: Start your week strong in the Interval Training studio (Torch or Amped class).
Tuesday: Double up on Tuesday with a stop at the Spin and Yoga studios. Opt for the HiDef class with heavy weights to maximize the burn after your cardio session.
Wednesday: Head back downstairs to the Interval Training studio (Torch or Amped class).
Thursday: Enjoy a much deserved recovery day, but keep your body moving with a yoga flow class.
Friday: Un-wind from the week with a cardio party on the spin bike!
Saturday: Break a sweat with heavy weights in the yoga studio. Opt for HiDef or Inferno. Maybe double-up with a yoga class to stretch, flow and detox your body after an intense week of workouts.
Sunday: Enjoy the day outside of the studio; walk, stretch and hydrate to repeat it again next week!
Interval training and heavy weights put more stress on your body, so you'll notice those days are followed by a cardio-based session or a recovery yoga flow. Bryce also recognizes that asking someone to workout six to seven times a week is a lot! The idea is that if he prescribes seven, hopefully with a missed day or two, you're still breaking a sweat five times or more.
Bryce emphasized the importance of recovery. It should be looked at as part of your training program, not supplemental. He said you should feel at least 80 percent recovered before doing an interval class. If you don't feel fully recovered, listen to your body and do something less stressful on the body like spin or yoga. Being flexible and understanding when to push and when to back off based on how your body feels is so important.
Who's up for a week of workouts at Studio Three? I'm in! After speaking with Bryce I'm feeling super motivated and inspired to get after it.