Gemstone Energy Healing Experience: A Unique Oasis of Calm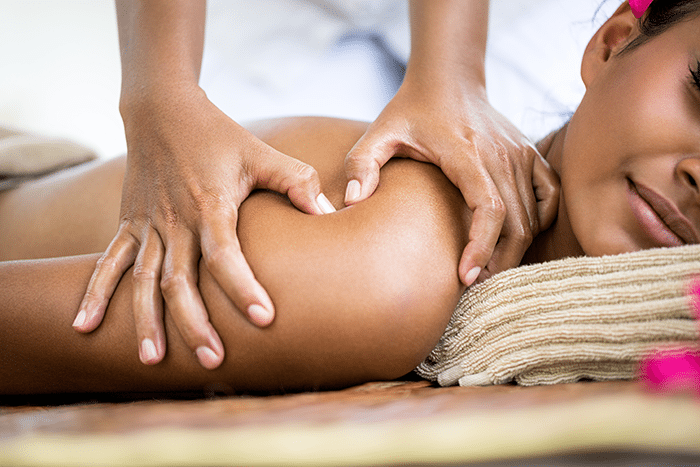 Sundara Spa, located in the Wisconsin Dells, could be one of Wisconsin's better kept secrets. Or, maybe not so secret anymore, the spa was recognized ninth on the list of Best Destination Spas in the U.S. by Travel + Leisure and has racked up many other accolades coining it one of the Best Resort Hotels in the Midwest.
What sets Sundara apart is the wide variety of unique services all centered around wellness. The spa concept was designed to be a sanctuary from stress and a place to reconnect and embrace the joy of being well. Sundara is Sanskrit for "beautiful" and the spa interprets that as beautiful on the inside and out. The goal for each guest who visits the spa is to slow down and fully experience the oasis of calm.
The spa services range from traditional Swedish massage to facials to body scrubs. Or, you can be more adventurous and dive into the signature Energy Therapies that encompass authentic Ayurvedic principles, the traditional 5,000-year-old healing science from India.
The Energy Therapy treatments are designed to create an ideal state of being through bio-energy and spiritual disciplines. Special herbs, essences and aromas are integrated based on your Dosha, or body type analysis (take this quiz to find out what Dosha you are). The treatments use traditional Ayurvedic massage technique – long flowing strokes to release energy blockages within the body. Having always been intrigued by Ayurvedic principles, you better believe I jumped at the chance to experience one of the energy healing sessions myself.
My Energy Healing Therapy Experience:
I started my spa journey with Sundara's signature Purifying Bath Ritual. A five-step self-guided treatment designed to cleanse the skin and clear the mind before your actual spa service. They provide a sandstone body polish to exfoliate your skin that you rinse off in a warm, rainfall shower. Once out of the shower, you apply a soothing rose and sandalwood body mist as a prelude to stepping into the steam room. You then go back and forth between an essential oil-infused hot pool followed by a dip in the cold plunge to enhance circulation.
Already feeling energized from the bath ritual, it was time for my Purifying Gemstone Energy Massage. A service that is meant to purify and connect you with energy of the earth through a cleansing Vichy treatment, followed by Ayurvedic style massage to help clear blockages and bring balance to the energy body.
The service began with a body polish applied over my skin made of traditional herbs and grains. While the body wrap soaked in, crystals and gemstones were placed on the seven major Chakras – or energy centers – of the body. Once the gemstones were in place, it was time to meditate for several minutes to allow the gemstones to work their magic. Never having experienced gemstone healing before, I could not believe the energy I felt flowing through my body. A feeling similar to drinking one too many cups of coffee. They were definitely working!
Once the body mask had set, the stones were placed back in a tiny box and a Vichy shower was used to rinse off the mask. The shower was very therapeutic and the water pressure felt like a massage in itself. The treatment concluded with an Ayurvedic massage which uses strokes over the skin that follow the flow of energy channels – or nerve pathways – of the body.
When my massage was over, I was served a Dosha-specific tea to continue to enhance the benefits of my experience while I relaxed in the outdoor infinity pool. And drank rosé. It was a Saturday well spent and definitely a spa treatment worth experiencing for yourself.
Let us know!
Did this post help you get closer to achieving one of your goals?