A Beginner's Guide to Sandboarding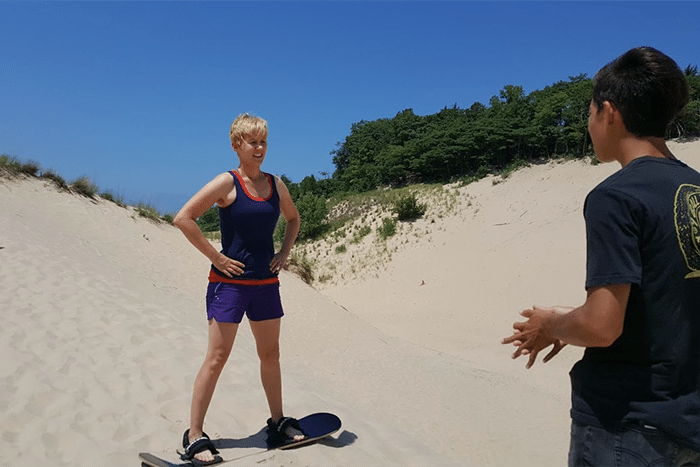 Sandboarding is basically snowboarding, but on a sand dune. Because my only two skiing experiences were scary and I hate being cold, I've never felt the need to try the latter. But since the former is done near a beach in warm weather and on what I assumed were shorter runs than on snow covered slopes, I thought it might be fun.
I was not wrong.
A friend and I recently drove a little more than an hour from Chicago to Warren Dunes State Park in Michigan for a sandboarding lesson from Third Coast Surf Shop. Here's what I learned …
Go with a pro.
I'm not bold enough to just rent equipment and figure something out for myself, so having Third Coast instructor Chuck there to demonstrate, answer questions and feed our egos regarding how great we did was reassuring and helpful. He was only 16 years old, but he was confident, smart and extremely knowledgeable about the sport, as well as the surrounding area.
Choose wisely.
Keep in mind that what you board down you must climb back up and hiking a sand dune is not an easy feat. It's worth it to start out on a small hill for that reason alone, but if you're new to the sport you also might want to see how you do before you tackle the biggest dune you can find. Even Chuck, who was young and experienced, had to stop and rest as he tackled the large hill near us and then stumbled a bit on his way down, as my friend and sat and watched from a smaller hill below.

Wax is key.
As I flew down the dune, I noticed the woman next to us slowly navigating her own way. And by slowly I mean she was practically stuck in the sand. Chuck surmised that she didn't wax her board, either by choice or she just didn't know better. If you go on your own and want to effortlessly glide down the hill, don't forget the wax.
Blink and you'll miss it.
I remember trying to keep my weight on my back foot and to not lean too far forward (so as not to fall on my face and eat a bunch of sand), but other than that it was all a blur of activity and adrenaline. Until I got to the bottom of the hill and fell on my butt, that is. There was no time to focus on anything, try to slow down or correct my stance. If I stayed upright at the end (which only happened twice) it was by sheer luck. I'm sure finessing the board comes with practice, but as soon as I started down the hill, I surrendered to the uncontrollable and just relished the ride.  
It's a blast.
Falling after almost every run was jarring. I felt it in my butt and my back almost immediately afterward and there was even soreness in my upper body the next couple of days. Believe me when I say it was totally worth it. After the initial jitters of my first run subsided, I didn't hesitate to secure my feet into the straps, hop to the edge of the hill and  race to the bottom again. I've had many enjoyable experiences over the years, but few were so exhilarating that they stayed with me long afterward. I have added sandboarding to the very short list as one of those rare things.
Third Coast Surf Shop has locations in St. Joseph, MI and New Buffalo, MI. In addition to sandboarding, they rent equipment and/or offer lessons in kayaking, stand up paddleboarding and surfing.