5 Water Bottles to Hydrate Your Active Lifestyle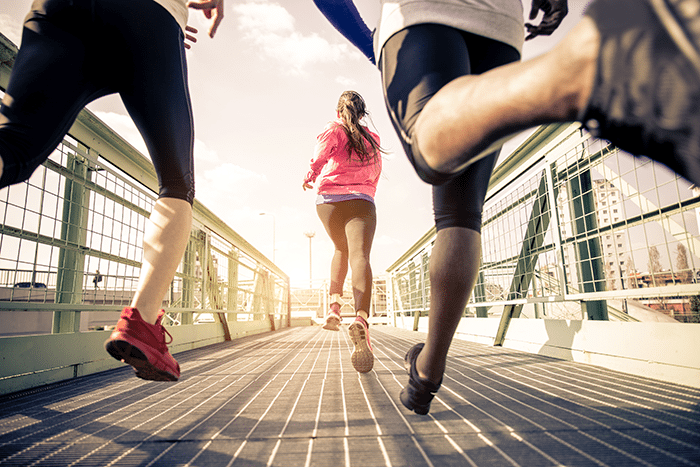 With marathon training in full swing, the lakeshore path in Chicago is packed with courageous runners being active for extended periods of time. Whether you're one of those bold runners or just someone that leads an active lifestyle, staying hydrated is an important aspect in maintaining a healthy and workout.
These five water bottles that are light, compact and perfect for bringing along for any activity as you make the most of the last days of summer:
This water bottle may look simple, but the small details make a large difference in how useful it is. First, there is the obvious benefit of have a small zip pouch to stow an ID, keys, or power bar. The adjustable strap allows users to be flexible about which hand they use. And you can share it with friends if you're feeling generous.
The mesh fabric makes it easy to clean and helps to avoid the dreaded chafing that often comes with long runs. I've lead you on long enough, though, because the best part about this water bottle is that it collapses into itself. It folds down, so when you're done with the water it takes almost no space at all, making this bottle not only a need for distance runners, but those who are hiking, or even just traveling and don't want a water bottle taking up precious space in their bags. You're welcome.
I first saw a flat, rollable water bottle a few years ago when one of my outdoorsy friends brought it to the beach. I was immediately intrigued, but he said that was the third one he had bought because it frequently ripped. Now a few years later … enter, the Platypus. This has the same benefit of being flat and flexible, but is more durable to last through backpacking adventures and beach trips.
Klean Kanteen's are the perfect proof that sometimes, simple is best. Their steel design can endure getting dropped and bumped around, and the insulation keeps drinks cold for up to 40 hours, and hot up to 12 hours. The usefulness of a water bottle that doesn't gather condensation and keeps a drink cold for hours is never ending; from beach days to golf outings, long hikes to long work days, this water bottle will be your go-to for years to come.
This vest is for those athletes that are really taking their training to the next level. Light as can be, this vest is comfortably worn over a running shirt, or without, because it really is that comfy. There is space to carry two light water bottles, as well as some handy zipped pouches to keep other long-run necessities. This a pricey investment, but for those trail runners or ultra-marathoners, the ability to be hands-free is worth it.
Just in case you weren't convinced that technology is taking over our world, this water bottle proves it. The Thermos Connect Bottle does just what the name says, and connects with the Thermos Smart Lid app to measure your liquid intake throughout the day.
The smart lid also lets you know the temperature of the liquid, in case you're on a strict diet of only 52 degree water. If you are part of the FitBit gang, this bottle also connects to that app, helping you to track your overall hydration on a daily, weekly and monthly basis. The Thermos Connect Bottle is an easy and cool way to make sure you're getting all the water you need, at the temperature you love!