#Sweatworking Takes on a Team Workout at BRICK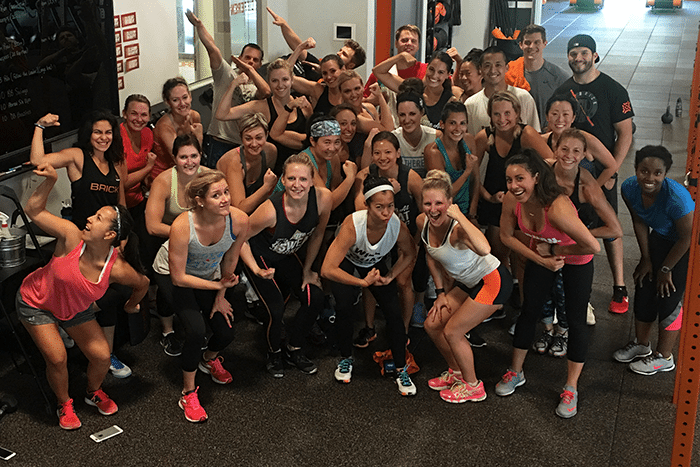 Each month to pull together people from across Chicago to do our very favorite thing: #Sweatworking. We host these events a few times each month to encourage busy Chicagoans to get out of their comfort zones to try a new way to sweat while meeting new people.
We do this because we firmly believe that comfort zones are suffocating and everything is better with friends.
When we wanted to give #Sweatworking attendees a taste of CrossFit that was appropriate for even those who hasn't been trained in Olympic lifting, BRICK brought it to life in a way that was perfect for #Sweatworking: a team workout.
So three coaches from BRICK, Nicole, Dan and Joe, created a workout that put teams of four to the test. The fun part of this workout was that it isn't anywhere on the BRICK schedule. Sure, we experienced elements from B|X – the high-energy and high-intensity class that features a series of stations highlighting different movements – and elements from CrossFit, but this was a special class for us.
Before we took off, we went through dynamic stretches, moving forward in lines along the distance of the space to prepare our bodies to work with movements like knee hugs, high knees and walking lunges. If you're not including dynamic stretching in your workout routine, you're missing out. This method of warming up increases your range of motion and can help prevent injury.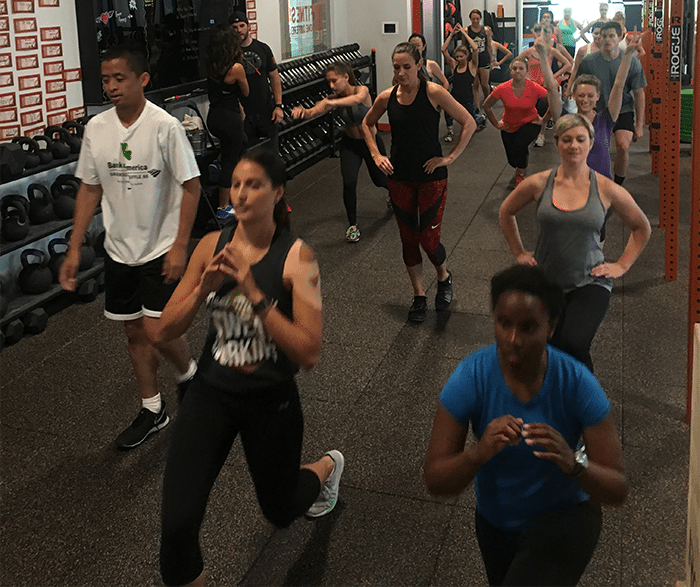 Once we were warm, we got to work. Here's what the workout included.
Part one: the group of four broke into two groups of two and went into a tag-out style workout, working to complete 1,800 meters on a rower and 60 burpees.
Part two: the group of four broke into two and went into a tag-out style workout, working to complete the 1,200 meters on a Trueform treadmill (the kind of treadmill that is powered by your own movement) and 60 box jumps.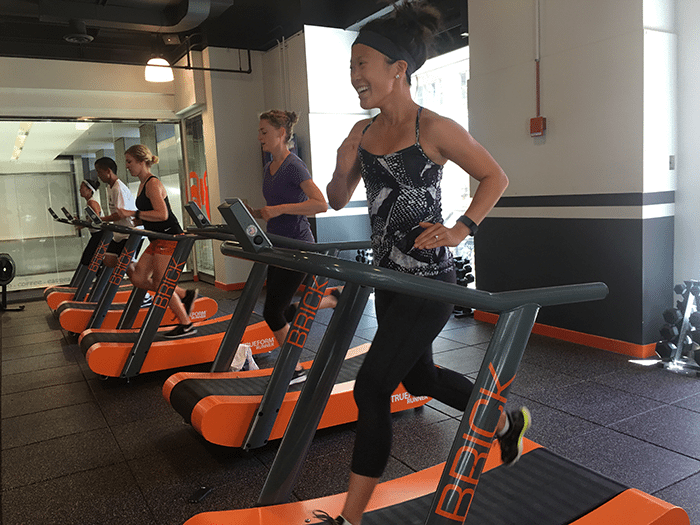 Part three: The group came back together to do an epic finisher, "conga line style." What that meant was that each group worked through a round of exercises together, the first person in the group started with the first exercise and when they completed that, the second person would start the first exercise, then the third person and then the fourth person. We did five total rounds of 10 kettlebell swings, 10 abmat sit-ups and 10 dumbbell squat thrusters.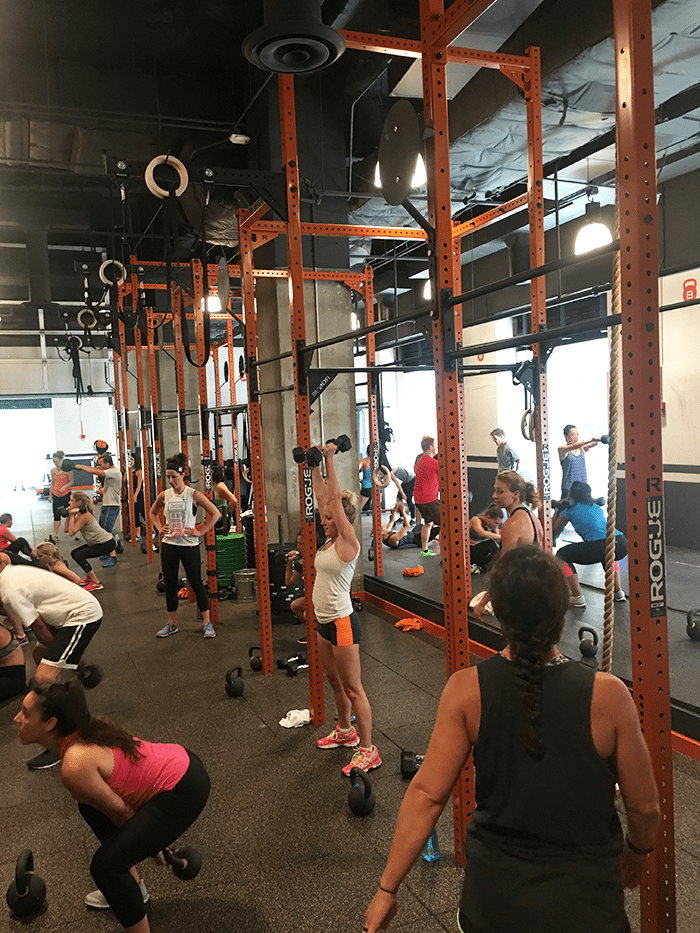 The workout took most groups around 30 minutes to complete – and we know that if you're working really hard, you can get a lot done in 30 minutes.
After all of that, we got to indulge in some snacks. Everyone left with goody bags packed with snacks from Clif Bars, Skinny Pop, Essentia water, Social Enjoyments, VitaCoco, High Brew Coffee, Mamma Chia, Bai, Think Jerky. We also enjoyed the meal that My Fit Foods cooked for us at BRICK while The Paleo Cookie Company was ready with dessert and Delos Wellness was ready with a treatment table to workout the aches and pains ailing the group.
And everyone left with a complimentary week of classes that they could redeem at BRICK. #Sweatworking is not without its rewards.
Want to make sure that you don't miss an event? Be sure to add yourself to our email list!