Your Guide to Free Marathon Training Resources in Chicago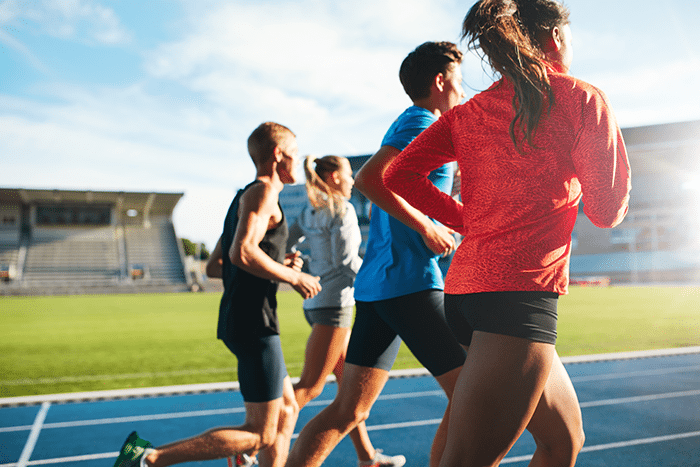 It is finally here, Chicago. We can finally stop our mindless treadmill runs. We no longer have to close our eyes and wish we lived on the West coast every time we see a heads-up-penny on the floor. Excitement is building and the lakefront is booming. No, I am not talking about the start of beach volleyball season or even the infamous upcoming Lollapalooza (although we should be prepping for this as well). Getting taken out on the lakefront path by a stampede of people can only mean one thing; Marathon season is here! Welcome back runners, we've missed you!
Thanks to Daniel Burnham, Chicago runners are spoiled to have the iconic 18-mile-long lakeshore running path (and an Instagram worthy backdrop) to use while training for the upcoming Chicago Marathon.  But what else does Chicago have to offer to the thousands of marathon enthusiasts getting ready to toe the line on October 9?
By now, you should have a picked out a training plan to follow and have an idea of how you want to go about the next 18 (or so) weeks of your life. If not, don't panic. Click here or here for free online plans! Many marathoners join local running clubs (CARA, CES, etc) for training and other tips, which can sometimes cost a pretty penny. Fortunately, Chicago is the mecca of Midwest running and there are many credible, free resources right at your fingertips:
1. Free training/coaching
You can find free coach-led runs all throughout the city each week. Knowing that many runners are in-training for the marathon, the weekly runs are structured to compliment a typical 18-week training program.
The beginner – First off, welcome! You have joined the running community at a perfect time. Why? Because Nike has launched a new service where you can chat online with expert coaches. You can ask them anything you like about gear, product information and recommendations for training. If you would prefer to meet the NRC Chicago coaches in person, attend a group run on Wednesdays out of Nike Chicago. There is always a coach leading practice and ready to answer any and all questions!  
The socialite – Universal Sole is the right fit for you. This group not only focuses on training, but also on their bi-monthly social outings. Runs take place on Mondays and Saturday followed by socialization. Email [email protected] for more information on how to get involved.
The competitor – Do you have a need for speed? Nike+ Run Club is waiting for you on Tuesdays. Each Tuesday, a Nike+ Run Club coach will lead a speed workout that will focus on getting faster and improving your endurance. The location of the speed workout changes weekly.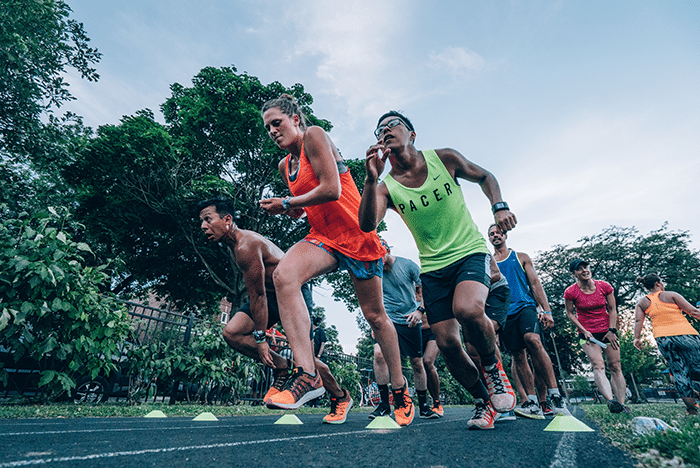 2. Finding a running buddy 
According to Precore, having a running buddy provides more than just a social outlet; it ensures safely, increases performance and motivation. A new channel for finding this built in support system is the Chicago Meet Up Running Group. With over 4,300 runners and counting, Chicago Meet Up Running Group is a website where you can find runners in your area and meet up for a group run. All distances and skill levels are accommodated! One perk of joining this group is that you can create your own "meet up" depending on your schedule. Check it out here!
3. Running locations
I am an early riser and an early runner, however, I find that I never seem to leave enough time to prepare for my bird-chirping run. Until recently, planning an engaging route seemed to fall by the wayside and I continuously found myself running the exact same route. Boring! Now, I use Map My Run to spice up my running routine and eliminate one more thing I have to do to in the morning. Map My Run is a free service that provides hundreds of pre-planned routes to pick from. More than 149,000 published routes can be filtered by distance and location.
4. Nutrition services
When I come back for a run, the first thing I want to do is slam a slice of Lou Malnati's pizza. What's the harm in that, right? Wrong! Although pizza can (and should!) be a part of your training diet, it shouldn't be consumed often or immediately after a run.
According to Jackie Dikos, a registered dietitian and competitive runner, protein is key to recovery. It repairs exercise induced muscle damage, reduces the response from stress hormone cortisol and helps speed up glycogen. This necessary protein can be found in everyday items you would purchase at your local grocery store. Not sure what the right items are? Just ask the registered dietitian at your local Whole Foods and Mariano's. Both grocery stores have in-house dietitians who can provide you with a complimentary nutrition consultation. Schedule your consultation – your body will thank you!
5. Gear trialing
During a long run, or better yet, race day, the last thing you want is an unwanted chaffing patch from your expensive pair of new running shorts. Fear not, this can all be avoided thanks to Nike. Nike is now letting you trial gear (and shoes), risk free, for 30 days. Go test out a new item (like a running hat to block the sun) and if isn't working for you, you can return it with no questions asked! On top of that, be sure to sign up with Nike to receive member-only services and product offers that will be available throughout race week.
Take advantage of these services and tools. They'll help you get to that start line and carry you through to the finish. Not every city caters to the running enthusiasts like the great city of Chicago does!