Spice up Your Summer With Spikeball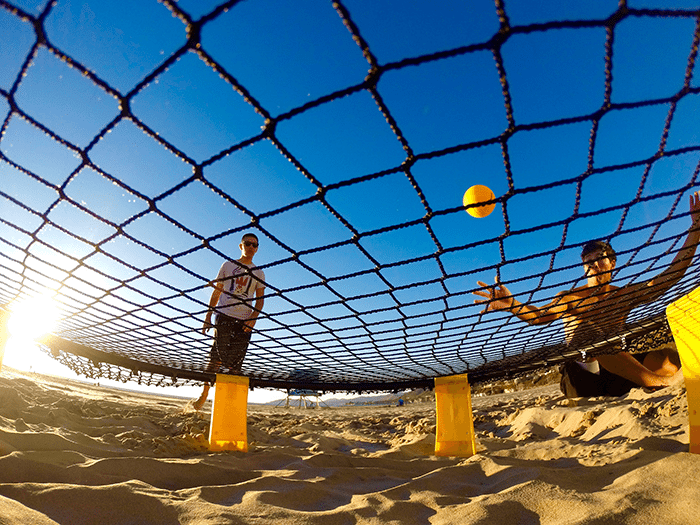 For those who know me, it will come as no surprise that I'm a huge fan of Shark Tank. And, in the interest of stating the obvious, I'm also pretty into fitness. So when those two worlds collided as Spikeball made a deal with Daymond John last year, it was a beautiful marriage of two things I love: sport and nerdy finance deals. This marks a close second to my first favorite combination, cheese and bread (I love you, pizza.)
As the weird, grey, wintery-spring weather comes to a close here in Chicago and we all crawl outside of our holes to be social and play again, I wanted to take the time to learn more about this "viral" sport.
While I'm a huge fan of beach volleyball, it's not always feasible to get a team together for the summer to play, especially when it's last-minute (and on these busy weekends, it's nearly always last-minute). I also am not really one for lounging around on a beach, and I'm sure many readers can relate; I get way too antsy and want to do something. So what's an antsy beach-goer to do? Enter: Spikeball.
Spikeball blends elements of foursquare and volleyball, with two players and two teams playing against each other. The players serve and hit the ball off of the net for each volley until one of the teams reaches 21 points. Like volleyball, you and your teammate have three hits each turn before you have to spike the ball into the net. Confused? Check out a video here to clarify things a little bit.
I had a few questions before diving in and committing to a kit, so founder and CEO Chris Ruder helped me out with answering a handful them.
How did the idea for Spikeball come about?
Spikeball has taking the nation by storm since the Share Tank appearance in March 2015. However, Spikeball was a game that Chris's older brother and friends played in the late '80s and early '90s. In 2008, Ruder and his friends got an itch to play the then-defunct game realized the trademark had expired around 15 years prior and there was never a patent. So they raised money between 6 of them, agreeing that each guy wouldn't invest more than he could afford to lose because the possibility of failure was high. They launched Spikeball.com and were officially in business.
[You can read more about how Spikeball hit $1 million in annual revenue with 0 full-time employees in post Ruder recently wrote for The Hustle.]
When did it go from "this is a fun idea to play with friends" to "holy crap, this could really be something?"
Chris and his friends were on a trip in Kauai in 2003 where they played Spikeball for five days straight. [Warning: apparently it's a pretty addictive game.] After five days of Spikeball and tons of strangers asking them about the game, they realized that other people may be interested in playing it. They talked it over for a while, and subsequently got attorneys involved, formed the corporation and got to work.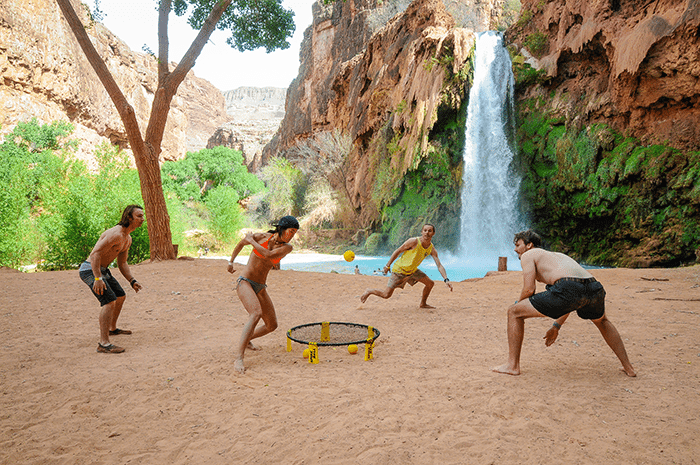 Who is this sport made for?
Today, there are more than one million players in the U.S. and more than 1,000 nationally ranked teams who make up USASpikeball, the official governing body and community for the sport.
Athletes and fitness professionals, have found the movement pattern the game helps with agility, team communication, dexterity, ball contact and tactics, which are all key cross-training components for many training and developing athletes.
However, Spikeball is not just for professional athletes. Everyone from families in their backyards to college students on Harvard Yard are playing, and Spikeball invites all to join the movement. The game can be played anywhere, indoors or outdoors, on the beach or at the park and is portable, group-friendly and accessible to all ages and fitness levels.
Ok, I totally get that you can set it up and take it down pretty quickly and easily – which is a huge plus for a city dweller. Any advice for how to find a good spot for it? (e.g., make sure you allow yourself this much space so you don't run into anyone)?
While having a lot of space is nice, it's not a necessity.  We received a picture of some college kids playing inside an elevator. Ideally, you have space around the size of half of a volleyball court.  Some prefer sand while others like grass. Basically, any city park or beach is perfect.
Why do you think Spikeball has taken off as much as it has? What's so addicting or different about this game?
While the rules of the game are very similar to volleyball, the equipment is very different.  The fact that there are no boundaries and that each player is involved in every single point is another unique element.  With volleyball, football, or basketball, numerous points can go by without you ever touching the ball. With Spikeball, you are in on the action on every point.
What makes Spikeball so great for cross-training? What are the main benefits?
Athletes and fitness professionals have found the movement pattern the sport forces to be great for coordination, agility, communication, dexterity, ball contact and tactics training while also being fun, enjoyable and competitive.
We've actually compiled a bit of data at a few of our recent tournaments. On average, we found that for the typical 15-minute game, players take approximately 831 steps, burn 116 calories and have an average heart rate of 134.
Any recommendations for how to set up my own little tournament?
If you're just getting started, we suggest hosting a few casual pickup games sessions first, or maybe an after-work event the same day of the week for a few weeks. Once you have a regular crew of people showing up, then it's time to start thinking about a tournament.  Head over to USASpikeball.com, buy a baller membership, and then you'll be able to host a tournament.  Once it's live, Spikeball Inc. will help you to promote it. The best part is that you get to keep 75% of the registration fees you collect.  There are people making over $1,000 on some of the larger tournaments.
Where can I purchase a set? Where can I play if I don't want to purchase one but I'd like to try it?
The Spikeball set for $53 includes one frame and net, one ball and one inflation needle. Sets can be purchased at Spikeball.com or in major sporting goods retails nationwide including Dick's Sporting Goods, REI, Modell's Sporting Goods, Big 5 and Sport Chalet. If you don't want to purchase a set, head to your local park or beach and you're likely to see a game going!