Meet Your New Favorite Post-Workout Treat: The Protein Shake Frappuccino
I took longer than most to get on the coffee train. I didn't start drinking it regularly until my sophomore year in Chicago (also known as 2012, when I was 23), and it took me awhile to realize that I liked my coffee pretty plain, with just a touch of sweetener and no milk. I'm a no-frills kind of person, apparently.
So, when I moved to an apartment next door to a Starbucks, I was incredibly confused when I saw dozens of middle school and high school kids pouring in after school (you're too young for coffee, whippersnappers! Don't you know it'll stunt your growth?) and even more confused when I saw the milkshakes they were coming out with. Eventually, I figured out that those milkshakes were technically called Frappuccinos, and they had absolutely no nutritional value whatsoever.
Obviously I started craving them all the time.
I've always denied myself the pure sugary pleasure of a Frappuccino, but I recently found a little corner of the internet that had made an amazing discovery: the post-workout Frappuccino protein shake.

It's true. You can wheel and deal your way from a sugar-laden Frap to a (still somewhat sugary) blended drink with soy milk, protein powder and a banana. Even better? You can make it at home if you're not on the run and want to save money (because I feel compelled to warn you, this is one of those drinks that's north of $5).
How to Order the Starbucks Protein Frapp
Start with a Java Chip Light Venti Frappuccino (ask for soy milk if you're so inclined). Ask to add one scoop of whey protein powder and a banana. Make sure to specify "no whip."
Bam!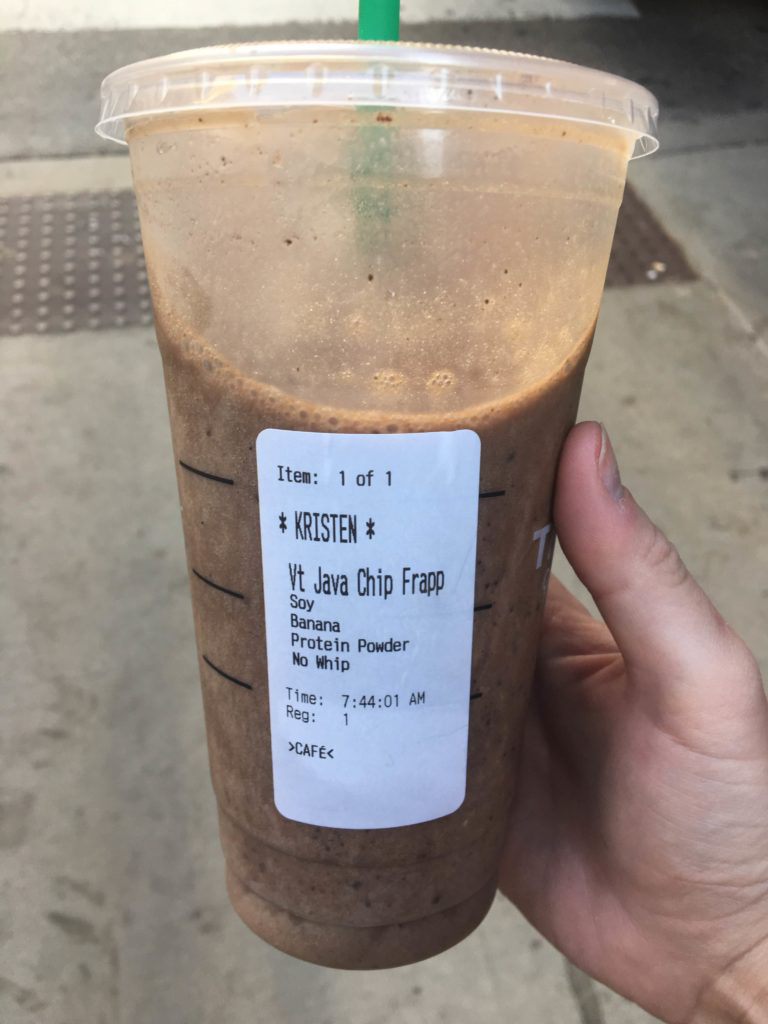 Full disclosure: I used my free drink reward for this beauty. Luckily, making it at home is nearly as easy.
How to Make Your Own Starbucks Protein Shake Frappuccino
Ingredients:
1 cup coffee
1 banana (frozen, if you're into it)
1 scoop chocolate protein powder
1 cup milk (skim, almond, or soy work best!)
Ice
How to:
Make your coffee the night before, and chill it in the fridge overnight. One cup will be enough! (You can also substitute this for 1-2 shots of espresso)
Add ingredients to your blender.
Blend until you reach your desired consistency.
(Recipe adapted from POPSUGAR Fitness)
We couldn't make it any simpler if we tried. Caffeination and refueling all in one delicious, blended milkshake. Does it get any better than that?