Three Things to Consider Before Becoming a Running Coach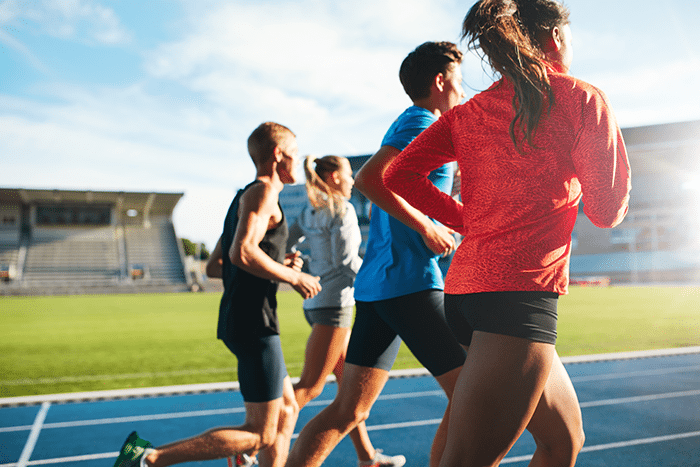 So, you've been running for a few years now, and you've picked up a passion for it. You run several days a week, whether it's solo miles or with a group, and you've even converted some former non-runners to join your Saturday long run. You've got the gear, you've gotten "Are you insane?!" comments from people who've seen you running in horrifying weather, and you can easily spend hours upon hours talking all things running. What's next?
For many runners, a natural extension of their passion for running is becoming a certified running coach. As a running coach, you're in a position to help other athletes achieve their goals, whether it's to finish a 5K or get their PR in a marathon. If you're lucky, you may even be able to turn your hobby into a part-time or full-time career.
Recently, I earned my USATF coaching certification, after taking a full weekend of courses and passing a certification exam. It was grueling, to be honest, and at the end of each day I was completely drained (and, as my dad and boyfriend will tell you, pretty grumpy). However, taking the time to personally educate myself about running and coaching was worth it, even if I never become a track coach. I learned things beyond simple running mechanics, and I heard from some amazing coaches with decades of coaching experience.
Whether you're looking to just learn more about running or you're itching to become a running coach as soon as possible, here's what you need to know if you're considering getting your running coach certification.
Which certification are you going to get?
Running coach certification isn't one-size-fits-all. You can choose between a few different certifications, but the most common certifications are USA Track & Field coaching certification and Road Runners Club of America coaching certification.
USA Track & Field coaching education is for those interested in coaching high school and collegiate track and field teams. USATF has several different coaching levels available, but, as with Candy Crush and most other things in life, you start with Level 1 before working your way up. Level one includes basic information on coaching philosophies, biomechanics, rules and events (including throwing and jumping events. I completely forgot the javelin is a real thing we still do). Meanwhile, Levels two and three go more in-depth for specific events. After taking a weekend seminar, you're let loose to take an Online, open-book test that requires an 80 percent to pass.
Road Runners Club of America coaching certification is for the pavement pounding running clubs that have sprung up across the country. The goal of their certification program is "to create a national community of knowledgeable and ethical distance running coaches to work with runners at all levels of ability." The two-day, 16-hour certification course covers topics such as building training programs, understanding running form, basic sports nutrition, injury recognition and prevention, and even the business of coaching. Within 30 days of your class, you're required to take a 100-question Online test and get your CPR and First Aid certification.
How do you know which one is for you? The easiest way is to ask yourself who you want to work with: if it's middle school, high school or collegiate runners, you'll want a USATF certification. If it's adult runners, go for the RRCA (but be warned – RRCA coaching classes fill up much more quickly than USATF courses).
What's your coaching philosophy going to be?
You may pass your online test with flying colors, but before you get your first athlete, you have to be able to describe your coaching philosophy. Your certification course will help get the wheels turning, but you'll want to spend some serious time describing your attitude towards running, goal setting and training.
A few things my class talked about that I found especially in line with my beliefs:
There are no cookie cutter training plans – as a coach, you need the ability to individualize training plans
Coach for the athlete first and winning second (especially when coaching youth athletics)
One workout can't make an athlete, but one workout can break an athlete (in regards to overtraining or not following a proper training progression)
Positive self-images and feelings of self-worth will lead to motivation, improved athletic performance, better relationships and higher personal satisfaction
What will distinguish you from other coaches?
Assuming you decide to make coaching a side (or full-time) hustle, you'll have to be able to explain why someone should hire you over any other running coach. Maybe it's because you've had experience battling back from injuries, and you're inspired to help others start their comeback journey by incorporating different types of cross training in your training plans. Maybe you're passionate about showing elementary school kids how fun running can be, or maybe you've got a badass trail-running resume. Whatever it is that makes your special sauce, be ready to play to that strength of yours and use it to help your athletes run their best.
If you're even remotely thinking about becoming a running coach, your first step is to do as much research as you can. Read up on the various types of coaching certification, talk to other coaches you know about their experience, and really think about what best fits your coaching strengths and passions. From there, dive headfirst into education. Remember that education is a constant, ongoing process, especially in a sport that's as complex and changing as running. Consider making practice training plans for friends and family. At the very least, earning your coaching certification will make you a better runner and give you a foundation for achieving your latest running goal.
Got more questions? Kristen just earned her USATF Level 1 Coaching Certification and is happy to chat through her experience- drop her a line in the comments!