Pure Barre Shows How Women Can Stay Fit During Pregnancy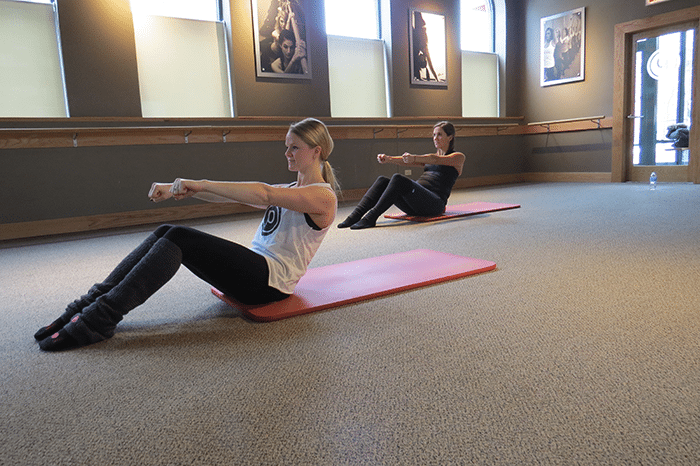 If your Facebook newsfeed is anything like mine, you're able to watch your friends' lives change and their bodies change along with them. Babies are what's happening. Because of social media, we can count the weeks pre-baby and the months post-baby via a colorful sticker affixed to an adorable child's stomach.
Behind the scenes, pregnancy can seem scary for soon-to-be moms who want to stay active. Most doctors advise that if you were taking part in an activity pre-pregnancy, you can keep it up while you're expecting, but there are always certain moves that should be modified to accommodate the changing body.  (Disclaimer: every woman, pregnancy and situation is different, so consult your doctor)
What to expect when you're expecting created a week-by-week guide to fit pregnancy and states that exercise during pregnancy offers a "boost in your mood, a decrease in many pregnancy symptoms (including fatigue, constipation and nausea), and a quicker postpartum recovery."
But not all pregnant women are sure about what they can do to stay active with a little bun in the oven. This puts fitness instructors and coaches in an interesting situation – often when a woman is pregnant, she'll tell her fitness instructor before she tells her friends just so that the instructor can be sure to modify any exercises that she shouldn't do.
Pure Barre has made a name for itself with safe and effective workouts for women – including pregnant women.
Originally, when I stopped by the Pure Barre in Lincoln Park, I was there to have the location manager, Amanda Johnston, show me common form mistakes and corrections for those during Pure Barre's Learn to Barre month in January. But when I walked in, I saw that the location owner Ashley Gertz was clearly expecting a child and I impolitely asked about it. She's in the 30-week range and she said that she feels great – and her arms looked just as fantastic as when I met her a year and a half ago.
She said that she taught and took classes all throughout her pregnancy, and so – probably based on my excitement for this new angle – she joined us for our shoot.
As we set up, Johnston explained that, "Pure Barre is all about small, isometric movements. It's very easy on your joints – so you're never going to hurt yourself … The goal is shaking, which a lot of people are afraid of, but our end goal always is to shake."
When you hear your instructor say, "Good shaking." That's why.
Johnston explained the structure of class:
First, a 12-15 minute warm-up that warms up your body right away, gets up your heart rate. If you're wondering why that warm up is so long, the use of free-weights to strengthen arms, back and upper body is included in that time.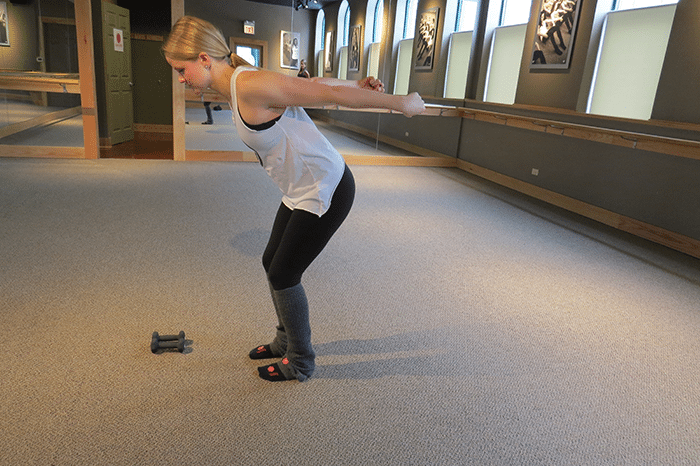 Then core. the class moves to the ground to work on core right from the start. Core is the section of class during which pregnant participants will require modifications. (Here's more about your abs during pregnancy – again, always ask your doctor.)
For plank, a simple modification is to take your plank on your knees during pregnancy.
For c-curve abs, placing a ball behind the back helps to lower the intensity of this move during pregnancy.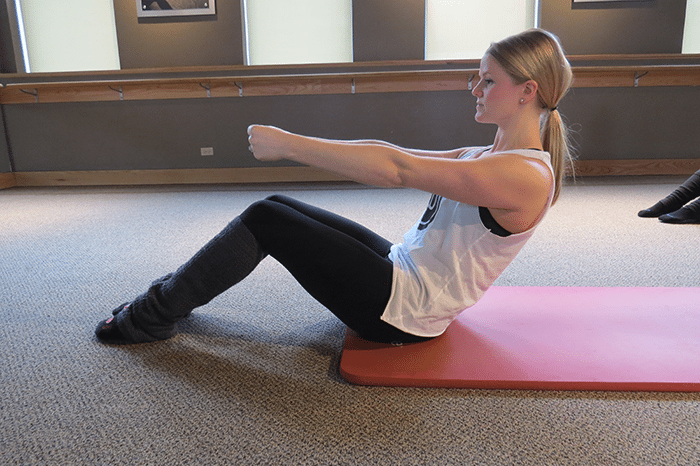 Then there's ab work at the wall. Physical changes during pregnancy make it hard to hold a straight leg lifted an inch off the ground like you may be used to during your barre classes.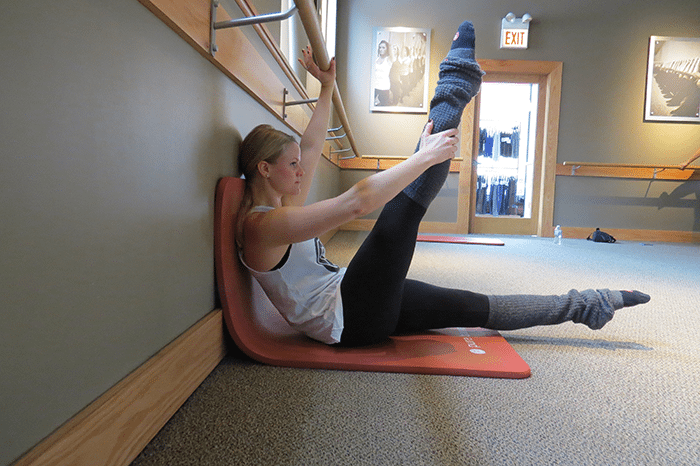 So a pregnant participant would plant her foot on the floor with a bent knee instead.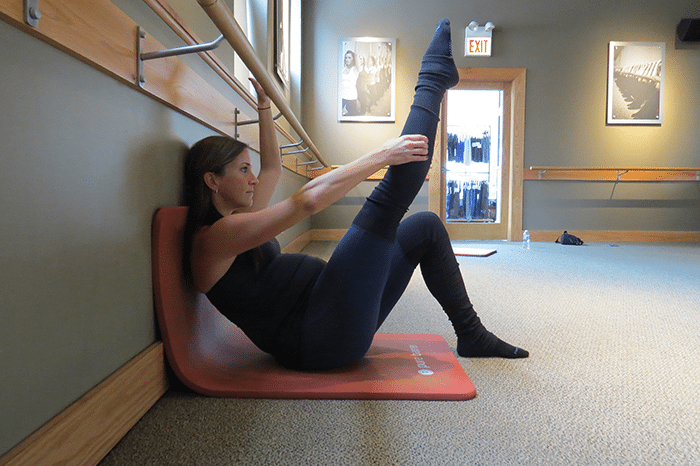 Next thighs:  This is where that "shaking" thing we talked about is most apparent. "During thighs, our goal is to work outer, inner and tops of thighs," Johnston said. "We do three different exercises in every class and every day they change." Pregnancy is no sweat during thighs, although, it's important to remember that you may feel a shake a little earlier because you're carrying around extra weight.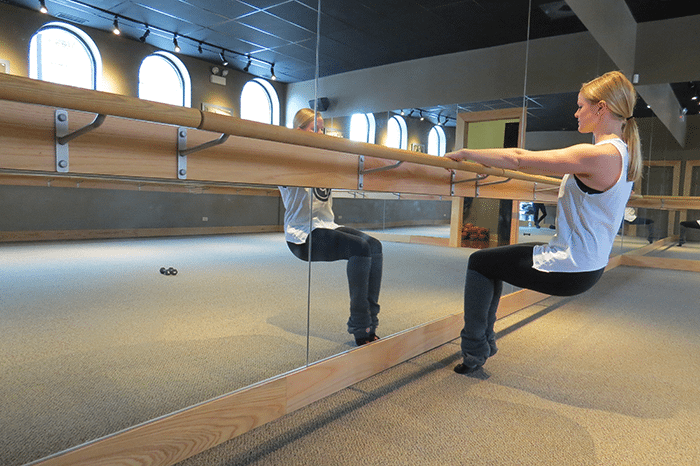 Then, the seat: Johnston explained that the seat section focuses lifting the tush "wrapping it and tightening the base of your seat – our slogan, lift, tone, burn – is about lifting the seat."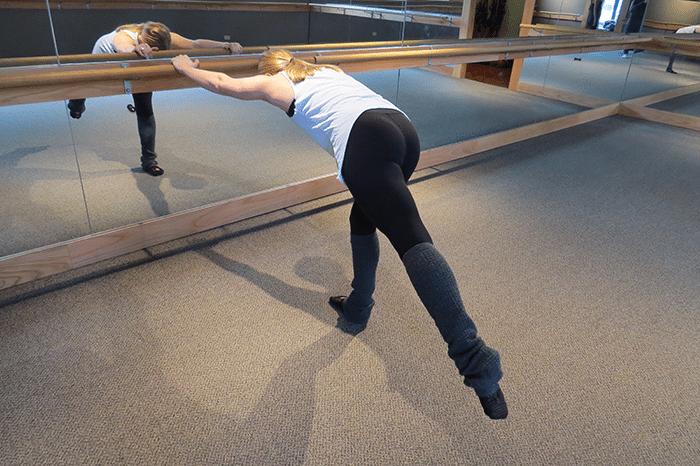 By turning the hip out here, participants work the side of the seat. That subtle difference changes the move dramatically.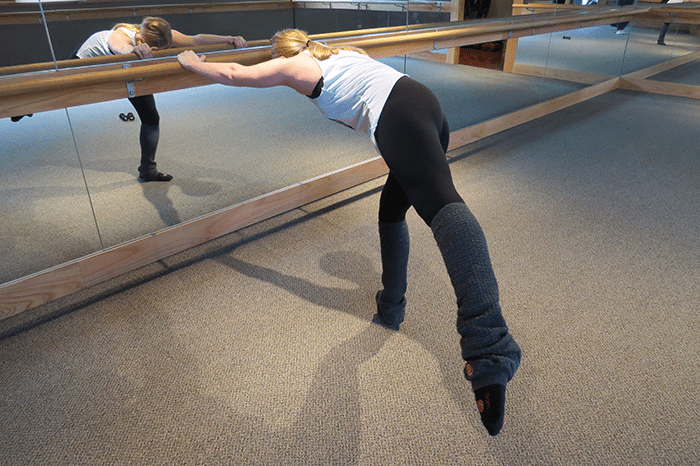 And stretching happens between every section: Pure Barre, Johnston said, emphasizes a stretch between each section of class, "that's how we develop those long, lean muscles,"  she explained.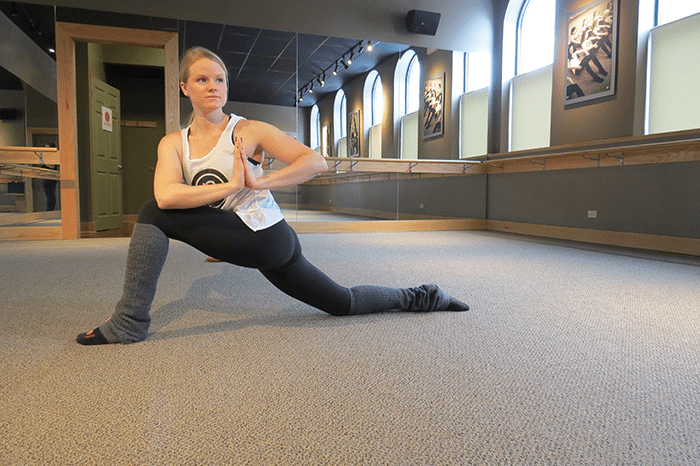 As you embark on your own fitness journey – pregnant or not – Pure Barre offers a great low-impact option. If you're pregnant or thinking about becoming pregnant in the future (maybe way, way in the future) remember that fitness is an important part of the journey, helping you and the tiny human stay healthy together for those nine months.