Fitness Trackers and Your Workout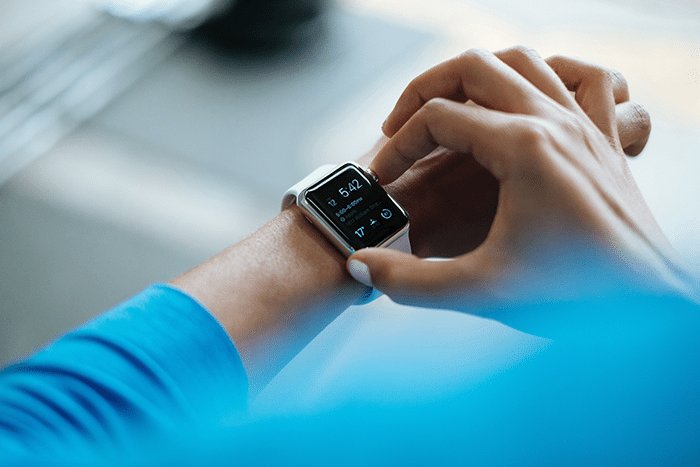 No doubt, technology has changed the world. It touches every aspect of your life and makes getting everything from the news to dinner to a date faster and easier. Fitness is no exception to this. Think back to when you were in junior high and wanted to work out, you had a very limited choices: Would you choose an old school work out video (pretty sure my love affair with group fitness started with Billy Blanks and Tae Bo), have mom or dad take you to the local gym where you'd wander around aimlessly, or go for a run outside only to have your parents drive the route in the car to figure out just how far you went?
And even when you did get a work out in, there was no way to track and compare workouts. Within the past decade, technology has changed the fitness game – apps, websites and tracking devices allow us to plan, track, compare and brag about our fitness triumphs. All of this makes it (almost) impossible to find an excuse not to work out, and ultimately keeps you on track to achieving your goals.
Think about when you're ready break a sweat and want to book a class, what's the first thing you do? You look online (or on an app) and look for availability in the class you want to take. If that class is full, you have about a thousand other classes to choose from. You have all of the information at your fingertips – who's the instructor, what bike/treadmill/rower you'll be on and if the class has a theme (you know you're going to sign up for anything Beiber). Many studios even let you book recurring classes, this way you don't have to even think about signing up, just show up. Plus – with cancellation polices ranging from four to 24 hours in advance, there's no way you won't show up (eat $30 because I'm too tired, no way). The ease of booking and the advance notice hold you accountable for your daily fix of endorphins.
Maybe classes aren't your thing. You like to hit the gym and move some weight solo. Well thanks to smart phones, workouts are available at your fingertip. Nike Training Club, the Dailyburn and Skyfit are just some of the apps that provide workouts based on your needs.
From workouts using equipment to target specific muscle groups, to Tabata Intervals you can complete in your hotel room, to interval training on a treadmill, these apps have you covered. Training for a race? Apps such as Hal Higdon's marathon training guide can get you on your way (yes, his motivational quotes can be a bit much but sometimes you need to cheese it up on those long runs). Years ago if I wanted to do weight training on my own I'd have to bring a pullout from Self Magazine to the gym with me, thanks to these apps I have the virtual training I need with nothing more than my iPhone.
I will openly admit I am a total numbers geek by trade, but it's now moving into my workouts – fitness trackers are turning us all into data junkies. Trackers take the guess work out of your workout and allow you to compare how much you're pushing yourself. Whether it's a heart rate monitor telling you you're in your fat burning zone or your personal stats on a leaderboard in spin class, you now instantly know when you're being a warrior or just phoning it in. These stats can also help you track your progress and let you know when you've hit milestones/goals you've been working towards.
I'm sure you've heard that one of the tricks to staying accountable for your workout is to grab a buddy, right? Well imagine how accountable you can be with hundreds of buddies. Social media has taken the buddy system to a whole new level and created a community. The social support that comes with posting pics, tagging gym friends and sharing upcoming events helps you feel included, keeping you motivated to stay a part of that fitness community (hello, aSweatLife). Also, online challenges have become a hit by bringing like-minded people with a common goal together. Through the support of the group, many individuals are able to stay accountable and complete their goals.
Technology has done wonders for the fitness community making it easily accessible, simple to follow and almost impossible to not stay accountable. Although the motivation, instruction and tracked results are right at your fingertips, one thing remains the same – you still need to get out there any move that booty.
Give a new app a try and tell us about how technology has helped you achieve your goals.