Corporate #Sweatworking with Your Team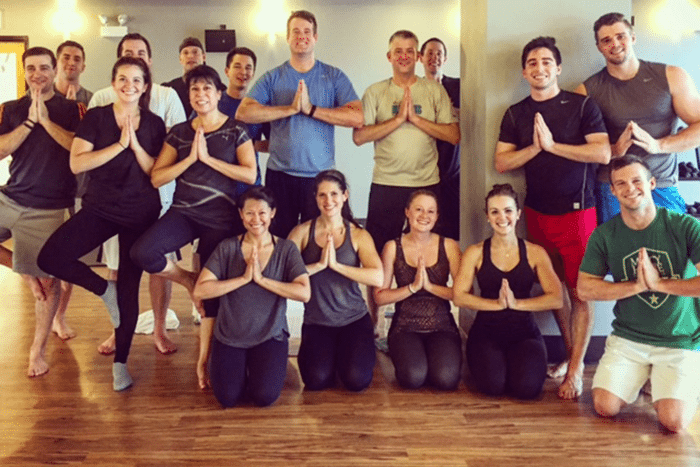 #Sweatworking. It's not a foreign concept, especially if you visit aSweatLife often. A bunch of like-minded fitness enthusiasts, getting together to try a new workout and meet some new people; seems harmless and fun. Now imagine taking those like-minded fitness enthusiasts and replacing them with your co-workers. That's right, Bob from accounting and Suzy the IT analyst. Gets a little more intimidating right? Sure, you've shared beers and late-night tacos together, but the idea of wearing dry fit capris and breaking a sweat together suddenly is daunting.
But why? Why is the default bonding ritual getting drinks at happy hour? Don't get me wrong, I love grabbing a glass of wine with my co-workers and venting about my boss as much as the next guy (JK, Ryan), but I thought it'd also be nice to bond in other ways. Enter the corporate #sweatworking. Here's how I got my corporate finance team (twenty people ranging from 22- to 42-years-old) to complete the challenge (we've actually done three at this point, with our fourth scheduled for January).
The Pitch: Our first #sweatworking was under my former boss. It was an easy sell as he was an avid work-out junkie (I'm not kidding when I say he has boxed jumped my desk several times – even boxed jump the stage at our holiday party). After having a few workout challenges in the office (biggest loser, fastest sprint, greatest mileage in a month), I approached him about taking our team to work out together. He wasn't the biggest fan of group fitness, but was willing to give it a chance if the team was interested; after all, I'd been raving about all these great classes I've been taking for years. His biggest concerns were if people wanted to participate and that they didn't feel pressured to. I promised him I would l find something that was suitable for all fitness levels.
Getting the Team on Board: Ok, ok, ok – I'll be the first to admit I was a little naïve about this. I thought this was the greatest idea ever, why wouldn't everyone be jumping at the opportunity to leave the office and try a (free) workout class? Turns out, there was some hesitant opposition. Fears/concerns/annoyances ranged from "what do I wear?" to "Is this super competitive?" to "Wait, I have to change next to my boss?" Well shit, I had my work cut out for me if I was actually going to make this happen.
The important thing was to make sure everyone was comfortable. I stressed wear what you'd typically work out in, whether it's a long sleeve onesie, or bikram shorts and a tank – this is about you and your experience. As for the level of competiveness, it was important that everyone knew this was for fun … so take it at your own pace – if they wanted to add the competitive level, take the bike/treadmill/mat next to the other completive team members and go for it (aka beat your boss). The changing situation was a little more stressful; we combated this by offering various solutions; shower at the gym, go back to the office gym, go home and meet us out after.
Picking the Workout: I wanted to find something that not only allowed beginners to participate, but also was challenging for more seasoned enthusiasts; clearly, my weekly butt kicking weight training sessions with Cam wasn't going to work for everyone. As I looked into options, I realized this was a lot easier than I thought. Most classes in Chicago offer a badass workout for all levels. We ended picking Shred415 as our class (then Flywheel, then Core Power Yoga). One important thing to note is to ensure your instructor knows several (or in our case, most) participants are new. All three instructors were AMAZING at explaining, motivating and making my team ultimately enjoy the workout (thank you Jazmina, Everett and Stacy).
The Result: The best way to describe this is to listen to my team:
"Nice break from the work day, good way to try different classes you might not normally do, and hang out with co-workers in a fun environment." – Jeff Lindquist
"'Friendly' competing with my coworkers inspires me to work out harder and get quicker results." – Marta Szydlowska
"I like having the opportunity to build working relationships outside the office in an atypical setting. Happy hours are great but actually sweating with coworkers peels away everyone's shells and allows for some true bonding time!" – Adam Parritz
"I would definitely recommend #sweatworking to other groups because of the team bonding, strength and health benefits, mental break from work, and the increased drive due to competition." – James Adam Bell
"[I would recommend #sweatworking because] working out makes me feel better, we get to try new workouts, it helps with team-building, it's fun, it's "free," and we get to be away from work." – Tina Weber
So go on, give it a shot. Corporate #sweatworking may not be for every team at every company, but it offers a nice alternative to just going out and throwing back some beers. Certain bonds are formed when you are put in challenging environments, and this just further enhances the day-to-day camraderie amongst you and your co-workers. Just remember to encourage your team to have an open mind and try it just once.
Let us know!
Did this post help you get closer to achieving one of your goals?