30 Minute Meals: Make-Ahead Kefir Pesto Quinoa Bowl Recipe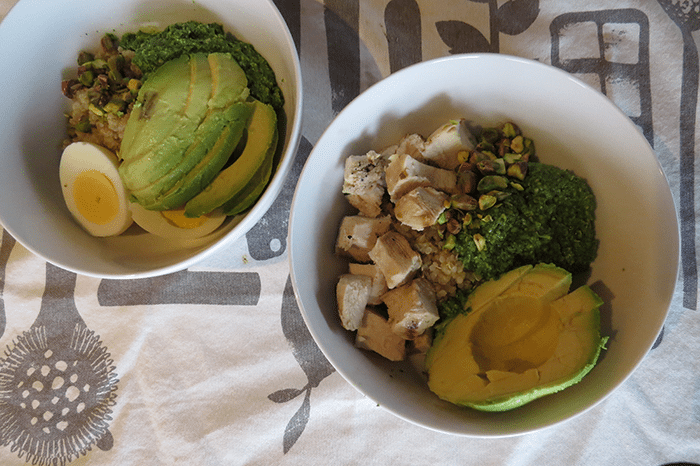 When you feel strapped for time, buying takeout or stopping at a grab-n-go restaurant can seem like the only option. I'm here to tell you of a better, healthier way. In 30 minutes or less, you can have a delicious meal in a bowl for your lunching pleasure.
Bowls for breakfast and lunch make the world go 'round. Here's why a good quinoa bowl recipe will change your life: they're packable and they can be made ahead of time. And quinoa – a great base for a hearty bowl – is great hot or cold.
I've talked about mix-and-match foods and this bowl is ripe with mix-and-match ingredients, so if you're feeling like prepping things you'll be happy to use all week long you can make a batch of a dozen hardboiled eggs instead of just two for this recipe. Great for snacking and even better when doused in Frank's hot sauce (IMO). If you love quinoa and want to use it a few ways throughout the week, double the amount of quinoa this recipe calls for and you'll end up with 6 cups cooked instead of three. Like having grilled chicken around? Broil or grill 6 chicken breasts to use in salads and bowls throughout the week. And the pesto? Make extra to put on top of your morning eggs or combine with just a little bit of olive oil to make a great dressing.
And, to top all of that mix-and-match magic, this bowl is packed with a few things that will protein-infuse your life: Kefir is a natural source of protein that's 99% lactose free (great for those with tummy troubles like me), quinoa is a plant-based protein source and eggs and chicken – well they're eggs and chicken.
This recipe is adapted from Lifeway Kefir and it makes two servings.
Ingredients:
1 1/2 cups fresh basil leaves
1 1/2 cups fresh kale leaves
1/4 cup Lifeway Plain Low Fat Kefir
1/4 cup roasted pistachios
1/4 cup grated Parmesan cheese
1 large garlic clove
1 avocado
For breakfast, use 2 large eggs, hardboiled – for lunch, use 12 oz of broiled or grilled chicken
2 cups cooked quinoa
2 Tbsp chopped pistachios
Kosher salt and pepper, to taste
Directions:
1. Boil your eggs: This is the method the yields perfect hardboiled eggs. Every. Time. place eggs in a pot just covered in cold water. Put on the heat and bring to a rolling boil – let boil for one minute. Cover the pot and bring the heat down to a simmer for one minute. Turn off the heat and leave the covered pot on the stove for eight minutes. Then move then entire pot to your sink and replace hot water with ice and cold water. Let the eggs cool.
2. Start your quinoa: Put one cup of quinoa and two cups of your preferred cooking liquid. I cook mine with chicken stock, but veggie stock or water both work. Bring to a rolling boil, then take the heat down to a simmer and cover your pot until the liquid is cooked down and all you have left is quinoa. Turn off the heat, uncover the pot and fluff with a fork. The whole cooking process should take about 20 minutes and will yield 3 cups cooked quinoa, put one cup aside for later.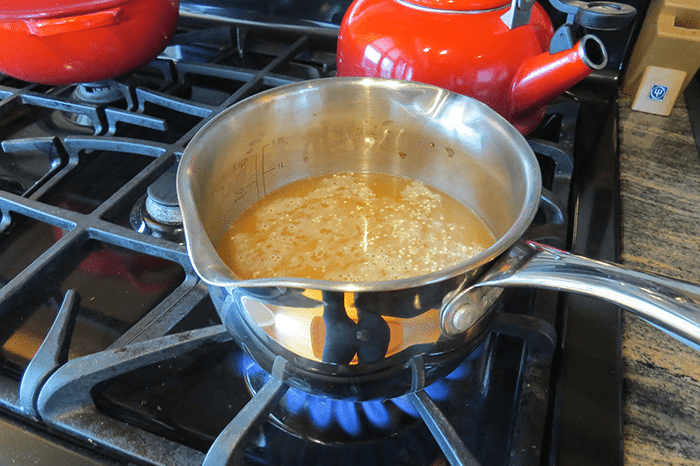 3. While your quinoa is cooking, prep the pesto: add the kefir, kale, basil, garlic, Parmesan cheese, 1/4 cup pistachios and a pinch each of kosher salt and black pepper into the pitcher of a high-powered blender or a food processor. Pulse until a few chunks remain, but the sauce is mostly smooth. Set aside.
4. To prepare the bowls: divide the cooked quinoa into two bowls. Spoon over 2-3 tablespoons of kefir pesto. For the breakfast version, chop each egg in half and put one egg in each bowl. For lunch, cut the chicken into 1/2 inch squares.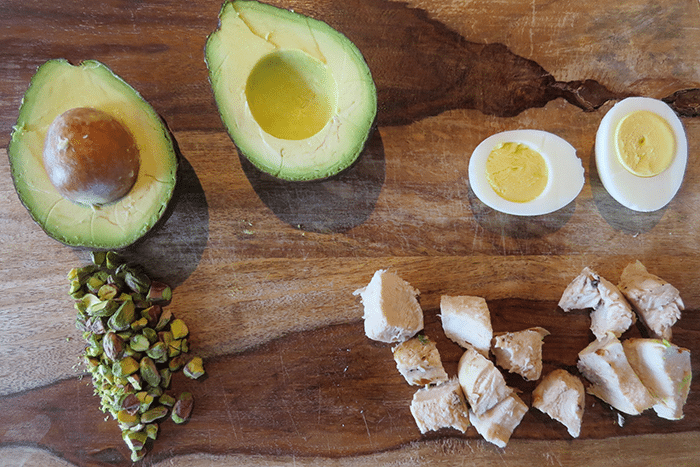 5. Top the bowls with raw ingredients: Add half of the avocado to each bowl, followed by 1 TBS chopped pistachios. Season with salt and pepper to taste. Add additional pesto or plain kefir to reach desired creaminess.