You Should Diet When … Thoughts From a Registered Dietitian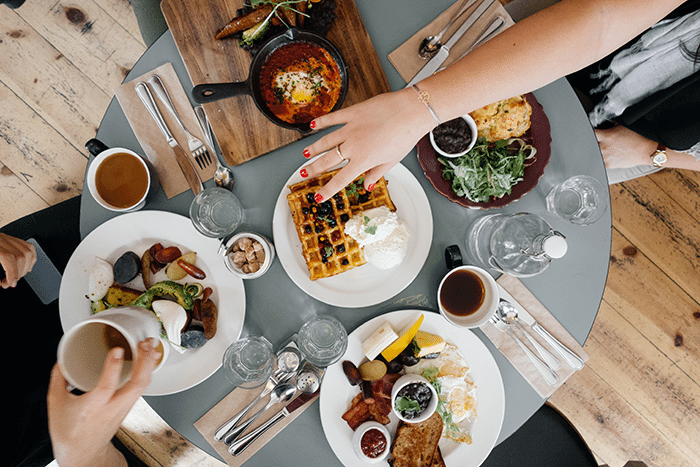 Whether it's feeling a little sluggish from the holiday season, wanting to tone up for that extra special day or even dropping a few pounds for an upcoming vacation – dieting is typically the first thing that comes to mind to help get you there. But is it always healthy and realistic? To help debate this issue, we've enlisted the help of registered dietitian Lauren Florian.
So Lauren, tell me a little bit about yourself …
I have been a registered dietitian for about eight years and worked in a variety of settings including inpatient care, outpatient care and corporate wellness. Currently, I'm a senior manager at the Accreditation Council for Education in Nutrition and Dietetics at the Academy of Nutrition and Dietetics. I truly love being a dietitian because this field can take people on so many different career paths. I can work in the field of education, but also help people live a healthier lifestyle while also doing things like this and answer hilarious nutrition questions for an amazing blog!
Call me ignorant, but what's the difference between a registered dietitian and a nutritionist?
To become a registered dietitian, an individual needs to complete a minimum of a bachelor's degree at an accredited university or college and course work accredited by the Accreditation Council for Education in Nutrition and Dietetics (ACEND®), then complete an ACEND®-accredited supervised practice program/internship which lasts typically 6-12 months. After all that, an individual still needs to pass a national examination and complete continuing professional educational requirements to maintain registration. A nutritionist often has a bachelor's degree in a certain field; however, most likely only took a small number of nutrition-based courses. There is not a national exam to become a nutritionist nor is there continuing education a nutritionist has to complete.
Got it, thanks for that (detailed) explanation. So in the following situations – can you weigh in on if it 'is it OK to diet if …"
Of course, but let me start off by saying (sorry to interrupt), I don't like the word diet, because I think it can have a negative connotation and when people say diet, there is such a large gamut of possible meanings! It can be the newest fad that Kim K. is using to lose the weight from Saint (yep, that's his name) West's birth, or it can mean a diet that a person is given while in the hospital to control their hypertension. So, as I answer these questions, I am referring to healthy eating and trying to start a better lifestyle, not a wrap-yourself-in-plastic-wrap-while-drinking-lemon-water type diet.
You're getting married in six months …
Yes, everyone wants to look their best in their wedding dress or tux and six months is a good time to tone up or lose a few extra pounds. In order to lose about two pounds per week, you will have to cut out 1,000 calories per day; one pound of body weight equals about 3,500 calories. So a reduction of 1,000 calories for seven days would be 7,000 calories or two pounds. This is, of course, assuming your activity level stays the same. If you want to exercise a little more, then you don't have to cut back as many calories. It's important to note that it takes time to lose weight, so give it some time! Work hard, but understand that nothing comes easy and you have to make lifestyle changes to see changes in your weight or body.
You gained ten pounds over the holidays …
Yes, the holidays are a hard time to try to keep up with a healthy lifestyle with all the parties and delicious food that your coworkers bring into the office! I would suggest reflecting back on what happened over the holidays to cause that weight gain. Before starting a new healthy lifestyle regimen, identify what caused you to get to where you are in the first place and begin working on ways to avoid those same issues. It is going to take a lot longer to lose the ten pounds than it was to gain it, so stay focused and work on cutting back those calories and adding in some additional exercise!
You want to look like Gigi Hadid …
Unless your parents are Mohamed Hadid and Yolanda Foster – you are wasting your time! All our bodies are different, so work with the one that you have and make it the best one possible.
You're going to Vegas in two weeks and need to drop two sizes …
Well, yea – you kind of screwed the pooch on this one, two weeks to lose two dress sizes is not a realistic time frame! Work on healthy eating as a lifestyle change, not as a quick fix. Let's face it, aim to go to Vegas, have a good time, get some free cocktails from the boys or girls in the next cabana and focus on celebrity-spotting, not dropping dress sizes!
Your blood pressure is high …
Absolutely! Start by talking to your primary care doctor to understand the cause and treatment for your high blood pressure and then of course, talk to a registered dietitian for a specific plan for you!
You want to improve your overall health …
Yes and yes! This is the best reason to start a new healthy eating regimen. Add some exercise to get a well-rounded routine and before you know it, exercise and eating right will be an easy habit.
You want to detox and do a cleanse …
Cleanses are good at one thing, draining your bank account. I will start off by saying that your body is a "self-cleaning" machine. Your liver is there to do just that! But, in order for your liver to function and do its job at its highest potential, it needs nourishment – not starvation! Cleansing your body over the course of a few days will never make up for the damage done to it up until that point, nor will it keep your body healthy from that point forward. What I do recommend, over an all-liquid or juice cleanse, is a food-based cleanse. It is simply a "clean" eating cleanse where you cut out all processed foods, sugar, caffeine and alcohol to help detox your body naturally. A clean eating regimen will help jump-start your healthy eating and by cutting out all the foods that may make you sluggish and tired, you will be ready for a new outlook on life … Well maybe it won't be that intense, but I bet you feel better, hydrated and have more energy!
So, overall, it's important to make realistic goals when it comes to healthy eating and exercising and know what will work well with your own body. Take everything one day at a time and you will reach your goals! If you need assistance throughout the process, call your local dietitian up for guidance!