Urban Athlete: New Look, New Classes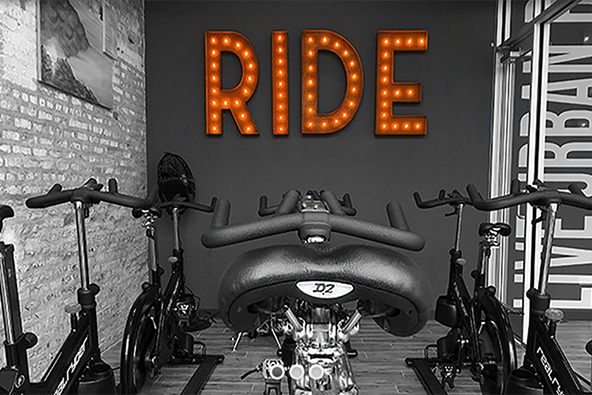 Neighborhood gym, Urban Athlete moved up Ravenswood Ave into a new industrial space a few months ago. Not only did they give themselves a complete makeover, but they've added additional classes to their schedule. I recently took their Urban Ride, which offers a different way to spin using RealRyder bikes.
The previous Urban Athlete studio was basically one long room that often saw private training sessions overlapping with group classes. There was a desk in the corner for administrative use, a small area to hang coats outside the studio door, one bathroom and one shower.
The new gym boasts an entire brightly lit lobby, as well as men's and women's locker rooms, complete with several stalls, showers and lockers, as well as aromatherapy steam rooms. Further in, gym members will find a sectioned off weight/work out area, a separate treadmill space and an entire room just for group fitness classes.
Back up front is the spinning studio, which is a new component to Urban Athlete. The room is fairly small, holding just eight bikes, but there is a glass wall that looks into the lobby and one facing outside that keeps things from feeling too claustrophobic.
Urban Ride with Jaime was my first experience using RealRyder bikes. Instead of being completely locked down, these bikes are made with articulating frame technology, enabling them to move from side to side.
The bikes don't feel much different while sitting, but they become super wobbly when standing in second position. The challenge is to keep them balanced, which requires more effort from your core. I had to go slower than Jaime suggested, while cranking up the resistance in order to get a handle on the bike. After some practice, I gained a little more control and could peddle a tiny bit faster by the end of the 45 minute session.
Throughout the ride, Jaime had us standing in second position while the handle bars swayed from hip to hip. This maneuver took a bit of concentration in order to give it a good flow. We also turned the handle bars to the right and left with both hands while seated, as if we were making actual turns on the road. There were also one handed turns, which were not easy, but they were a great way to incorporate the upper body other than just using weights.
Another first for me was peddling with just one leg while seated and while incrementally turning up the resistance. By the time I got to the highest resistance, I was using the weight of my entire body to push down on the peddle.
I didn't sweat as much as I usually do in other spin classes, but I definitely felt the effects of the class in my legs, butt and hips for the rest of the day and into the next. I also loved the addition of balancing, turning and swaying, which kept things interesting and certainly challenging.
Ride sessions, as well as group fitness classes, can be purchased individually for just $18, which is more inexpensive than other cycling studios I've been to in Chicago. Classes can also be purchased in a 10-pack for a lower rate.
As for memberships, Urban Athlete offers Unlimited Team Training ($29/week), Semi Private Training ($48/week), one-on-one Coaching ($79/week) and Open Gym ($80/month) options. They all include unlimited group fitness classes and access to the open gym, where you will find weights, kettle bells, climbing ropes and tires. They've also added kid and teen fitness programs to their expanding schedule.
The new studio is beautiful and more spacious, the group classes are tough and the RealRyder bikes add a different spin, if you will, on indoor cycling workouts. Check out Urban Athlete for yourself at 4710 N. Ravenswood Ave.