Healthy Holiday Recipe from Mariano's: Pomegranate, Kale and Quinoa Salad with Walnuts and feta
As the holiday season approaches, leading wellness experts around the country want you to know the risks of eating everything in sight at the holiday parties that are filling up your calendar.
The reality is that most people don't see the number on the scale increase as much as they think each year. According to The New York Times, the average weight gained between Thanksgiving and the end of the year is approximately one pound.
While that single pound isn't that scary, what is troubling is that according to the piece, most people never lose it.
With that statistic in our back pocket, we partnered with Mariano's in Chicago to create a healthy eating event focused on the holidays. We invited attendees who had been to more than two #Sweatworking events to gather around a dinner table to share food and great conversation. These are the smiles of a well-fed group!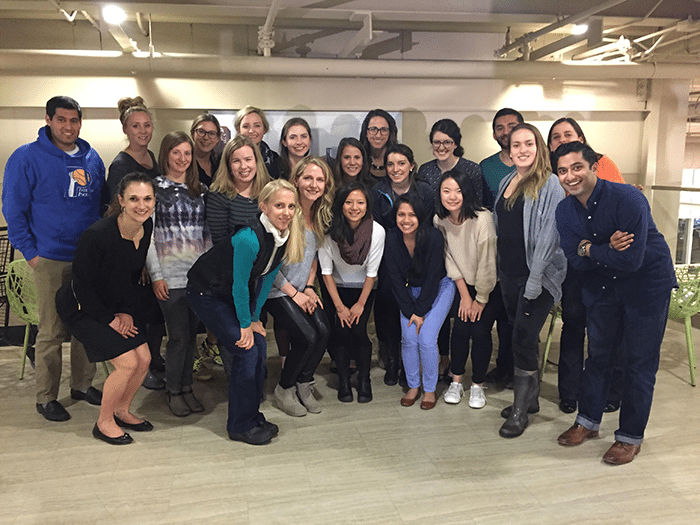 Allison Parker – Registered Dietitian at Mariano's – talked us through some of her holiday eating tips.
She reminded us of three ideas that can keep your party snacking in-check:
Never go to a holiday party hungry. Eat a meal or a snack before you head to a holiday event, especially if you know that there won't be many healthy options for you.
Don't stand next to the food. Your proximity to food can cause you to mindlessly snack.
Remember what your plate should look like if you are at a dinner party. Half of your plate should be veggies, a quarter should be lean protein and a quarter should be starch.
Leading up to Thanksgiving, I'm recreating some of Allison's dishes that she showcased at Mariano's healthy holiday eating event for aSweatLife. One of my favorites was a simple and delicious pomegranate, kale and quinoa salad inspired by a wild rice version created by Pinch of Yum. If you're wondering, "Why kale?" Well-Being Secrets has 23 reasons to get leafy with this vegetable.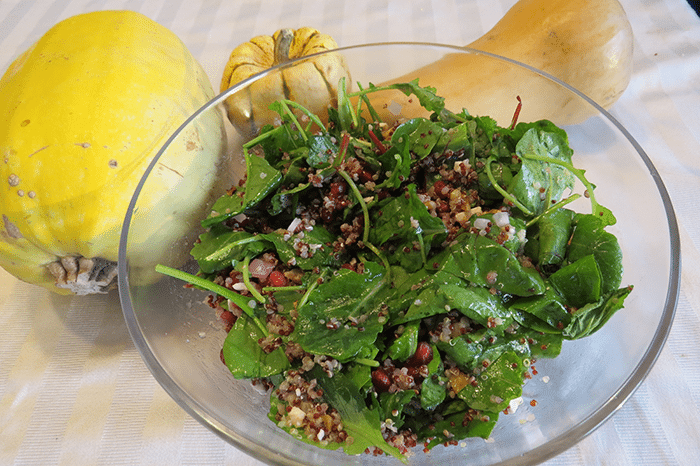 On a recent trip home for a family event, I knew that this salad would be the perfect healthy option at a potluck-style dinner. Considering that the bowl was completely empty by the end of the evening, I'd say that this healthy holiday recipe was a success.
I cleaned my plate while we reminisced over a box of memories. My favorite discovery? That I owned a pair of Sesame Street sweatpants emblazoned with the word, "workout" – perfect for learning to ride a bike.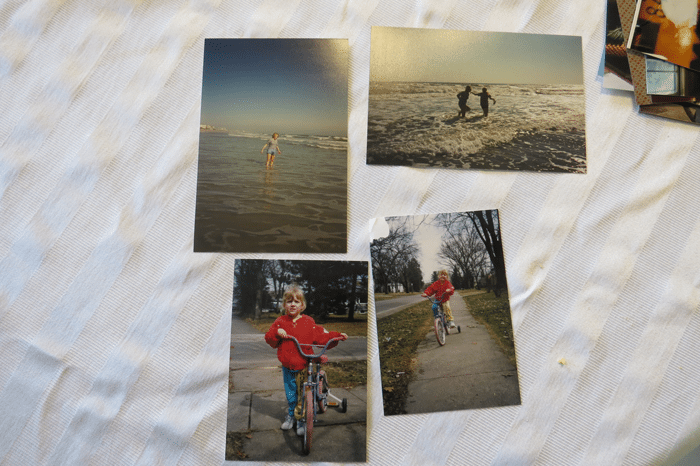 Want to make this salad for your upcoming gathering? The only thing that requires any real prep is the cooked quinoa and the toasted walnuts. A little bit of chopping, but mostly just plopping things into a bowl, mixing some dressing and tossing it all together.
You've got this.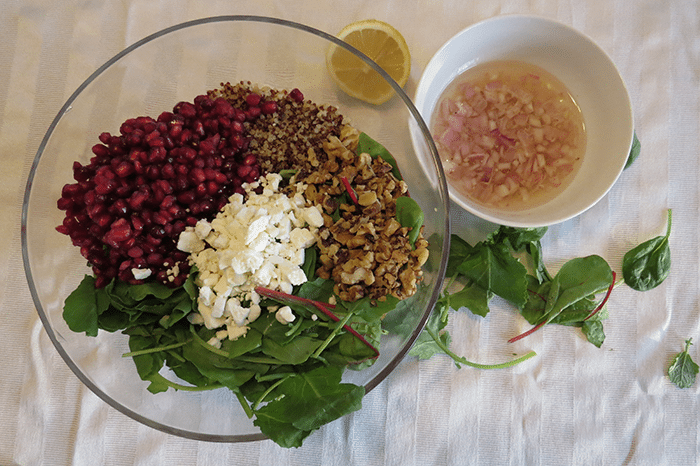 Salad (makes 6 servings)
1 cup pomegranate seeds
3 cups chopped baby kale
2 cups cooked quinoa
1/3 cup toasted walnuts
1/3 cup feta cheese
Dressing
1/4 cup minced shallot
2 tbsp walnut oil
2 tbsp water
2 tbsp honey
2 tsp apple cider vinegar
1/2 tsp salt
1 squeeze lemon or orange juice