Dressing the Part: Triathlons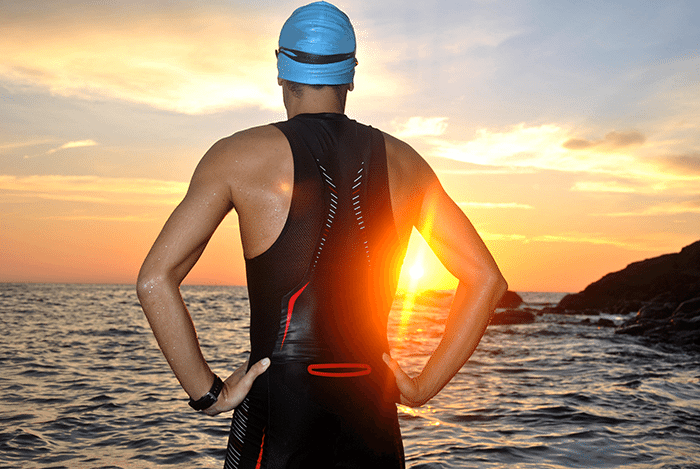 Tri suit, wetsuit, skin suit, compression sleeves, compression socks, bike shorts, swim cap, goggles, cycling shoes, running shoes, tri top, race belt … the list goes on. Triathlon is a sport obsessed with gear and gadgets, and it's expensive. #TriProblems. So, we've decoded the necessities required to get you through your first triathlon comfortable, dry and chafe free (yes, we said chafe – one of the less glamorous hazards of the sport).
The swim:
The biggest rookie-mistake when it comes to the swim is thinking you'll wear a swimsuit on race-day. You want to wear something lightweight, form fitting to reduce drag in the water and something that's a comfortable base for the remainder of the race. Think about sitting on a bike seat (wet), followed by three or more miles of running. A swimsuit bottom sounds less than ideal for that.
Tackling your first sprint tri? Any compression short made of technical fabric will do (like the Lululemon What the Sport Shorts).
If you're willing to splurge, tri shorts are a great investment because they have padding for comfort on the bike (like the Betty Designs Little Black Short). They dry quickly once you exit the water and usually have pockets to store nutrition too.
On top, you'll want to wear a technical sports bra that offers enough support to bike and most importantly run (like the Nike DRI-Fit Knit). Some tri tops have built in support (like this Pearl Izumi Elite In-R-Cool Singlet) so you wear the same top in the water and through the rest of the race – no change in transition required.
Any pair of goggles that are comfortable and don't fog up will work perfect, and the race generally provides you a swim cap to wear.
The Bike:
You're out of the water wet, barefoot and water logged. Now what?
At transition you'll want a towel (any small towel works) to wipe off your feet and quickly dry off. Put on a comfortable pair of socks for biking and running. Opt for your favorite running shoes if you have baskets/pedals or a pair of cycling shoes if you've upgraded to clips.
If you wear only a sports bra in the water, now is the time to layer on a tank (like this Soas Racing Speed Series Tri Tank Shell). It's slim fitting but not so tight it's difficult to throw on while you're still wet (really tight tanks will bunch and cause you trouble). Bonus: pin your race bib on your tank ahead of time so you throw on your shirt and go!
Before leaving transition, make sure you have on a helmet and sunglasses to protect your eyes from the sun, wind and bugs.
The Run:
The final leg of the race. You're ready to drop your bike and hit the ground running.
Swap your helmet for a hat or visor to protect your face from getting sunburnt.
Lace up your favorite running shoes and make sure you've got your race bib on. You can pin it directly to your shirt (as mentioned above), or invest in a race belt (like this FuelBelt) that you clip on before you begin running. The race belt is the best option if you plan to swim in the same shirt you wear to bike and run.
With a form-fitting, quick-dry pair of shorts and a technical fabric top, you'll look like a triathlete ready to tackle your first race. There's no need to show up in the hottest one-piece skin suit on the market. Although we have to admit, we might consider the Betty Designs Team Issue Tri Suit for next time. How cute is that?