How I Survived My First Beer Mile
You know the somewhat condescending "I remember my first beer" comment? Well, I remember my first beer… mile. Mostly because it was last night, but also because it was funny, a challenge and slightly terrifying.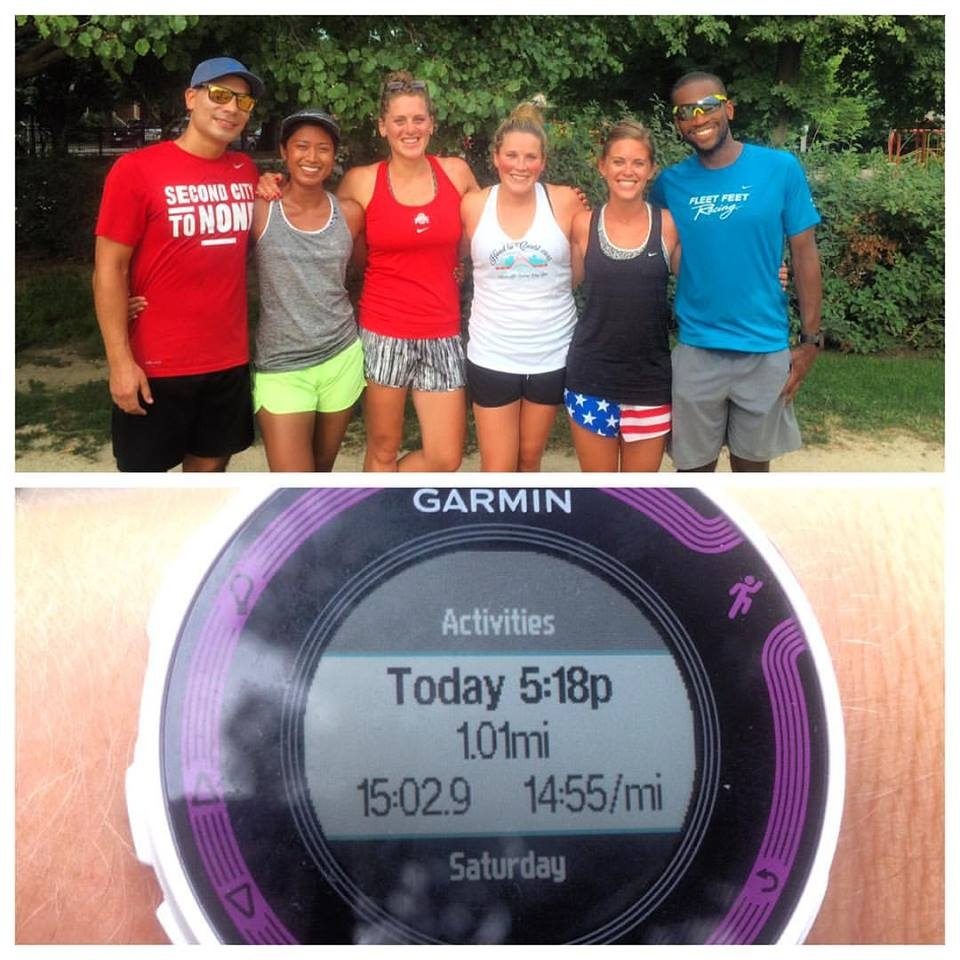 For those of you not in the know, a beer mile works like this: go to a track. Bring a cooler with four beers per person running your beer mile – we went with Budweiser because America (note that your beers have to be 12 oz, have a minimum of 5% APV and can't be in a can or bottle that gives you an advantage – like a wide-mouth can).
Start your clocks, and drink your first beer (ideally, kinda fast). When you've finished and turned the can upside-down to prove its emptiness, you take off and run a lap around the track as fast as you can (this is a timed race, after all). Upon arriving back where you started, immediately drink your second beer and run your second lap. Repeat this procedure until you've finished four beers and four laps (aka one mile). Did you have the unfortunate experience of getting sick? Sorry to pour salt on the wound, but you now have to run a penalty lap.
Think I made this up? Nope. It's a real, official thing:
Got it? Now onto the important parts: how to survive.
Hydrate beforehand.
It's super obvious, but bears repeating: hydrate a lot on the day of your beer mile. A slightly empty stomach is preferable as well; I had a banana and a Gu about two hours before and that worked well for me. Have some water on hand for the end of your run too, especially if your run is taking place during weather that's akin to warm bathwater.
Be inconspicuous.
If you're going to be drinking beer, try not to flaunt it. Choose a track that's kind of out of the way, preferably at kind of an off-peak time where there aren't a lot of kids and judgey soccer moms to stare at you. Use cans instead of bottles, and have coozies on hand to cover up any logos. Clean up after yourself and keep your cooler closed as much as possible. Also, when you're finished, GTFO of there, because that judgey soccer mom will continue to ask you questions and tell you that what you're doing "just seems like a terrible idea."
Do it for charity.
We tied our beer mile into raising a few bucks for Open Heart Magic, which we like to think mitigated the soccer mom's outrage ("What are you doing? Are you drinking beer?" "IT'S FOR CHARITY!").
The drinking is harder than the running.
This isn't really advice, just a statement of fact. Burping while running helps.
Rehydrate afterwards.
We had water, Gatorade and pretzels on hand for anyone who wished to consume them – and then we ended up at a nearby bar celebrating with more beer. ¯\ _(ツ)_ /¯
Offer options.
For those of you not into drinking and running, a) you're smarter than I am, and b) you have other options. You could turn the beer mile into a relay, for example, splitting the duties up among four different people. Or, try a donut mile or a pizza mile, where instead of drinking a beer before every lap you eat a donut or a slice of pizza.
Our results? Our first guy finished in 8:13, with the first girl close behind him in 8:29. Me? I was done in 15 minutes, but I also didn't throw up, so in my mind, I won.