Financially Fit: How to Spend Smart on Runcations
Runcation: (n) a vacation crafted around a running event or excursion. Or as I like to define it, a vacation of gluttony (as all vacations are) that is partially offset by burning some calories running around in a new place.
On a particularly snowy day in early January 2015, I took the time to do the whole New Years Resolutions thing. One of my top personal goals for the year was to "run somewhere new," which, while vague, is something important to me. I love you, Illinois, but sometimes cornfields and running the lakefront path over and over again doesn't do it for me.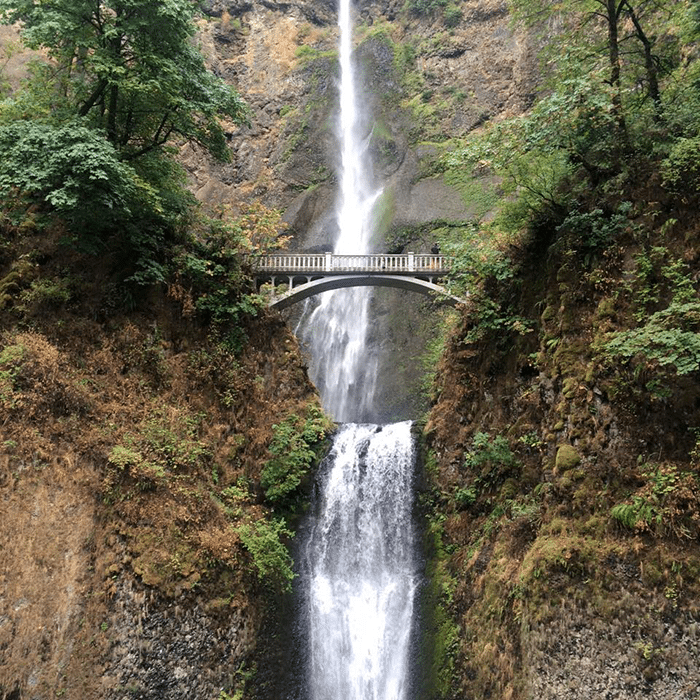 I filled up my race calendar quickly: the Nike Women's 15k in Toronto, a team relay race through Oregon, a half marathon through the trails of Wisconsin and a marathon in Michigan. By May, I was ready to fulfill my destiny … and empty my wallet.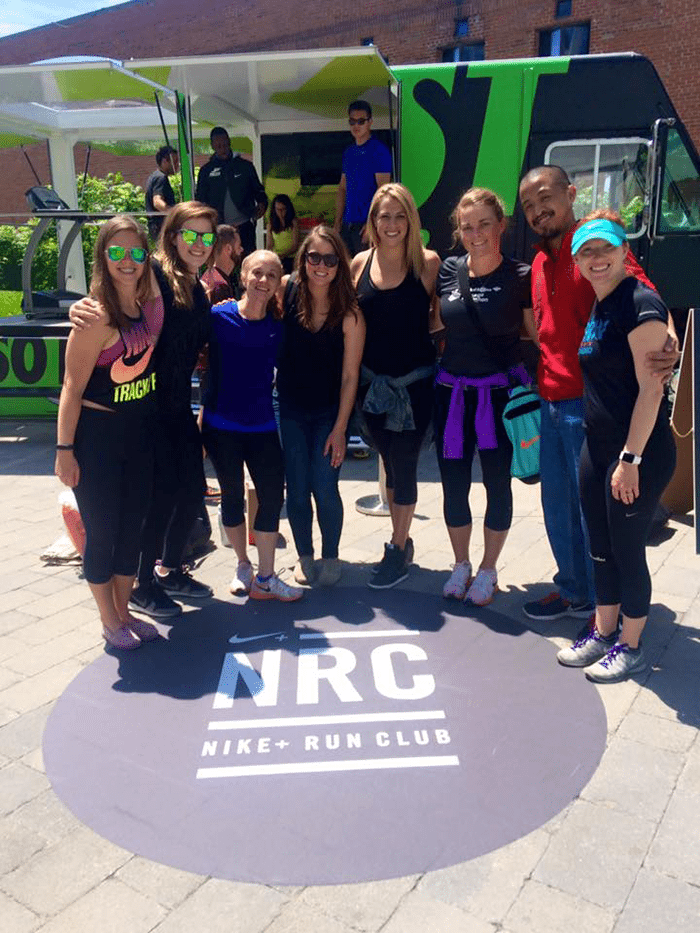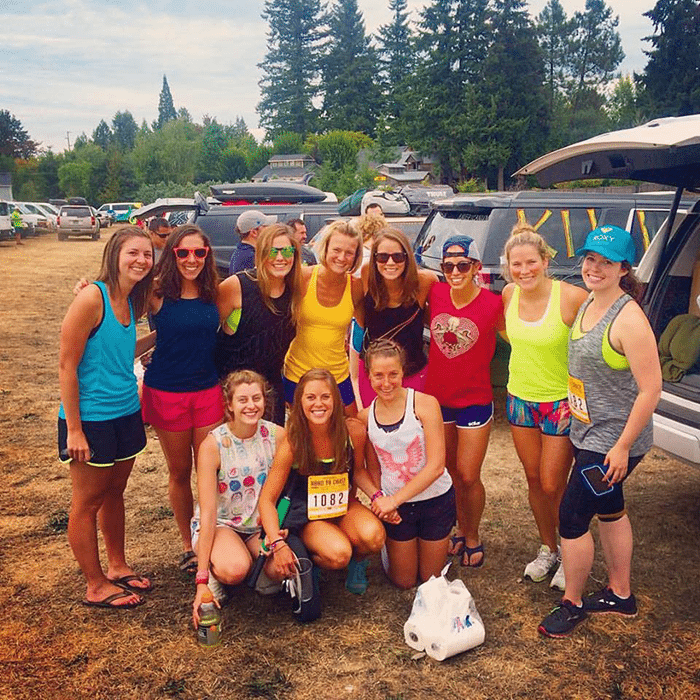 It's no secret – travel can be expensive and can cut into hard-earned savings. It's nice to get out of the flatland comforts of Chicago and onto more scenic (gasp) hills once in a while, but it takes money to get there. Right around the time I was planning my first runcation, I found some blog posts (#1, #2) filled with helpful money-saving tips for running travel from Tom Leddy on Runs and Places.
If anyone knows how to do a runcation right, it's Tom. Tom has completed half marathons in 34 different states and hopes to run a marathon on every continent. I originally connected with Tom after ogling over his unbelievable review of Mount Kilimanjaro Marathon in Tanzania (like, is that even real life?).
I asked Tom what motivated him to set these absurd/awesome travel race goals, and he explained that since he was young he has always been interested in travel. As he started getting into running, he began to try out new races in cities where his friends lived.
"At some point along the way it started to occur to me that marathons and half marathons are kinda like mini running tours of the cities that host them. The race directors specifically plan the courses to pass by the most interesting landmarks in their area and runners often get close up views of a lot of buildings, monuments and natural areas that other people drive right past in their cars and barely notice. So I figured that setting goals to run in as many different places as possible would be a great way to combine my love of running with my love of traveling," he said.
If this is a topic that interests you, I encourage you to check out his tips in more detail.
These are his top 5 money-saving points that have helped me most:
Don't do too many local races / the same race more than once.
I honestly had not thought about this very much before, but when you take into consideration how similar many races in Chicago are and how expensive it can be to constantly do certain races each year, it adds up quickly! Granted, there will always be a handful of races that I will opt to re-run. I have a weakness for going back to my Alma Mater to run the half marathon there each spring, if for no reason other than it gives me an excuse to drink at the awful bars I used to go to and be reminded why I'm glad I don't have to deal with sticking on the floor of Kam's anymore.
Knowing that my race calendar was filled with more traveling this year, I opted out of normal Chicago-area runs that I have done in the past and became pickier about the local races that I chose. This alone saved me at least $200 in race entries this summer and, quite frankly, I don't feel like I missed out on too much.
Be strategic about booking your flights.
Tom gives great general advice when it comes to booking flights, but it all boils down to planning and strategy. I usually am very eager to pull the trigger on flights (what if all the flights to Portland sell out 5 months early?!) but I had patience and ended up booking within the three- to five-week window he suggested. He also offers these helpful (often money-saving) tips: look to book on Saturday nights when fares are generally lower and clear your browser before booking your flight. Also, avoid biases and note that sometimes your reward or loyalty program isn't always the best option.
Build in flexibility.
Book a hotel, but make sure you can cancel it later without a charge. If you see an AirBNB with a better deal or a hotel price drop closer to travel, go for it. For both the Toronto and Portland trips this summer our groups of runners used AirBNB and had extremely positive experiences.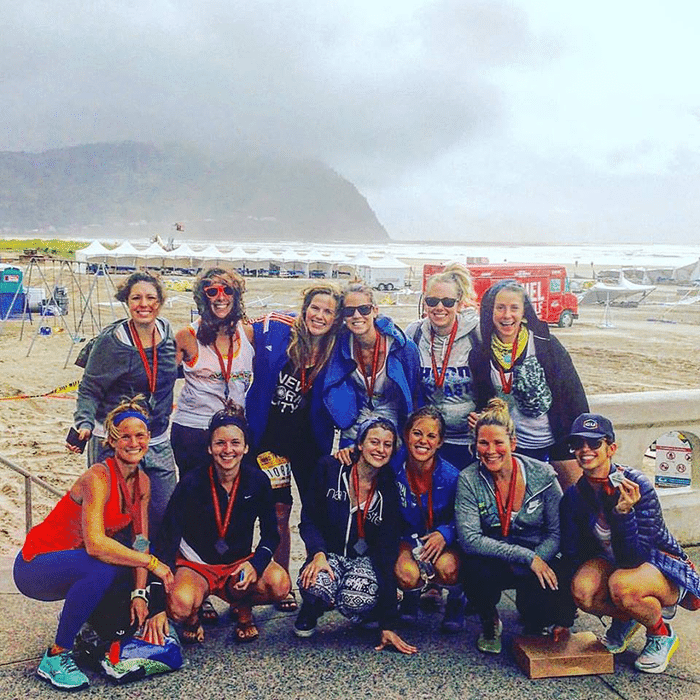 Flexibility also goes for booking flights. If you can consider a more flexible date range, you are more likely to get a better deal.
You probably don't need the rental car insurance.
If you have regular auto insurance, check to see if it covers you for rentals (usually it does). We rented 2 large vans for the relay and our driver was covered under his auto insurance which helped us out on cost.
BYOF (Bring your own food).
Our first trip in Portland was to Walmart. Our vans stocked up on snacks, breakfast for the next day and other running essentials. This ended up breaking down to $20 or so per person, which would normally be the cost of just one meal. I love trying out the local cuisine while on vacation, but when appropriate, buying some snacks and food to fill meals in-between can be a great money-saving tactic.
Tom knows the balance of trying to stay in budget on food while wanting to try the local fare, too. He advises, "One of the secrets about traveling is that the lesser known restaurants and attractions that locals like to visit are usually a lot less expensive than the big touristy attractions that people from out of town tend to want to go to. The experience is usually better too." He noted that the trick to saving money is often trying to find unique and less-touristy areas that are recommended by the locals.
Excited to plan a runcation for yourself but don't know where to start? Of course I had to ask, so Tom narrowed down his top 3 travel races he's done so far: (1) the Mount Kilimanjaro Marathon in Tanzania, (2) Mayor's Midnight Sun Marathon in Alaska, and (3) The Grand Teton Half Marathon in Wyoming.
Tom also details his travel tips along with other adventures and experiences in his new book, Southern Fried Running, which you can find for sale on Amazon.