Carmelita Jeter Honors Her Aunt at FitFest Before Taking on Rio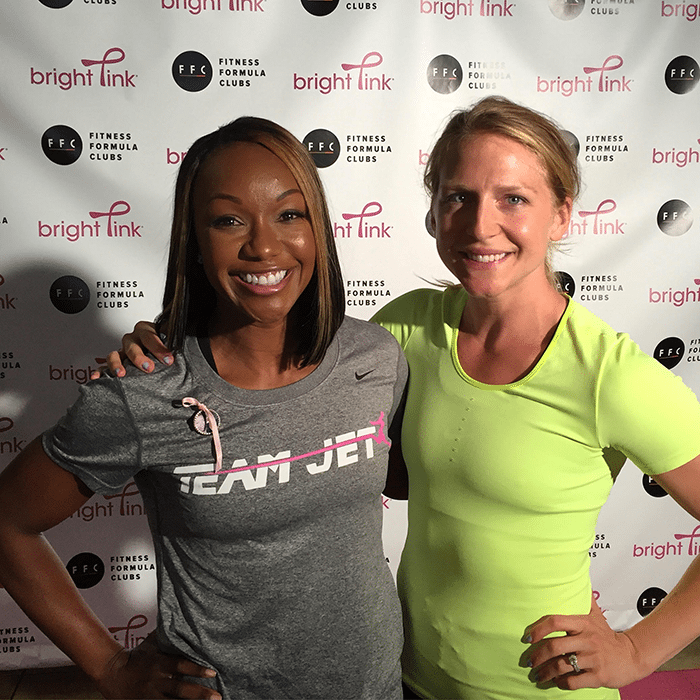 For Olympic sprinter Carmelita Jeter – known to many as just "Jet" – family strengthens who she is as a competitor, especially as she prepares for the 10-months of work ahead of her to make the 2016 US Olympic Team starting September 28.
But in March of 2012, that strong fabric was rocked and her drive to go on was shaken by the loss of her aunt.
When Jeter talks about her aunt, Brenda Washington, she always says her full name and delivers it with the conviction of a woman working to keep a memory alive.
"When my aunt passed away, [my fans] could see that something was wrong," She said. "I didn't want to do interviews. At my track meets, I wasn't smiling. I was like, 'I don't even want to be here.'"
"The PR team and your endorsements," Jeter said, "they never prep you for when you lose someone."
Like many impacted by breast cancer, Jeter found ways to fight back, making small jabs at the disease – organizing 5k runs for her friends, family and fans through her organization, Team Jet; wearing pink spikes during her meets and teaming up with Bright Pink for its large annual fundraiser, FitFest.
At FitFest 2015, which took over FFC Union Station, I managed to steel her away from the crowd of adoring pink-haired men and women.
"I'm here because I love how they're educating," Jeter said. "I learned a couple of things during the introduction that I didn't even know, like how you can check your body, things to look for and symptoms."
Jeter dove into the day, dancing side-by-side with the Chicago Bulls' Luvabulls and playing basketball with Chicago's team.

To the untrained eye, seeing Jeter on the basketball court may have looked like territory that was unfamiliar to the sprinter. But to Jeter, basketball was really where her journey started.
"My dad drew court lines in the front yard and we had a basketball court and he would put on a jersey," she said. "My dad just felt like the way to keep kids out of trouble was to say, 'Come over. Play basketball.'"
When it was time to choose a sport, the logical choice was for her to lace up her high-tops and practice her free throws. After playing on the Junior Varsity team her freshman year, Jeter's coach suggested that she run track to stay in shape.
With a little reluctance, the freshman traded in her high tops for spikes. Jeter quickly recognized that she was a standout after making the varsity team. And with her newly discovered talent, Jeter also found a new sort of relationship with her father as she left basketball behind.
"I loved the fact that he'd never run track," she remembered. "He was more of a parent when I ran track – he was just more of a cheerleader."
Jeter imitates her father, lowering her voice about two octaves and shouts "Big dog!" Her dad's cheer of choice.
Her mom made her meets on weekends, but her dad rearranged his work schedule to be trackside when she raced. "I could hear him in the parking lot and my everything would change because he would say, "Big dog!" And that's how I knew that my dad was there"
And that chant still alerts Jeter that her dad is watching today.
"At the 2012 London [Olympic] games, I could hear him screaming, "Big dog!" There could be a million people in the stadium and I could tell you where my dad was sitting."
With the 2016 Olympic games in Rio de Janeiro inching closer, Jeter wants to give her dad another chance to shout.
"In 2016, I'm setting my sights on one thing: Healthy. I need to stay healthy. Once I'm healthy, I'm a factor. Period," she said.
To achieve that health, she's following a strict, four-day-per-week physical therapy schedule following a torn left quadricep muscle.
"Injuries aren't fun, but if you're an athlete, injuries happen," she says. "You're working with your body and sometimes you tap it to a limit and it's like, 'Hey, I need you to sit down somewhere, just for a couple of weeks.'"
Jeter's career as a sprinter has been remarkable, but it's clear that she's planning to have her best days over the next year. She's learned a lot over the years about her body, injuries and about cross training and when she talks about it all, there's only one goal.
"I need to make this Rio team," she said. "When I start training September 28, I'm starting guns-loaded."