7 Things We Learned about Marathon Record-Holder Deena Kastor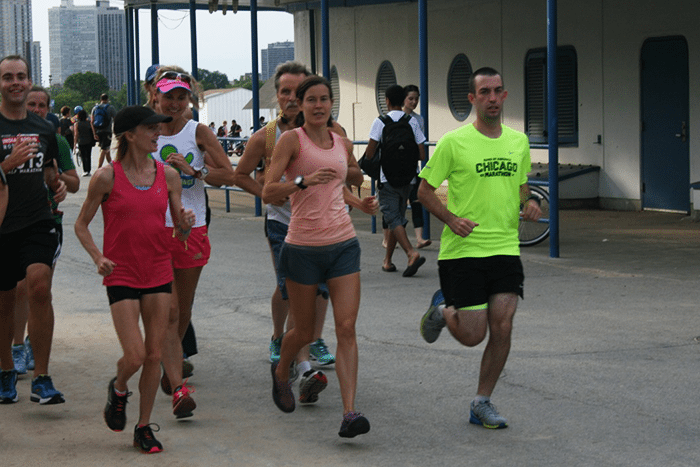 She lives in California, but elite runner Deena Kastor makes it back to the Bank of America Chicago Marathon every fall. She usually provides television commentary, hosts group runs, makes an appearance at the expo, or spectates along the course.
This year, exactly a decade after winning the race, she's returning with a new purpose: to break the American masters (40 and over) record in the marathon. That means covering 26.2 miles in less than 2:28:40 — faster than a 5:40 pace. This achievement would add to an already highly impressive resume — she just set the masters half-marathon record last year, still holds the record for the fastest marathon run by any American woman (she clocked a 2:19:36 in London in 2006, the year after she won Chicago) and won bronze in the 2004 Olympic marathon in Athens.
Kastor, 42, sped through Chicago last week as part of the marathon's "Legends of the Lakefront" series. She chatted in the shadow of the North Avenue Beach House before leading a group run she promised to keep to a "conversational pace." Though she's as slight as you'd expect for someone who wins marathons, she had no problem projecting over the bumping soundtrack at Castaways to share what running has brought her and offer her advice to others toeing the line this October.
She's just like us (only way faster).
"I think what makes this sport so superior to any other sport is the sense of community it has. We are a tribe of people. Whether it's our first race or we're veterans in this sport, whether we're 2:19 marathoners or seven-hour marathoners, it all feels the same to us—we're all trying to use the strength and determination of our minds to reach goals for a purpose."
She has her own heroes.
"I became a runner a year after Joan Benoit Samuelson won the first-ever Olympic gold medal in the marathon. [Awesome side note: Samuelson, 58, will also run Chicago this fall.] I remember sitting in the living room with my family and watching her come into the stadium and wave her white hat, and it was so inspiring. I think no matter what my profession turned out to be in life, her performance that day would've inspired me to be better at whatever I do."
She keeps a physical training log.
"I'm a paper girl. I even have a paper calendar still. The calendars on my phone and computer are nearly empty — I need the paper right in front of me. Every training run I do, if I have a breakthrough — physical, emotional, or mental — I highlight it in pink or in yellow. Right before the race I go back through my training log and I see weeks and weeks of highlighted pages. It's like, this is a thick book and I ran ALL of this? Wow. The night before the race I also write down three reasons why I should succeed. Going into a taper, you just psyche yourself out—why do I have this headache? I feel so sluggish, my legs feel heavy, my last long run was three weeks ago, how can I possibly do this now? Every time this happens to me, I just say, 'Oh gosh, here you go again, let's write down three reasons why you should succeed.' I commit them to memory so that during the race when I need one, I pluck it out and use it. "
She believes in the power of positive thinking.
"Science now shows the physiological effects that positivity and negativity have on your body, and the results are extraordinary. Being positive isn't being naive and ignoring the fact that negative things are going on. It's seeking solutions and finding a way to continue persevering despite what's going on. It's really important to practice that, not just when you're out training and not just when you're at home, but at work and when your 4-year-old's throwing a tantrum and when there's traffic and you were supposed to be somewhere five minutes ago. It's always trying to make those mental shifts toward positivity because they're going to empower you. The more you practice that, the more it becomes habit."
Her coach gave her crucial advice before the 2005 race: "Define yourself."
"Every time you make a decision, you get a chance to define who you are. When you're out there on a run and you have a little bit of a struggle, are you going to give up, or are you going to dig down? Are you going to throw in the towel finally, or are you gonna drop that hammer? It's not just a race, people. This is about your character. And you're not defining yourself to the world, you're defining yourself to yourself. It's not about what people see, it's about who you want to be at the finish line or even on a run. So make those choices very significant because they are showing your character, showing who you are."
She's running Chicago for more than sentimental reasons.
"The Chicago course is known to be flat and fast and so when I have a goal of running fast, this is the perfect race to fulfill those goals. It's part believing that you can do it and part strategizing on which races you're going to run to accomplish those goals. So Chicago seems to fit in when a time goal is in my head."
And she has a secret tip for the course (listen up, runners!).
"This is advice given to me by a teammate who became my coach for a few years, Terrence Mahon. He said because the course is flat, you're utilizing your muscles the same way the entire time. So he gave me advice to surge out of turns — anytime I made a turn, to just increase my cadence for a few strides. I loved that advice — it just seemed to get me out of that monotonous rhythm and really helped in 2005. Nothing crazy; just increasing your rhythm for a few strides gives you a mental and physical break."