Why we love the Acai Bowl and a Recipe
If you've been on Pinterest or Instagram over the past year, you've seen beautiful purple bowls topped with a mix of fruit, nuts and granola. While the Acai Bowl might just look like a smoothie by another name and in a different vessel, this bowl full of anti-oxidants is a must-try.
Here's why: According to the Mayo Clinic, "Acai berries contain antioxidants, fiber and heart-healthy fats. They may have more antioxidant content than other commonly eaten berries, such as cranberries, blueberries and strawberries." Any claims that this berry found on the Acai Palm is a "miracle" or "magic" aren't necessarily "science," but hey, they're delicious.
The Acai berry used in these bowls can be found in a frozen, blended form at your favorite health or specialty grocer. You can bank on Whole Foods or a local store like New Seasons in Oregon or Plum Market in the midwest carrying this ingredient.
I used Sambazon Acai Berry blended packs for my Acai bowl, so my recipe will use that product's package sizes.
My mom's favorite thing to say about recipes is that they're "just a guide." So I'm going to give you a basic outline of an Acai Bowl as well as the exact recipe that I made so that you can play around with the formula or recreate exactly what I made.
The outline:
Blend the following
2 frozen pouches of frozen Sambazon Acai Berry (100 g each) (before you cut open the packet, break the frozen goo up a bit)
1/2 cup (4 ounces) of something soft (options include banana, avocado, kiwi fruit (scoop out seeds) or super-ripe mango)
1/4 cup berries (blueberries, blackberries, raspberries, strawberries – go nuts – mix and match)
Your preferred sweetener (1 TBS raw honey or 1 packet of stevia)
Optional add-ins: 1 TBS lime juice/lemon juice, chia seeds
Top with the following:
1/2 cup of fruit/berries (mango, pineapple, banana, blueberries, pomegranate seeds, raspberries, kiwi fruit, etc.)
4 TBS of something crunchy (granola, almonds, macadamia nuts, coconut flakes)
My Acai Bowl Recipe:
Blend the following:
2 100 g frozen pouches of frozen Sambazon Acai Berry (before you cut open the packet, break the frozen goo up a bit)
1/2 cup banana
1/4 cup blueberries
1 Tbs raw honey
1 Tbs lime juice
Top with the following:
1/4 cup sliced banana
1/4 cup cubed mango
2 Tbs chopped almonds
2 Tbs coconut flakes – I love Dang Toasted Coconut Chips. Reader beware, they're insanely addictive.
After you blend your ingredients into a purple-y oblivion, pour into a bowl. You'll know that you're doing this right if the consistency is thicker than your average smoothie.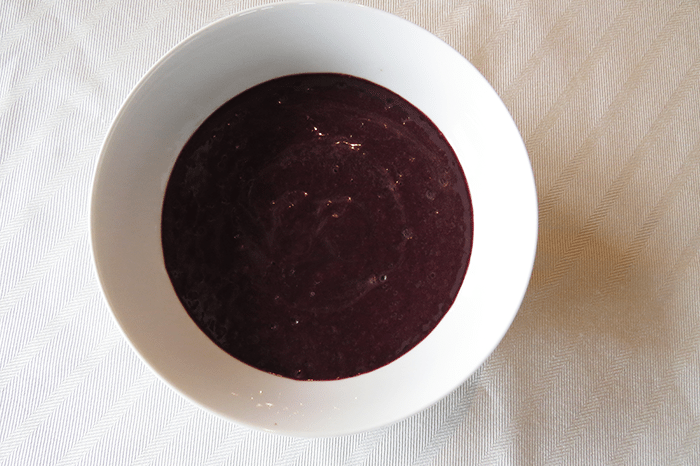 Cut up your toppings.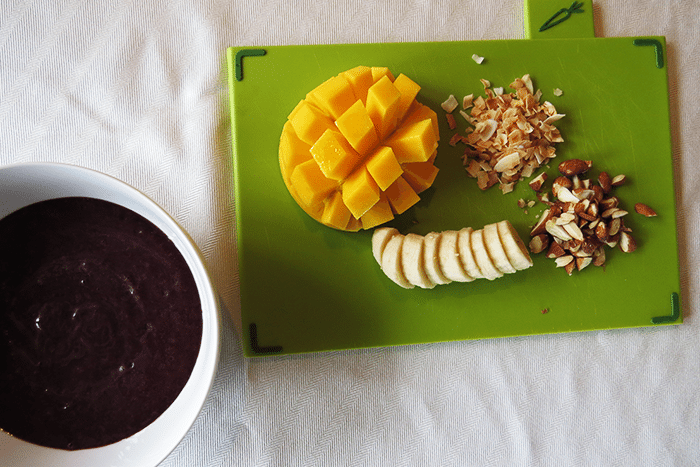 This is the most important part: Place ingredients artistically on top of your Acai berry blend.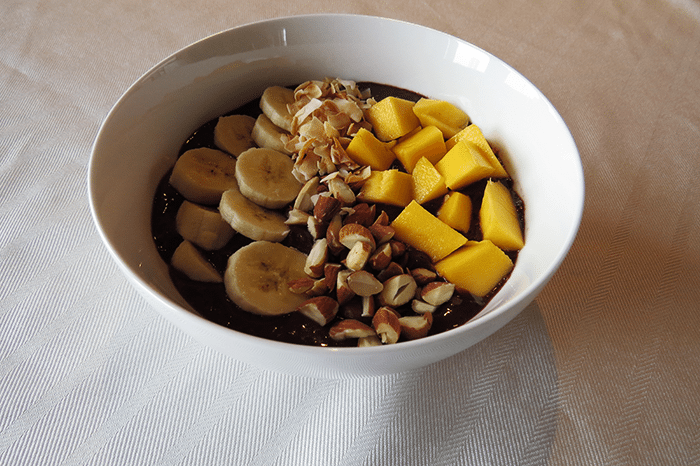 Eat, enjoy, experiment and repeat!
(On occasion, we use affiliate links to products that we've tried and loved. If you click on something and buy it, we'll make a few sense. Blogging isn't free, you guys.)