Homemade Granola Bar Recipe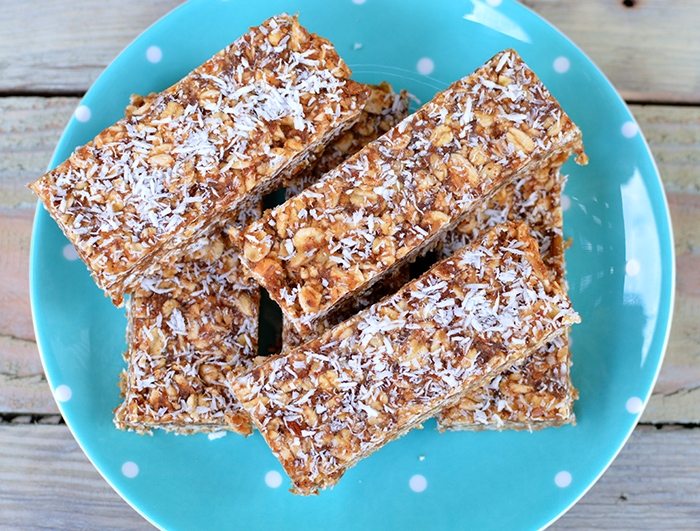 HANGRY – A state of anger caused by lack of food; hunger causing a negative change in emotional state. I know that if I've reached the point of hangry, good things usually don't happen to me or the people around me. I have to act quickly when I feel that blood sugar drop and know that hanger is just around the corner…. which is why I love to make no-bake energy bites for those crucial snack emergencies.
I've got a huge tub of rolled oats in my pantry and almond butter is always on hand, so I knew I wanted these as my staple ingredients for my next "energy bites". I found this delicious granola bar recipe from Hummusapien and adapted it just slightly to make my own homemade granola bars. They are AMAZING!!
Warning: store these delicious bars in the freezer and take out one at a time … otherwise, all sense of portion control will be lost! The salty almond butter combined with the rolled oats and sugary dates makes for the perfect, satisfying snack for any level of hanger.
I enjoy making my own granola bars and no-bake bites for snacks because they are both easy on the wallet and I get to control the ingredients. By making my own, I can add more protein to balance out the sugar and get a good dose of cholesterol-lowering soluble fiber from the rolled oats. Not to mention, I'm saving a ton of money by cutting my spending each time I walk past the isle of colorful snack bars at Whole Foods! #winning
These homemade granola bars can be made in less than 30 minutes and with ingredients that you may already have at home. Natural sugars from the medjool dates (and a little extra sweetness from the shredded coconut) combined with the fiber from the flaxseed and oats and the optional protein powder make this a healthy, gooey well-balanced snack. Next time you see a hangry moment coming your way, make sure you've packed one of these with your lunch!
Recipe:
Ingredients:
10 medjool dates (soaked)
2 cups rolled oats (certified GF)
1/2 cup almond butter, raw, creamy
2 Tbsp. ground flaxseed
2 tsp. vanilla
½ scoop Vega One protein powder (optional)
¼ cup unsweetened, shredded coconut (optional)
Directions:
Pit dates and place a bowl. Cover with boiling or very hot water (I used my electric tea kettle). Soak for about 10 minutes.
Place soaked dates and 5 Tbsp. of that warm, soaking water in a blender. Blend until combined and a thick consistency.
In a saucepan over medium heat, add dates, almond butter and vanilla. Stir until well combined and heated through. (Watch to not burn, should only take a few minutes).
In a large mixing bowl, combine oats, flaxseed and (optional) protein powder. Stir in the wet mixture until combined.
In a shallow baking dish, evenly spread granola mixture and press down firmly to even out the dough. (This is where things get sticky! I just used my hands to even out the thickness). Option to sprinkle on unsweetened shredded coconut on top.
Freeze bars for at least 2 hours or overnight before cutting into 10-12 bars. Store in the freezer. Enjoy!