The Lunch Bunch: Asian Kale Salad Recipe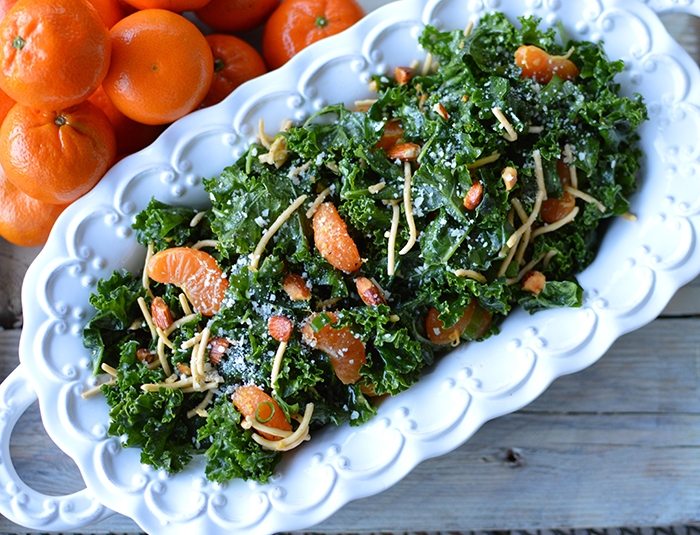 Back in January, I created a Kale & Brussels Sprout salad that has become a staple in my weekly meals. I even have my fiancé requesting this salad about every other week … and to have a man ask for a kale salad, well that's just a HUGE win! I knew I did something right.
I wanted to bring back the same citrus flavors into a bright, spring salad for the warmer months ahead. After some brainstorming, I came up with my recipe for an Asian Infused Kale Salad for this week's lunch bunch!
The biggest advantage to knowing how to whip up a few staple salads is that they create really convenient meal prep for the week. Kale is also a very durable green that will not begin to wilt within this time. In fact, it's recommended that one massage kale with the lemon in order to break down those fibers to make the greens easier to digest.
I stack my salads in mason jars for the week, separate from the dressing, and add the dressing as I go. If you are also prepping protein on Sunday, like grilled or shredded chicken, you can easily fill the bottoms of the jars with the chicken (since it's the heaviest) and top with the salad. If chicken or meat isn't your cup of tea, you can add a veggie burger, quinoa or tofu to mix it up.
What we really want to avoid with lunch is food boredom. As soon as we get bored with our food, we cheat. All of a sudden that baked good, burger or sandwich shop down the street sounds A LOT more appealing.
So how to we prevent ourselves from getting into a "meal prep rut?" We need to first start with something very flavorful that can be delicious both alone and paired with other foods. The sad fact is that if our salad is boring, it's not going to last more than one day without being tossed or left untouched.
This salad is simple enough that you'll have additional time to prep a protein you are craving for the week ahead, but is also appealing enough to eat alone. I love the flavors of the citrus and oil dressing with the crunchy almonds and rice noodles. It really can go well with any Asian inspired dish.
The dressing goes a long way with the fragrant extra-virgin olive oil and concentrated lemon and orange flavors, which makes for a very low-calorie salad. Do not feel the need to use the entire quantity of dressing. With that said, the main source of calories are coming from extra-virgin olive oil and almonds – both great sources of heart-healthy monounsaturated fats. Win win.
If you're looking for a lower calorie meal, eat this salad simple by itself with a white fish, some shredded chicken or a protein smoothie. If you are working out extra hard this week, pair another carbohydrate with your salad and protein. Get Lunching!
Download the planning and packing guide here.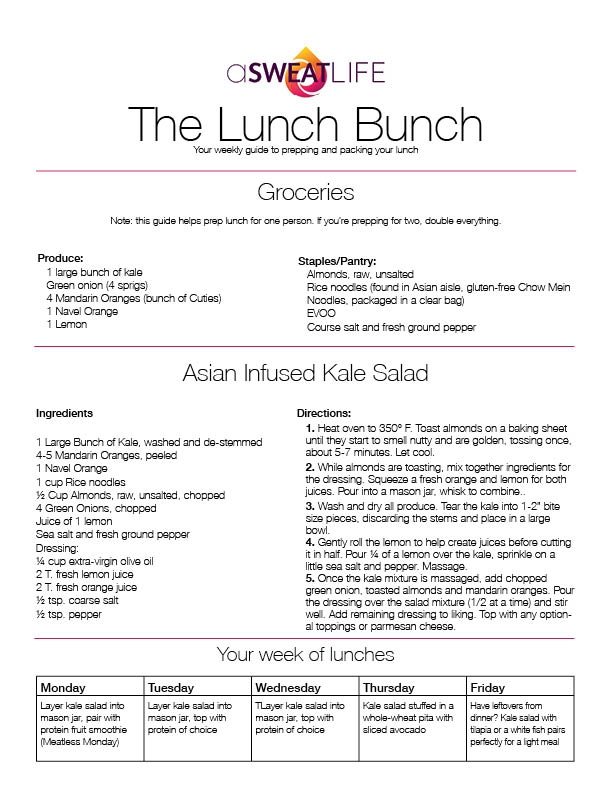 Grocery List:
Produce:
1 large bunch of kale
Green onion (4 sprigs)
4 Mandarin Oranges (bunch of Cuties)
1 Navel Orange
1 Lemon
Pantry:
Course salt and fresh ground pepper
EVOO
Rice noodles (found in Asian aisle, gluten-free Chow Mein Noodles, packaged in a clear bag)
Almonds, raw, unsalted
Recipe:
Ingredients: Serves 4-5
1 Large Bunch of Kale, washed and de-stemmed
4-5 Mandarin Oranges, peeled
1 Navel Orange
1 cup Rice noodles
½ Cup Almonds, raw, unsalted, chopped
4 Green Onions, chopped
Juice of 1 lemon
Sea salt and fresh ground pepper
Dressing:
¼ cup extra-virgin olive oil
2 T. fresh lemon juice
2 T. fresh orange juice
½ tsp. coarse salt
½ tsp. pepper
Directions:
Heat oven to 350° F. Toast almonds on a baking sheet until they start to smell nutty and are golden, tossing once, about 5-7 minutes. Let cool.
While almonds are toasting, mix together ingredients for the dressing. Squeeze a fresh orange and lemon for both juices. Pour into a mason jar, whisk to combine.
Wash and dry all produce. Tear the kale into 1-2" bite size pieces, discarding the stems and place in a large bowl.
Gently roll the lemon to help create juices before cutting it in half. Pour ¼ of a lemon over the kale, sprinkle on a little sea salt and pepper. Massage.
Once the kale mixture is massaged, add chopped green onion, toasted almonds and mandarin oranges. Pour the dressing over the salad mixture (1/2 at a time) and stir well. Add remaining dressing to liking. Top with any optional toppings or parmesan cheese.