5 satisfying at-work snacks to keep you on track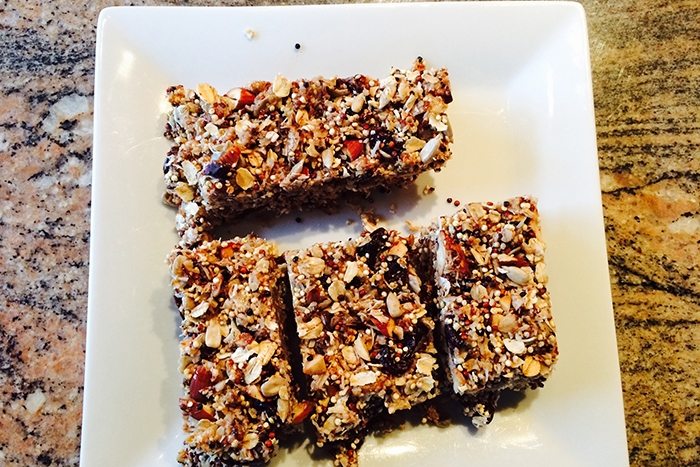 Being hungry at work makes it difficult to stick to eating healthy — those donuts your colleague brought to the office look a lot tastier when you have nothing better to eat. While indulging is okay from time to time, preparing healthy snacks to munch on throughout the day will help keep you satisfied, focused and on track.
Check out these five recipes for high-protein, delicious snacks to keep you full and energized all day.
Peanut butter and fruit protein balls: This recipe from Skinny Mom requires 15 minutes of prep time, zero minutes to cook and makes 15 servings so you can make enough for the whole week.
Ingredients:
1 cup dried fruit (Skinny Mom recommends dates – seeds removed and pulsed in food processor)
½ cup natural peanut butter
1 cup large flake oats (not instant)
¼ cup ground flax
2 scoops vanilla protein powder
1 tsp pure vanilla extract
3 Tbsp unsweetened vanilla almond milk
Click here for instructions and nutrition facts.
Spicy roasted chickpeas: Another steal from Skinny Mom, this snack packs a kick. With only 139 calories per serving and six grams of protein, this is the perfect afternoon snack. This recipe require less than five minutes of preparation time, 20 minutes in the oven and creates 3 servings.
Ingredients:
15 oz can of chickpeas, rinsed and drained
1 tsp chili powder
2 tsp extra virgin olive oil
1 tsp red peper flakes
½ tsp salt
Click here for instructions and nutrition facts.
Chocolate peanut butter no-bake energy balls: For the chocolate lovers, this protein-packed snack from Gimme Some Oven will have you thinking you're eating a cookie and keep you full all day. The recipe requires 15 minutes of preparation and no time baking.
Ingredients:
1 cup (dry) oatmeal
2/3 cup toasted unsweetened coconut flakes
½ cup peanut butter
½ cup ground flax seed
1/3 cup honey or agave nectar
¼ cup unsweetened cocoa powder
1 tablespoon chia seeds (optional)
1 teaspoon vanilla extract
Click here for the instructions.
Blueberry Bliss Breakfast Bars: These breakfast bars are satisfying at any time. This recipe from Inspired Edibles makes 16 bars.
Ingredients:
1 + 1/2 cups 100% pure, uncontaminated, rolled oats
3/4 cup whole almonds
Heaping 1/2 cup dried blueberries
1/2 cup pistachios
1/3 cup ground flaxseed
1/3 cup walnuts
1/3 cup pepitas
1/4 cup sunflower seeds
1/3 cup pure maple syrup or honey
1/4 cup unsweetened apple sauce
1 cup almond butter
Click here for instructions and nutrition facts.
Hummus and vegetables: Homemade hummus can be just as tasty and much healthier than store-bought hummus, and dipping with carrots, celery and cucumbers makes the perfect combination. Check out this recipe from Food.com for a low fat, no-oil recipe that takes 10 minutes to make.
Ingredients:
One 15 oz can of chickpeas
1-2 garlic cloves crushed
1 tbs lemon juice
½ cup plain yogurt
1 tablespoon tahini (optional, but if you do not use, increase yogurt by 1 tbs)
¾ tsp salt
½ tsp cumin
1 pinch cayenne
Click here for instructions and nutrition facts.