The Lunch Bunch: Black Bean Chia Burger Recipe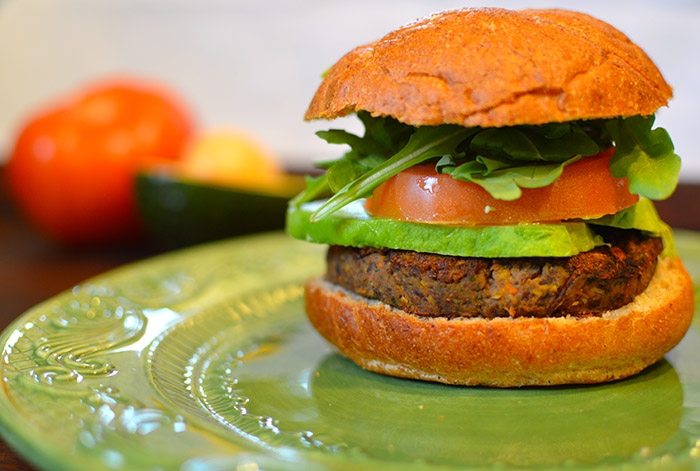 It seems like I'm on a burger craze lately, but this black bean chia burger recipe hit the SPOT on Monday! I like to limit my red meat consumption to about once a month as part of a heart-healthy diet, thus I'm always in the market for a great veggie burger. Burgers also do wonders for an easy meal. Creating a new healthy burger recipe that I enjoy is a huge win and keeps my lunches exciting – which is exactly the point, right?!
These black bean chia burgers are both vegan and gluten-free (shhh don't go telling anyone without a diet restriction, because I promise they are delicious!). In this recipe, I used chia seeds to form a gelatin, which then serves as an egg substitute and helps bind the patty. This method not only allows this recipe to become vegan, but also adds a ton of nutrition to the mix.
In recent months, I've discussed chia seeds and for good reason! They are PACKED with heart-healthy omega-3 fatty acids. Omega 3's are known to be important for brain health, so let's keep that thinking cap buzzing. The high fiber content and gelatinous coating (formed when exposed to liquids) helps with digestive health. Did you know that a one-ounce serving of chia seeds contains a whopping 11 grams of fiber – 1/3 the recommended daily intake for adults? If this wasn't enough, the significant calcium and manganese content supports our bone health and helps to prevent Osteoporosis – very important for women in their teens and 20s, who are still building up bone density!
A higher (healthy) fat, high-protein diet is key to a healthy, active lifestyle. It will give you the energy you need to stay active throughout the day and assists in maintaining a strong, lean body mass. The more muscle our bodies are made up of with a lower fat composition, the harder and faster our metabolisms will be working. That's something I believe we can all work towards.
For lunches this week, you can go light or heavier on the carbs depending on your workouts, activity levels and overall goals. The following are five suggestions with limited ingredients to make shopping easy. Lastly, always remember adjust to what YOU need and have fun!
A healthy life is a happy life.
Download your weekly lunch planning guide here.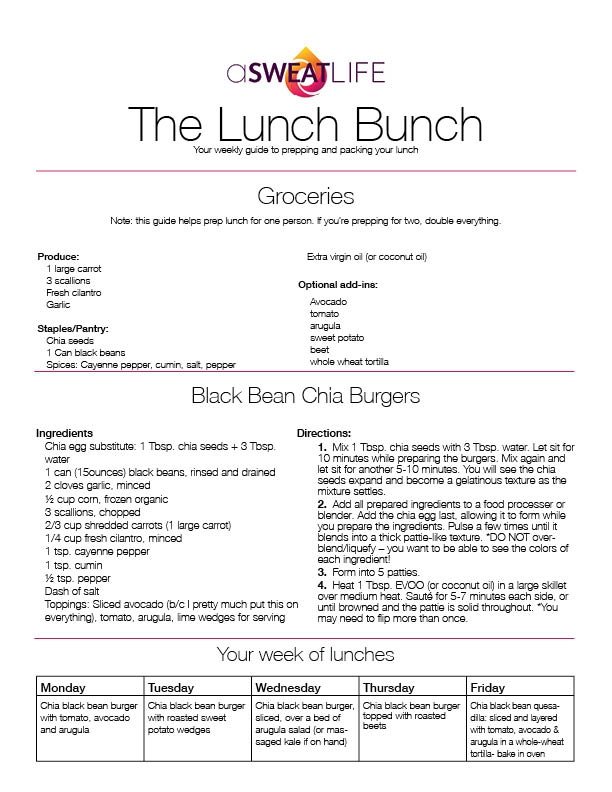 Grocery List:
Produce:
1 large carrot
3 scallions
Fresh cilantro
Garlic
Pantry:
Chia seeds
1 Can black beans
Spices: Cayenne pepper, cumin, salt, pepper
Extra virgin oil (or coconut oil)
Frozen/Other:
Optional add-ins:
Avocado, tomato, arugula, sweet potato, beet, whole wheat tortilla
Recipe:
Ingredients:
Chia egg substitute: 1 Tbsp. chia seeds + 3 Tbsp. water
1 can (15ounces) black beans, rinsed and drained
2 cloves garlic, minced
½ cup corn, frozen organic
3 scallions, chopped
2/3 cup shredded carrots (1 large carrot)
1/4 cup fresh cilantro, minced
1 tsp. cayenne pepper
1 tsp. cumin
½ tsp. pepper
Dash of salt
Toppings: Sliced avocado (b/c I pretty much put this on everything J), tomato, arugula, lime wedges for serving
Directions:
Mix 1 Tbsp. chia seeds with 3 Tbsp. water. Let sit for 10 minutes while preparing the burgers. Mix again and let sit for another 5-10 minutes. You will see the chia seeds expand and become a gelatinous texture as the mixture settles.
Add all prepared ingredients to a food processer or blender. Add the chia egg last, allowing it to form while you prepare the ingredients. Pulse a few times until it blends into a thick pattie-like texture. *DO NOT over-blend/liquefy – you want to be able to see the colors of each ingredient!
Form into 5 patties.
Heat 1 Tbsp. EVOO (or coconut oil) in a large skillet over medium heat. Sauté for 5-7 minutes each side, or until browned and the pattie is solid throughout. *You may need to flip more than once.